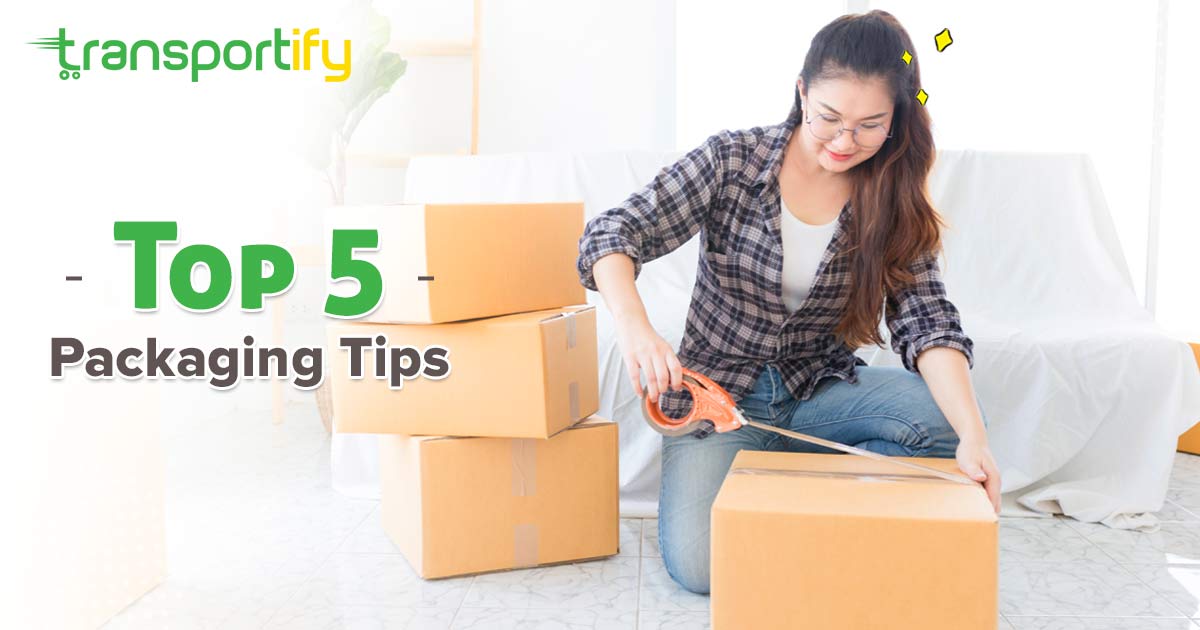 As a sender, it is your responsibility to ensure that the recipient doesn't receive damaged goods on the other end. Of course, the shipping services courier has a duty of care to handle the packages and parcels appropriately, however, there can be no guarantees if you haven't bothered to pack your items properly.
Whilst the drivers working with Transportify courier delivery app are exceptionally well trained and handle every delivery with the utmost care and consideration, we would still advise reading this article. We're going to cover the top 5 packaging solutions approved by professional shipping services courier to avoid damage on your deliveries.
1Opt for brand-new, double walled boxes
You may be tempted to use second-hand boxes for deliveries in order to save a little bit of money, but you have to ask if it is worth it? Used boxes do not offer half as much protection as a brand-new double-walled box. This will ensure that it is sturdy enough to survive a little rough handling, just in case.
2Avoid fabric or cloth bags as opposed to cardboard boxes
For smaller items, some people are tempted to save money on their boxes and send the items in fabric bags. Such materials simply do not offer enough protection. You should also opt for cardboard boxes and ensure that there is enough padding inside for the best results.
3Bubble wrap is a must-have
There really is no finer feeling than receiving a delivery and opening the parcel to reveal loads of bubble wrap! Adding an extra layer of protection is not only essential for keeping the items safe, but it's also a lot of fun for the recipient too (who doesn't love popping bubble wrap)!?
Be sure to contact your courier to find out if there are any specific packaging requirements to follow. This is important if you want your items to be covered in the event of an accident. You might also be able to get some extra tips as well!
4Try to avoid shipping overly expensive items
For ultra-expensive items such as jewelry, it's also worth considering delivering the item yourself, particularly if its value exceeds the recommended value for your pick up and delivery courier service. However, if you choose a reputable and reliable courier delivery app like Transportify, we will ensure that your goods arrive safely and without issue. It's all about finding someone that you can trust!
5Always use heavy duty parcel tape to seal packages
Don't waste your time sealing a package with regular cello-tape, because it simply will not be secure enough to keep your package safe. Instead, you should opt for heavy duty, purpose designed parcel tape. That way, you can seal your parcel appropriately and won't have to worry about anything coming loose or being damaged.
Conclusion
If you follow these simple tips, then you won't have to worry about your items being damaged in transit. There's always a bit of a risk, but provided you're using a certified and insured shipping services courier and you meet all of the packaging requirements, then you'll be protected.
Are you a business owner looking to work with a reliable pick up and delivery courier service provider that offers additional perks and services to corporate clients? Then why not check out our business page? There you'll find all of the information you need on our "free to join, free to leave" business partner scheme.
Details
Features
Column 3
Details
Program Features
Live Support
Open 24/7
Prepay with Credit Balance
Available
Postpay with Monthly Invoicing
Available
Destinations
Up to 16
COD and POD
COD + POD
1.50% of invoice
Min of ₱80
(Flat Fee Per Booking)
POD Only
₱80 for ≤ 3 Destinations
₱160 for ≥ 4 Destinations
Warranty
Up to ₱1.5 million
Outside Service Area
Available
Business Web Dashboard
Team Account Management Customized Reports
Try our service now or know more how we can help your business. Our Customer Service is open 24/7 to answer your inquiries! Click the button below to get started.