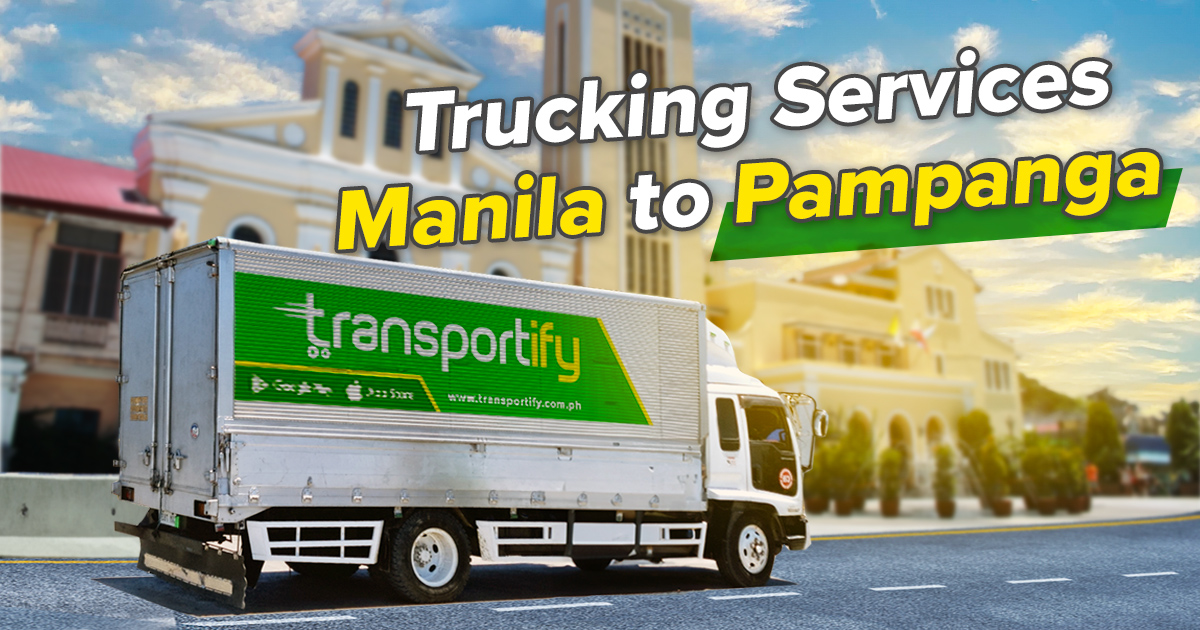 Transportify offers the best truck for rent services for large-item delivery from Manila to Pampanga and from Pampanga to Manila. We also cover all areas in Luzon, so you don't have to worry in case you need to send products to other places. Our excellent service, 24/7 customer support, variety of vehicle classes and professional drivers make Transportify one of the best logistics companies. Our affordable rates also make us an excellent partner for businesses looking for 3PL service providers. Get a price check of our rates now.
Aside from 4-wheeler and 6-wheeler truck for rent from Pampanga to Manila, deliveries via L300/Van is also available. Prices for the delivery service from Manila to Pampanga varies based on the type of vehicle you will choose. You can avail the L300 Van for less than ₱3,000, but if you need a larger vehicle, a closed van is available for as low as ₱5,600. Send appliances, bulky food products, construction materials, or even your furniture for "Lipat Bahay" via Transportify today to get affordable large item delivery from Manila to Pampanga and vice versa.
Delivery service rates include driver, truck for rent, and L300 for rent with other miscellaneous fees such as parking, tolls, and fuel. Our Customer Service team is on standby 24/7 so that you can contact us anytime if you need help. Our complete service is the reason why Transportify is the best delivery service provider for large-item delivery from Manila to Pampanga and other key cities in Luzon. Check out our pricing for all our vehicles in the table below.
Vehicle Type
Dimensions/
Weight Limits
Base Price


(Metro Manila)

Base Price


(Outside Metro Manila)

Base Price


(Visayas/Mindanao)

Wing Van 

32 to 40 x 7.8 x 7.8 ft




12000kg to 28000kg

7500 PHP

6500 PHP

6500 PHP

6w Fwd Truck

18 x 6 x 7 ft




7000kg

4850 PHP

4850 PHP

4850 PHP

Closed Van

10 to 14 x 6 x 6 ft




2000kg to 4000kg

1800 PHP

1450 PHP

1450 PHP

Open Truck

10 to 21 x 6 ft x open




2000kg and 7000kg

2300 PHP

1950 PHP

N/A

L300/Van

8 x 4.5 x 4.5 ft




1000kg

430 PHP

330 PHP

310 PHP

Small Pickup

5 x 5 ft x open




1000kg

310 PHP

250 PHP

220 PHP

Light Van

5.5 x 3.8 x 3.8 ft




600kg

250 PHP

192 PHP

225 PHP

MPV/SUV

5 x 3.2 x 2.8 ft




200kg

160 PHP

130 PHP

140 PHP

Sedan

3.5 x 2 x 2.5 ft




200kg

140 PHP

110 PHP

120 PHP
Use Truck For Rent from Manila to Pampanga to Build More Customer Loyalty
In order to gain a lot of new customers, a must business must expand its operations. Aside from discount offers, promotions, and better deals to offer, you must also consider using a third-party logistics provider that can provide either l300 for rent, truck for rent, or both services than can accommodate your delivery needs.
An L300 and cargo truck for rent are ideal for handling shipping items because it is suitable for bulk orders and large shipments. Thus, it guarantees that your products are in good hands during the transit.
Moreover, online delivery is another stepping stone to boost your sales and popularity in the e-commerce industry. It is an opportunity to build your customer's experience and create loyalty. The volume you gain from online delivery can propel your business to new heights.
Generally, several cargo shipping options are now available in the Philippines. This is due to the increasing demand of consumers who prefer buying online than going to stores and shopping centers themselves. There are lots of e-commerce platforms that offer delivery options to their customers. However, many individuals and business owners still choose to have their own third-party logistics partners rather than using the e-commerce logistics partner.
Some of these options are very attractive to current and potential new customers. However, it would be best if you considered the possible costs that may occur in your business.
Here are the standard delivery options:
Free Shipping
The most popular shipping option for many consumers is free shipping because it is an added incentive for the customer to buy the product.
Another tip: Check out your competitors. Identify what they can offer to their customers; check if they are all offering the same free online delivery option. Also, figure out if this is going to be hard for your business or not.
Here in Transportify, since we offer a flexible rate for L300 for rent and truck for rent, no matter how many shipments you have, as long as you pay for your chosen services, you can maximize your expenses and plan it ahead of time for your deliveries. That way, you can save a lot of money than availing other delivery services from a different logistics company such as per package basis.
That's why our services are recommended for bulk and large shipments against small package like parcels and the like. Our services from Manila to Pampanga and the option to deliver it in large quantities will save you a lot of money.
Flat-rate Shipping
It is an extra cost for your consumers, because it is dependent on distance. This kind of delivery option works best when the product's packaging, and shipping fees, don't cost too much.
Also, it can save you more time – by merely calculating the overall shipping costs only once and applying it to your delivery transactions.
Real-cost Shipping
From the word itself "real-time cost" shipping, customers are being charged with the exact cost of shipping a product. The price will be depending on the product's size, weight, and destination.
This kind of shipping option is transparent and accurate, but the calculation takes time, and the fees can seem unpredictable to your consumers. On the other hand, it can protect your business from picking up the unforeseen bill for large and oversized shipments and is very helpful, especially when the product sizes vary.
Same-day Delivery
If your focus is to target local customers, same-day delivery, and last-mile delivery using the L300 van and truck for rent services is the best choice. Especially for holidays such as Christmas, New Year's, and Valentine's day, you can even excite your Manila to Pampanga customers once you offer them this opportunity.
It will take additional time to set up for this kind of service. You will need an extra effort to deal with your chosen local delivery company, and you may need to customize your platform – depending on your chosen delivery company.
Fortunately, here in Transportify, we can guarantee you an outstanding shipping service that will perfectly fit your business needs. So it doesn't matter whether you will need an L300 for small but bulky packages or a truck for rent for high volume deliveries. You can also opt from last-mile delivery, point to point delivery, and even same-day delivery depending on the location. With the help of our on-demand delivery app, you can easily book for a shipping schedule anytime and anywhere you want.
If you like us to become your delivery partner, you can avail of our business program for retailers, business owners, individual needs, or even corporations. Our expanding services from Manila to Pampanga can give your business the edge you deserve. We also offer more extensive services other than our L300 and truck for rent. So, what are you waiting for? Contact us now with the details available above.
Aside from the shipping options, you should need to be creative as a retailer or business owner. There are many ways to create brand awareness, build up your online reputation, and generate loyalty by being creative with your packaging like creating a unique design, package shape, attractive packaging materials, and package shape. Our L300 for rent and truck for rent services will always be suitable for any product you have. Ever think outside of the box to make your brand stand out compared to your competitors? With our L300 and truck for rent, only your imagination will be the limit!
Moreover, every step in your business online shipping process is a chance to win your customer's heart over. Your customers care about fees, convenience, and they care about how you can present your package creatively. You can focus on building your connections from Manila to Pampanga and let us handle the delivery service and trucking concerns.
Whichever of these options you prefer to use, you should need to make it easy for your customers to understand the delivery costs on your platform. Moreover, you should also be aware that you will need a local logistics provider like Transportify to deliver these kinds of services.
| | | |
| --- | --- | --- |
| | or | |
Frequently Asked Questions:
Who offers the best truck for rent services for large item delivery?
✔️ Depending on the business requirements and dimensions of the package, there are many options for truck for rent services. In Metro Manila, Lalamove and Transportify are the leading providers for large item delivery. But if you are looking for the most affordable, reliable and offers a wide range of vehicle options that can handle large item delivery, you may choose Transportify. We have a flat-rate shipping calculated depending on the distance covered by each booking. Our real-cost shipping option is dependent on the size of your package to be delivered. There is also the same-day delivery option which can boost your services as well.
What are the logistic provider options from Manila to Pampanga?
✔️ Many logistics providers offer options on deliveries for a variety of goods, packages and large items. But most of them are only available within Metro Manila and other neighboring cities. If your business is looking for a provider with a large service area and variety of vehicles available, you may choose Transportify. Our service area covers the whole of Luzon. Our fleet consists of sedans, L300s, closed vans, open trucks, and wing vans to meet different customer requirements.