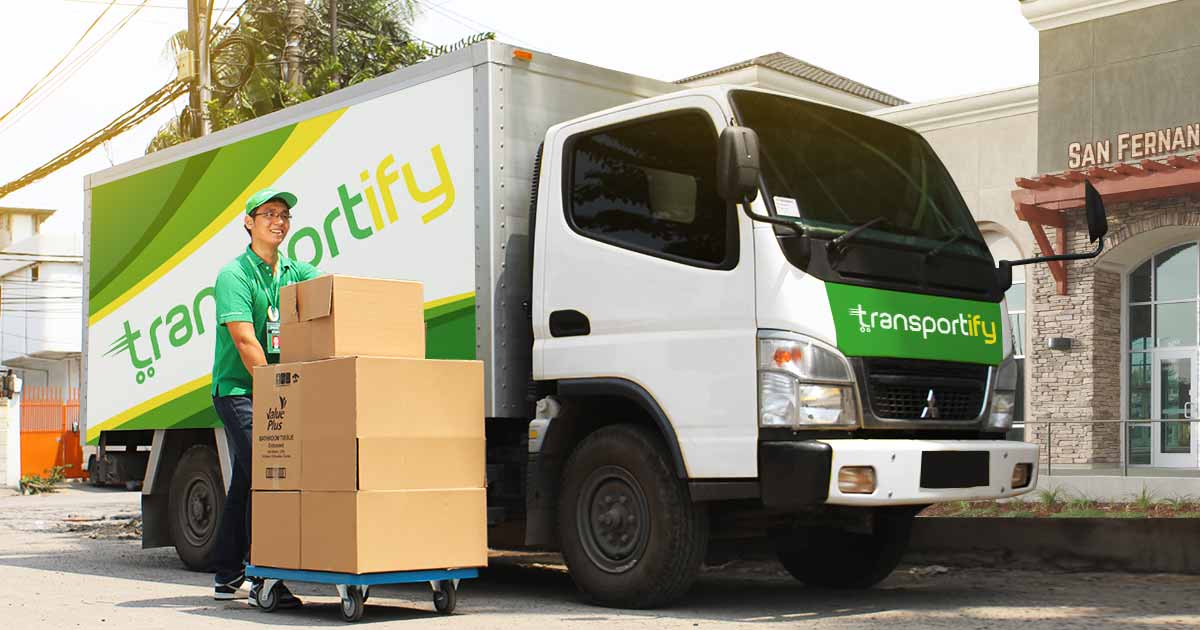 Good news for all the businesses anywhere in Pampanga! Transportify Philippines, the biggest and the smartest logistics solution in Metro Manila, is now offering affordable truck services in Pampanga. With this, customers can now save big and deliver more using Transportify closed van truck from anywhere within our service area in Pampanga to all over Luzon.
Customers can choose from our wide array of delivery services:
Point-to-Point Deliveries within Pampanga
Transportify has two options for your logistics needs within the local service area. First, our Intra City Standard Service offers affordable truck rental based on the distance covered from pick-up to drop-off point. Our closed van truck has a base rate of P2,150 with only P50 additional per kilometer covered. Customers can add as much as 15 destinations in one booking. Select "Schedule" timing option on the app and get a closed van truck for rent in Pampanga ready to pick-up and deliver your packages within 3 hours or book up to two weeks in advance.
In contrast with our Standard Service, we offer Full Day truck rental at a flat rate. For only P6,000, get 10 hours of vehicle rental with unlimited distance and destination within our Standard Service Area in Pampanga. The flat rate includes loading and unloading service with one extra helper, the driver's time, and fuel. Need more time? No worries! You can extend the truck services rental at an affordable price. Pay for only P150 per hour in excess of 10 hours of using the vehicle from your pick-up time.
Truck Services from Pampanga to all over Luzon
For city-to-city provincial deliveries, we offer Long Haul Service. This allows you to hire a truck for rent in Pampanga that will deliver your big packages to different cities at a fixed price. Check the rates and routes below:
| Long Haul from Pampanga to | Fixed Rate |
| --- | --- |
| Metro Manila | ₱6,000 |
| Tarlac | ₱3,500 |
| Subic/Olongapo | ₱3,800 |
| Balanga | ₱3,800 |
| Cabanatuan | ₱4,200 |
| Pangasinan | ₱7,000 |
| Baguio | ₱8,500 |
| La Union | ₱8,500 |
| San Pablo | ₱11,800 |
| Lipa City | ₱12,000 |
| Batangas City | ₱12,500 |
| Vigan | ₱13,500 |
| Lucena | ₱14,300 |
| Laoag | ₱16,000 |
Our Long Haul includes full package truck services with loading and unloading assistance on the pick-up and drop-off location, tolls and parking fees, POD return service, commercial goods insurance, and 24/7 Customer Service assistance.
More about Transportify Closed Van Truck Rental
A regular closed van truck can accommodate 31 extra-large balikbayan boxes. If you need a bigger vehicle, just add extra space on your booking and we will match you with a larger vehicle. Extra Space is typically a 6-wheeler closed van truck that can fit up to 62 extra-large balikbayan boxes.
When you book our truck service in Pampanga, special help by the driver and one extra helper is already included. You can still add a second extra helper to get additional help in loading and unloading of your packages. Get it for only P200 for Long Haul and Scheduled booking, and P400 for the Full Day closed van truck rental.
If you're looking for a top-quality truck rental in Pampanga for your big packages, then you don't need to look any further than Transportify. Feel free to contact us today for more information about Transportify closed van truck services rental.