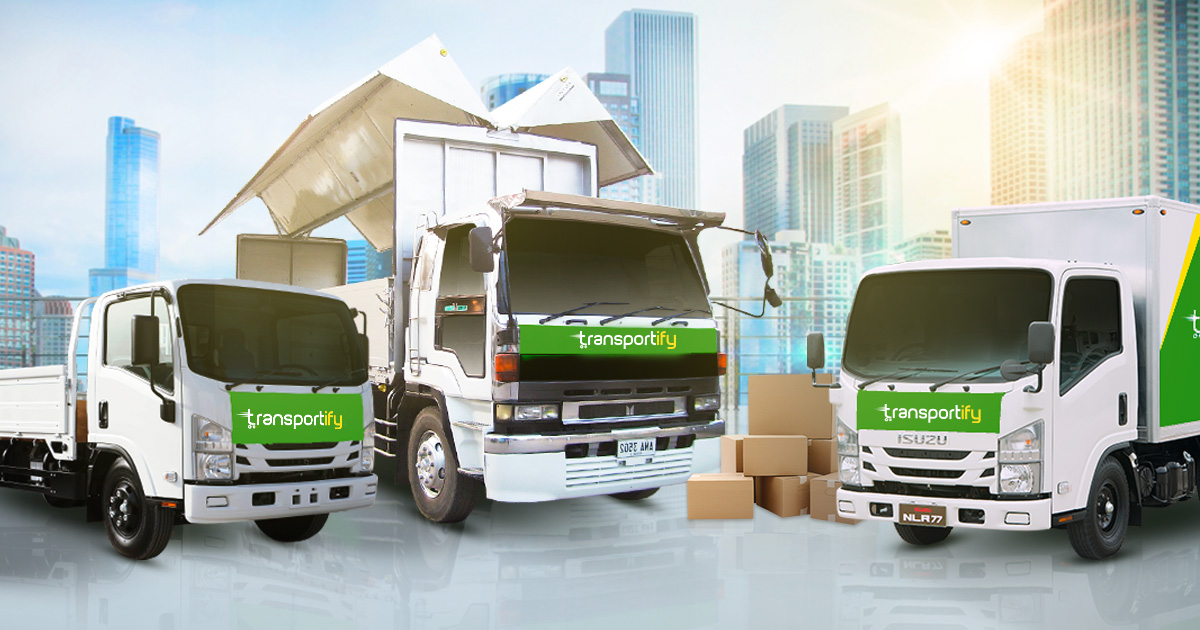 One of the usual problems that businesses and individuals face during non-working holidays like the Day of Valor is the lack of available in-demand services, including trucking logistics in the Philippines services from trucking logistics service providers. This problem is a big deal since some businesses must be kept active and open even during the non-working holidays, and some individuals have urgent packages that need to be delivered immediately.
If you are one of those who are pondering how to overcome these inconveniences during non-working holidays, well, there is no more need to stress yourself out. Transportify delivery company has come up with solutions for your trucking logistics problems! Here's a table to give you a quick glimpse of our delivery prices:
Vehicle Type
Dimensions/
Weight Limits
Base Price


(Metro Manila)

Base Price


(Outside Metro Manila)

Base Price


(Visayas/Mindanao)

Wing Van 

32 to 40 x 7.8 x 7.8 ft




12000kg to 28000kg

7500 PHP

6500 PHP

6500 PHP

6w Fwd Truck

18 x 6 x 7 ft




7000kg

4850 PHP

4850 PHP

4850 PHP
Closed Van

10 to 14 x 6 x 6 ft




2000kg to 4000kg

1800 PHP

1450 PHP

1450 PHP

Open Truck

10 to 21 x 6 ft x open




2000kg and 7000kg

2300 PHP

1950 PHP

N/A

Mini Dump Truck

10 x 6 ft x open




2000kg

1500 PHP

1200 PHP

N/A

L300/Van

8 x 4.5 x 4.5 ft




1000kg

430 PHP

330 PHP

310 PHP

Small Pickup

5 x 5 ft x open




1000kg

310 PHP

250 PHP

220 PHP

Light Van

5.5 x 3.8 x 3.8 ft




600kg

250 PHP

192 PHP

225 PHP

MPV/SUV

5 x 3.2 x 2.8 ft




200kg

160 PHP

130 PHP

140 PHP

Sedan

3.5 x 2 x 2.5 ft




200kg

140 PHP

110 PHP

120 PHP
Problem #1: How can I send packages if trucking logistics service centers are closed on holidays
Solution: Use Transportify's on demand delivery app.
We made Transportify's on demand delivery app and services available during holidays. Our delivery app will not shut down during the Day of Valor or any other holidays, so individuals who need to send packages will have the trucking logistics service they need. Moreover, the package sender does not need to go to any trucking logistics service center as Transportify also offers door-to-door logistics in the Philippines.
Problem #2: My logistic fleet is not enough to restock inventory before the holidays. How can I make the restocking faster?
Solution: You can rely on us, even if you are not yet enrolled under our Business Program!
If your business is not yet enrolled under the Transportify Business Program, and you think your own logistics in the Philippines may not be able to finish restocking your stores' inventories before your logistics crew take their day-offs on the coming holiday, you can book a transaction with us as a regular client. Our L300 delivery van services and closed van trucks for a whole day to are available as additions to your solution for logistics in the Philippines. This way, the restocking task will be faster and will be done before the holidays.
Problem #3: I need to deliver stuff during the holiday, but my logistics crew will not be working on that day. What should I do?
Solution: Be a Transportify Business Client!
Business clients or Transportify clients enrolled in our Business Program do not need to worry about this problem. If your bonafide logistics crew does not go to work as it is a non-working holiday, you can rely on Transportify driver partners. Transportify business clients can schedule delivery needs on holiday dates ahead of time, and Transportify will assign you a driver partner willing to work that day.
Problem #4: But how can your driver partners work during non-working holidays?
Solution: Transportify, as one of the best logistics in the Philippines, has a very efficient internal logistics system.
Transportify driver partners can decide which days they could make delivery trips. Some driver partners choose weekdays while some want weekends and holidays, which is why Transportify always has driver partners available no matter the day or the occasion!
For individuals and business owners who need trucking logistics services this Day of Valor, Transportify's provincial trucking logistics service, as well as it's Metro Manila operations, will be active and available during the holiday.
Holiday Shipping Tips for Trucking Logistics in the Philippines
This is the season for crowded shipping, …and there's no better time than today to get your business prepared for bulk and increasing orders and demands from the customers this upcoming holiday season. Whether you're a business owner, vendor shipping to merchants, or a marketplace seller, it's essential to plan your holiday business goals by utilizing an efficient trucking logistics strategy.
Aside from the key factors, you should also need to include the delivery dates, knowing your customer's pain and frustrations, and figuring out the additional fees that may add to your deliveries (if any). To help you, here are some useful holiday shipping tips.
1Know the Holiday Delivery Service of Your Chosen Logistics in the Philippines Partner
So, whether you ship with one shipping service provider or you prefer a multi-carrier shipping method for your business, it is essential to know their holiday shipping schedules. Aside from the key dates, you should also include the last day's available time to ship a package.
Here in Transportify, as one of the best logistics in the Philippines, you don't need to worry about the holiday shipping schedules. With the help of an on demand delivery app, you can book any date and any time you want for your business deliveries.
2Identify Your Customer's Pain and Frustrations
According to a study, there are 47% of online shoppers, and consumers have reported frustrations and disappointments with everything starting from shipping to order returns to damage and missing products during the holiday shopping season.
With the same study data, it was revealed that almost 75% of the consumers choose free shipping with a more extended delivery date. On the other side, there are only 25% of the consumers who are willing to pay for expedite order shipments.
Having this thought on your mind, you can ease your consumer's frustration by giving them an efficient holiday shipping method. It includes flexible delivery options, free shipping, and easy to process orders.
Choosing Transportify as one of the best logistics in the Philippines, you can lessen your customer's frustrations and pains. Using our on demand delivery app, you can book anytime you want, and you can easily track the current status of your orders, giving your customers peace of mind they deserve.
Aside from these, you can also incorporate the cost of the shopping into inventory charges; for instance, you can help to provide the perception to your consumers that their shipping fee is free.
The main benefit here is, however, is to ensure that the shipping is as smooth as possible. Remember, you need to eliminate any disadvantages in the consumer's path once they are ready to make a purchase.
3Know the Additional Fees That May Occur to Shipping
Other logistics in the Philippines may have extra surcharges that can surprise many customers. So, to avoid this from happening, you should need to find a logistics partner who has a fixed rate for their deliveries.
Here in Transportify, as your trucking logistics partner, we have fixed delivery and shipping rates to our customers. For more information regarding our fleets and prices, you can check out our mobile application or call our customer service representative today.
Aside from the extra surcharges, it's crucial, however, for many shippers to confidently understand what extra fees will apply during the holidays. This enables a better understanding of what additional charges may be impacting on the shipping costs. Leveraging an order auditing method into your shipping strategy can help you get refunds and lessen peak surcharges.
In addition to that, it also helps to lessen your large deliveries overheard. To make sure that your holidays are not full of extras, avoidable costs, and other shocking fees, you need to implement order auditing methods in addition to your shipping efforts. With no monthly payments, cancellation costs, and set-up fees, there will be no zero excuses to start incorporating your order auditing into your holiday shipping methods.
Lastly, holiday shipping season expectations from the consumers are no longer the same compared before. Their hopes for next day delivery or trucking logistics and delivery service are now becoming the norm rather than an exception.
Frequently Asked Questions:
Is there a trucking logistics available on holidays in Manila?
? Some deliveries are done even on the holiday since some roads are not as busy compared to regular days. Although offices are closed, deliveries continue even on holidays. Transportify is an example of trucking services that are available for bookings on holidays. There are drivers who prefer delivering on these days since it is expected that there some who chooses to take a day off. Holidays are also crucial in the logistics industry because these days are where some businesses are busier.
What is the definition of trucking logistics?
? The term trucking logistics means the efficient way a system is placed to make trucking services work. Trucking identifies as a logistic service with the use of large vehicles like closed vans. Transportify uses the latest technology to have your deliveries fast. This can help your business maximize profit while minimizing costs. It is also associated with continuous improvement and research on making management systems in order to enhance trucking operations.