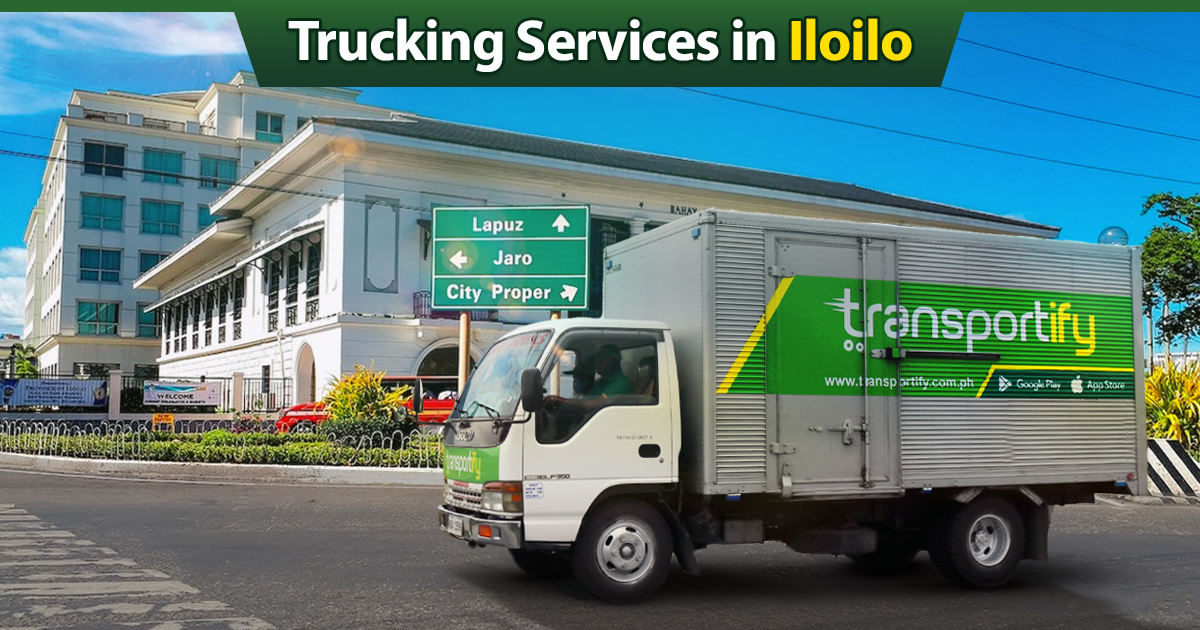 It has been a new year and plans for changes are coming from everywhere. People are looking for ways to start their business, move into a new home or look for new opportunities. One ideal hotspot to start a business or move to a new environment is Iloilo. The vibrant city offers business-friendly opportunities for people that need a new head start for 2023.
Iloilo City is ideal if you plan to expand your business and distribution. During the recently concluded 46th Philippine Business Conference of the Philippine Chamber of Commerce and Industry, Iloilo City was named the city with the most business-friendly local government unit outside of Metro Manila. It was the only city in the Visayas to receive the honor. Transportify wants to use this business opportunity to offer city delivery and trucking services Iloilo to jumpstart your 2023. Learn more about Transportify's trucking services Iloilo and city delivery here.
How Useful Are Trucking Services in Iloilo?
As a city with the most business-friendly local government, businesses of all sizes rely on the trucking services Iloilo industry. They need it to maintain fast and safe city delivery times across the city. Here are reasons why trucking and delivery service are vital in a bustling city like Iloilo:
For Essential Responsibilities
In 2019, Iloilo was also hailed as "Most Business-Friendly Highly Urbanized City." Since then, for a business to thrive, it requires more than just a proactive local government; it also requires an excellent workforce and an ever-improving infrastructure. Trucking services Iloilo contribute to Iloilo's economy for the first time by transporting raw materials to manufacturers. Trucks, for example, also use city delivery to transport raw materials from local suppliers such as mines, farms, and loggers to factories that require materials to manufacture goods. T
rucking services in Iloilo and city delivery services that provide cargo van rental for businesses frequently have a large selection of vans to choose from. Whether you need to transport a large number of goods or a vehicle that can handle the daily grind of making deliveries, you can usually find something that will suit your needs. Finished goods are then transported on trucking services Iloilo for city delivery to wholesalers and retailers or other modes of transportation for shipment by cargo vans or trucks to destinations throughout the city.
Shipping Goods
Agriculture is the heart of Iloilo as our country is rich in natural resources. To be able to provide for the people and the country, workers are heavily dedicated to producing agricultural goods for distribution. Due to the obviously increased demand for shipping goods, cargo van rental for business is in high demand in Iloilo City. This is especially true for small and medium-sized businesses that need to make multiple deliveries throughout the city.
A cargo van can be a much more cost-effective option than hiring a truck and driver, which can often be prohibitively expensive due to hiring requirements and expenses. Shipped goods include agricultural and fish products, furniture, stone and minerals, motor vehicles, wood, textiles, leathers, coal, and petroleum, to name a few. Thus, city delivery and trucking services Iloilo plays an important role in Iloilo's economy. Almost every type of good travels on a truck at some point.
Why Choose Transportify for Your City Delivery in Iloilo?
1Budget-Friendly Prices
Holidays are over and Transportify knows that you don't want to break the bank to start your year anew. Transportify calculates their prices for all vehicles and trucking services Iloilo areas based on vehicle and total distance. As a booker, you will have complete control over your bookings and city deliveries, allowing you to tailor the price to your specific budget. This trucking services and city delivery offering enables large and small businesses in Iloilo to begin distribution without incurring high costs.
2Ease of Access
When booking using Transportify, you can ensure easy access to any city in Iloilo via intra-city delivery and islands in Visayas and Mindanao via interisland delivery. You can make an urgent booking in 60 minutes and have your items delivered the same day to another place in Iloilo. You can schedule your bookings up to two weeks in advance, in addition to the quick delivery option. Transportify also accepts same-day city delivery transactions for shipping goods, pickup, and delivery. Transportify understands how important business trucking services Iloilo are to any company. Many businesses would struggle to move goods and meet customer demands if they lacked this critical logistics capability.
Through the Transportify app in Iloilo you'll have access to these light delivery vehicles and trucks at your fingertips:
Vehicle Type
Dimension &
Weight Capacity
Base Price


(Visayas/Mindanao)

Wing Van 

32 to 40 x 7.8 x 7.8 ft




12000kg to 15000kg

6500 PHP

6w Fwd Truck

18 x 6 x 7 ft




7000kg

4850 PHP

Closed Van

10 to 14 x 6 x 6 ft




2000kg to 4000kg

1450 PHP

L300/Van

8 x 4.5 x 4.5 ft




1000kg

310 PHP

Small Pickup

5 x 5 ft x open




1000kg

220 PHP

Light Van

5.5 x 3.8 x 3.8 ft




600kg

225 PHP

MPV/SUV

5 x 3.2 x 2.8 ft




200kg

140 PHP

Sedan

3.5 x 2 x 2.5 ft




200kg

120 PHP
3Beginner-friendly
Starting on your own is a little more difficult than we thought it was. That is why the user-friendly application of Transportify not only allows you to transact trucking services Iloilo for city delivery in a matter of seconds, but it also allows you to track the driver's location in real-time. This feature increases bookers' assurance and trust because they see the update to their booking firsthand. Transportify is revolutionizing low-cost trucking services Iloilo for city-to-city delivery in the Philippines. From pickup to drop-off, Transportify guarantees an on-demand, professional, and cost-effective logistics solution that you will undoubtedly enjoy and book again and again.
SEE ALSO
Do Business Deliveries With Transportify
Transportify Philippines is more than just a typical logistics service provider. Not only are our services dependable, affordable, and easily accessible via the Transportify delivery mobile app, we also offer the Transportify Business Program to provide a kick-start for small-to-medium-sized businesses in the Philippines. Because Transportify strives to go above and beyond, our Business Program provides logistics assistance and provides additional benefits.
The benefits are as follows:
Flexible payment options: Our customers under this program can choose between post-paid or prepaid.
Customized procedures: Transportify is also open to looking into your current operations to check what points can be optimized in your supply chain.
Platform for your employees: Some businesses would need several employees to handle plenty of deliveries every day. Under the program, you will have exclusive access to your business booking app where several of your employees can enroll and handle booking all at the same time.
Dedicated fleet: In case you prefer a specific unit of vehicles that will deliver your items, Transportify can create a pool of drivers dedicated just for your deliveries.
All these and more are under our Corporate Account for Business. Send us an email at business@transportify.com.ph to know more about this program and our services. Transportify also has an API system that businesses can connect to. This will allow businesses to automate their supply chain and heavily improve on their fulfillment.
| | | |
| --- | --- | --- |
| | or | |
Frequently Asked Questions:
What are the advantages of using a trucking app like Transportify for my deliveries?
🌤️ Transportify is business-friendly, easy to access, and cost-effective. We are fit to serve businesses of all sizes. May you be a social media seller, SME, or a big corporation. Our primary aim is to support businesses transport their goods from point to point with the most innovative and cost-effective logistics service.
Why does Iloilo need trucking services for city delivery?
🌤️ Iloilo is an important business hub in Visayas. It houses numerous BPO and IT companies that contribute a considerable amount to the city's economy. Aside from the tech industry, Iloilo is also known for its agricultural products and raw materials. All in all, services and product movement are vital in making Iloilo as vibrant as it is today. As the city continues to grow, so does the need for movement and trucking.