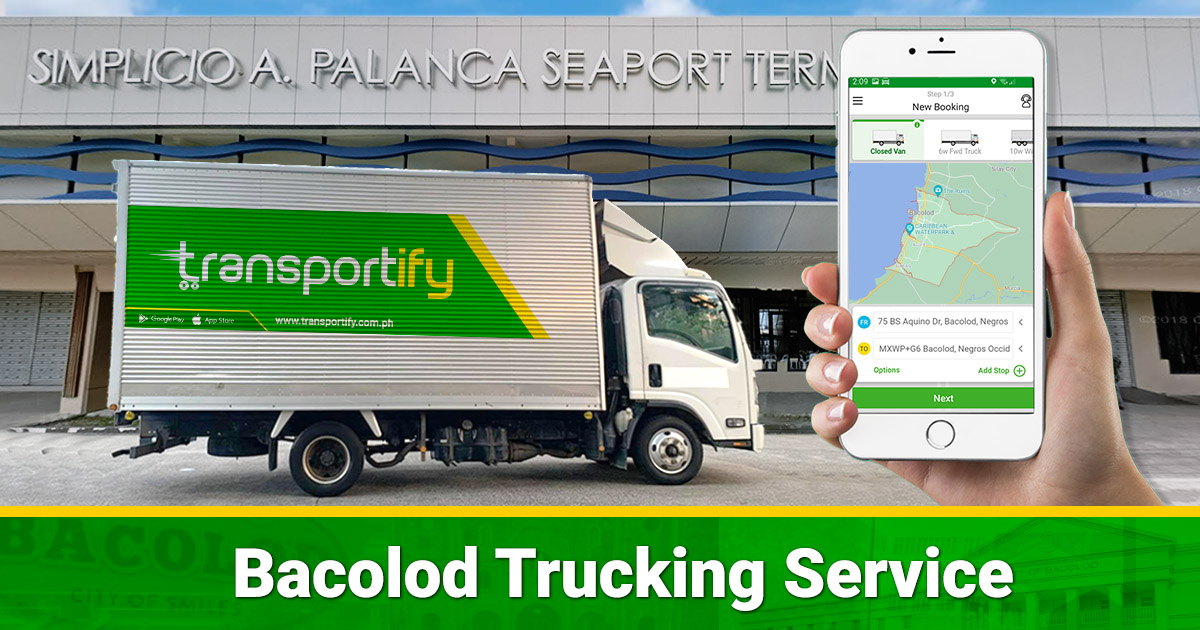 If you're a business owner in Bacolod City, then you know that reliable trucking services are essential for keeping your business running. But what if you don't have a truck of your own? Or what if you need to transport something large and bulky? That's where cargo van rental for business comes in. Bacolod trucking services like Transportify offer a variety of cargo van rental for business, making it easy to find the perfect one for your business logistics needs.
Bacolod trucking services offer cargo vans of all sizes. So whether you need to transport inventory, furniture, or equipment, there's a cargo van rental for business that is perfect for the job. In this blog post, we'll talk about the benefits, the pros, and the cons of a cargo van rental for business through Bacolod trucking services so that you can make a wise decision for your business logistics needs.
Bacolod Trucking Services for SME Businesses
Bacolod is known for its culture, heritage, and historical attractions. It has been voted one of the most livable cities in the Philippines. The city is also famous for its delicious food and nightlife experience. Bacolod offers various services to cater to everyday people's needs, such as shopping, dining, leisure activities, and transportation.
Because of this, the need for Bacolod trucking services such as cargo van rental for business and freight forwarding increased for SME businesses. Cargo vans, as an example, are perfect for businesses because they can be used to haul goods and materials from one place to another. They're also great for making deliveries, as they can hold a lot more than passenger cars. And since they're commercial vehicles, they're often exempt from certain restrictions that passenger cars have, such as the number of hours you're allowed to drive them each day.
Bacolod trucking services that offer cargo van rental for business often have a wide selection of vans to choose from. You can usually find something that will fit your needs, whether you need to transport a large number of goods or you need a vehicle that can handle the daily grind of making deliveries.
Cargo Van Rental For Business
In Bacolod City, there is an excellent need for cargo van rental for business due to the increasing demand for deliveries. This is especially true for small to medium enterprises that need to make bulk deliveries across the city. A cargo van can be a much more cost-effective option than hiring a truck and driver, which can often be very expensive due to hiring necessities and expenses.
Like Transportify, we offer Bacolod trucking services for SME businesses seeking immediate logistics needs. From our app, you can easily book a cargo van anytime and anywhere.
Our partner driver will pick up the cargo from your store and deliver it to your preferred location. We offer Bacolod trucking services for all types of businesses, whether you're in the food industry, retail business, or any other kind of service-based company.
Cargo van rental for business is perfect for SMEs looking for an immediate solution to their delivery needs without spending too much. Cargo vans are also ideal for short-term use, such as when you need to move office furniture or appliances from one place to another.
Here are cargo vans and trucks businesses and individuals can book via Transportify:
Vehicle Type
Dimension &
Weight Capacity
Base Price


(Visayas/Mindanao)

Wing Van 

32 to 40 x 7.8 x 7.8 ft




12000kg to 15000kg

6500 PHP

6w Fwd Truck

18 x 6 x 7 ft




7000kg

4850 PHP

Closed Van

10 to 14 x 6 x 6 ft




2000kg to 4000kg

1450 PHP

L300/Van

8 x 4.5 x 4.5 ft




1000kg

310 PHP

Small Pickup

5 x 5 ft x open




1000kg

220 PHP

Light Van

5.5 x 3.8 x 3.8 ft




600kg

225 PHP

MPV/SUV

5 x 3.2 x 2.8 ft




200kg

140 PHP

Sedan

3.5 x 2 x 2.5 ft




200kg

120 PHP
SEE ALSO
The best thing about our Bacolod trucking services is that we always prioritize customer satisfaction. All of our drivers are courteous, and they will go out of their way to make sure that your delivery goes smoothly. If you're looking for a cost-effective and customer-centric Bacolod trucking service, then Transportify is the perfect choice for you. Try our app today and see how easy it is to book a cargo van.
How to Choose The Right Cargo Van Rental For Businesses in Bacolod
When it comes to choosing the right cargo van rental for business, there are a few factors you need to consider. The first is the purpose of the van. What will you be using it for? If you need to transport goods or equipment, you'll need a van with plenty of space. Another important consideration is the size of your business. If you're a small business, you may not need a large van and can save money by renting a smaller model.
The final factor to consider is your budget. Cargo vans can be expensive to rent, so make sure you shop around and find the best deal. Compare prices and features, and ask about any restrictions or limitations. Renting a cargo van can be a great way to save money on business deliveries, and it can also help improve customer satisfaction. By offering your customers a quick and efficient delivery service, you'll be able to keep them happy and increase your bottom line.
When deciding whether or not a cargo van rental for business is appropriate for you, it's crucial to carefully weigh the pros and cons. If you decide that a cargo van is a suitable choice for you, be sure to do your research. Transportify offers cargo vans for rent at an affordable price, so be sure to check our updated rates here.
Benefits of Cargo Van Rentals
When it comes to business, time is money. And one of the best ways to save time is by using cargo vans for your deliveries. Here are some of the benefits you can enjoy when you rent a cargo van:
Cost-efficiency: Cargo vans are cheaper to rent than full-sized trucks, and they're more fuel-efficient as well.
Convenience: With a cargo van, you'll have plenty of space to store your goods, which means fewer trips back and forth between your business and the delivery destination.
Customer satisfaction: By using a cargo van, you'll be able to deliver your goods quickly and efficiently, which will leave your customers happy and satisfied.
Reliable: Cargo vans are reliable vehicles, and they're perfect for making deliveries in busy urban areas.
There are a few drawbacks to renting a cargo van for your business. The first is the cost, cargo vans can be expensive to rent, and the price may not be worth it if you only need the van for a short period. However, for bulk deliveries, then renting a cargo van may be the right choice for you. Just be sure to weigh the pros and cons carefully before deciding.
| | | |
| --- | --- | --- |
| | or | |
Frequently Asked Questions:
What is the process for booking a trucking service via Transportify?
🚚 The process for booking any Bacolod trucking services is relatively simple. The first step is to find a trucking company that offers the services you need. Once you've found a company, you can request a quote or estimate. Be sure to ask about any restrictions or limitations, and make sure you understand the terms and conditions of the contract. However, in Transportify, you can book any Bacolod trucking services through an app anytime and anywhere. Rates may vary depending on the drop-off point and the type of trucks you'll choose.
Aside from cargo vans, what types of trucks do Transportify offer?
🚚 Transportify has a variety of trucks that businesses can choose from. We have cargo vans, dump trucks, open trucks, sedans, MPV/SUVs, and even 10-wheelers. All of which are perfect for different types of deliveries. All of our trucks are well-maintained and reliable, so you can be sure that your deliveries will reach their destination on time and without any problems. Plus, our rates are very competitive, so you can be sure that you're getting the best deal possible. Be sure to check our website for a complete list of trucks and rates.