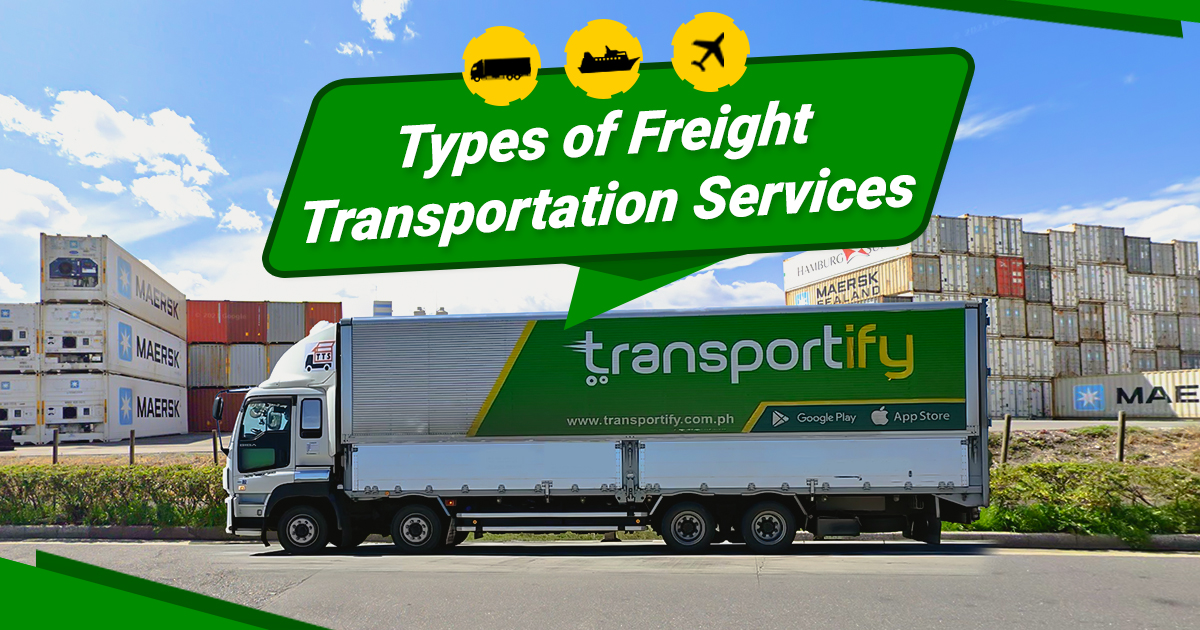 When it comes to shipping your freight, whether you are moving a single item or moving a whole container, the freight transportation services may not be the same for each case. You could fall into different categories of freight shipping, and as such, there would be some services that would be perfect for you, while others might not. So, in this article, we're going to go over the most common types of freight transportation services that you can consider using. But first, let's discuss what freight transportation is.
What Is Freight Transportation?
Freight transportation, also known as cargo transport, is the process of transporting commodities and merchandise goods. One who engages in this business is called a "freight carrier" or simply a "carrier." The term particularly refers to transporting manufactured products, although it may also refer to transporting raw materials or perishable products.
Different Types of Freight Transportation Services
Freight transportation services are the most common way of transporting goods from one place to another. Transportation is done by land, sea, and air. Here is a quick overview of the different types of freight transportation services that you should know about:
Sea Freight
A sea freight service is regarded as the most cost-effective way to transport items. It can handle all forms, sizes, and weights of freight, making it ideal for bulk shipment. Sea delivery is divided into two categories:
Full Container Load (FCL) – When you have shipment products that can fit into a normal 20- or 40-foot container, FCL is a viable solution.
Less than Container Load (LCL) – allows you to ship smaller amounts of cargo, along with other consignments with the same destination.
Sea freight may be a viable option when you have shipment goods that can fill a standard 20- or 40-foot container. LCL is available for shipping smaller amounts of cargo, along with other consignments with the same destination.
Sea freight may not be suggested if you require regular shipment intervals due to the time constraints imposed by sea freight delivery. If you require a regular shipment interval, air freight is your best option.
Air Freight
When you need to transfer items quickly, air freight service is an excellent choice. This type of freight transportation ensures that your cargo is transported and delivered quickly to all different locations throughout the world. However, it is only recommended for small shipments because airfreight costs for big and bulky items might be exorbitant.
But you can still lower the cost of using air freight. The earlier you book the shipment, the more you are likely to save on airfreight services. It's also cheaper if your shipment is small. Freight transportation services that offer air freight usually have minimum weight requirements, while others might restrict the size of items to be shipped. To ensure that your shipment arrives in time, it must be done two weeks before the departure date.
You can track your shipment, but you will need to provide the tracking number for your item if you want to know its location. Your items are often protected by insurance which protects them in case of damage or loss due to unforeseen circumstances during transportation.
Land Freight
Land freight is the most common mode of freight transportation method for domestic commodities. Whether your commodities are time-sensitive or not, cargo truck transportation services may be a simple and inexpensive solution to get them where they need to go.
One advantage of this form of freight transportation service is that trucks usually pass through multiple areas with ease. It also ensures that cargo is delivered by experienced drivers. There are two popular truck shipping methods:
Full Truckload (FTL) – The entire truck is filled with one type of cargo that will be delivered to one or more consignees.
Less than Truckload (LTL) – Part of the truck is used for several different types of freight, which are consolidated together to make delivery easier.
Rail Freight
In the Philippines, rail freight transportation is not as frequently used as other means of transport (e.g., car and plane). The primary reason for this is because of its low portability: a goods train can only contain around 500-800 tons depending on the cargo type.
Despite this, railroad and train delivery is an effective method of transporting goods over long distances.
In other countries, rail transportation is a popular and cost-effective mode of delivery with a high volume capability. In fact, rails can also transport hazardous goods without any risk to their surroundings because the carriages are not easily damaged by outside impact.
It is also common for large or bulky items to be transported long distances by train. The cost of sending these products by rail can sometimes be cheaper than transporting them via other modes of delivery, such as trucks.
Transportify is a freight service provider in the Philippines that specializes in land freight and interisland delivery via RORO shipping. Here's a glimpse of our Corporate Account for Business. Interested businesses may send us the accomplished form you can access under this table.
Business Program
Services
Program Features
Live Support

Open 24/7

Prepay

Available

Postpay with Monthly Invoicing

Available

Destinations

A total of 16 destinations can be added in every booking

COD/POD
COD + POD
2.50% of invoice
Min of 80 PHP
(Flat Fee/Booking)
POD Only
80 PHP for ≤ 3 destinations
160 PHP for ≤ 10 destinations
200 PHP for ≤ 15 destinations
Insurance and Warranty

Up to 3 million PHP coverage from OONA Insurance

Nationwide Service Area

Available




Interisland and Same Day Trucking in Luzon, Visayas, and Mindanao

Business Web Dashboard

Team Account Management Customized Reports
SEE ALSO:
What to Know About Freight Transportation Services
The freight industry is made up of many different moving parts. If you are new to the freight transportation industry and looking for information, it can be hard to find answers fast. Here are the most common factors about freight transportation services:
1. Freight transportation services involve the shipping of goods from one place to another
The freight transportation industry is a vital part of the global economy. It involves the shipping of goods from one place to another, and it is responsible for moving a wide variety of items including food, clothing, automotive parts, and more.
There are many different types of freight transportation services, and each one has its own unique set of benefits and drawbacks. Some of the most common types include trucking, rail shipping, maritime shipping, and air cargo. Each type of freight transportation service has its own strengths and weaknesses.
2. There are many different types of freight transportation services, each with its own quirks and benefits
Freight transportation services come in all shapes and sizes, each with its own unique benefits and drawbacks. Some of the more common types of freight transportation services include rail transportation, trucking, and maritime shipping.
Trucking is a popular choice for transporting smaller shipments over shorter distances. Trucks are able to travel on most roads and highways, making it a convenient option for delivering goods to local businesses and consumers.
3. It is important to find the right freight transportation service for your needs
Freight transportation services are an important part of the shipping process. It is important to find a service that can meet your needs and provide you with the best possible shipping experience. There are many different freight transportation services available, and it can be difficult to decide which one is right for you.
Before choosing a freight transportation service, you should consider the following factors:
The type of freight you need to transport;
The size and weight of your freight;
The distance you need to transport your freight;
The delivery time you need;
And the cost of shipping
Freight transportation services can be expensive, so it is important to compare prices and make sure you are getting the best deal possible.
| | | |
| --- | --- | --- |
| | or | |
Frequently Asked Questions:
Can I save money by consolidating my freight?
🚛It is possible to save money by consolidating your freight because it makes up for the service fees you'll be paying the company. If you take the time to unload all of your goods and consolidate them into one shipment, then you can save yourself money in the long run.
How do I know if the company I'm working with is reliable?
🚛 It's important to work only with a reputable company that offers reliable freight transportation services within the industry. They should provide transparent pricing and offer services that are specifically tailored to your needs. The best way to determine if a company is reputable or not is by reading reviews from their current and former clients. You can find these online as well as ask the company's online representative for references they may have.