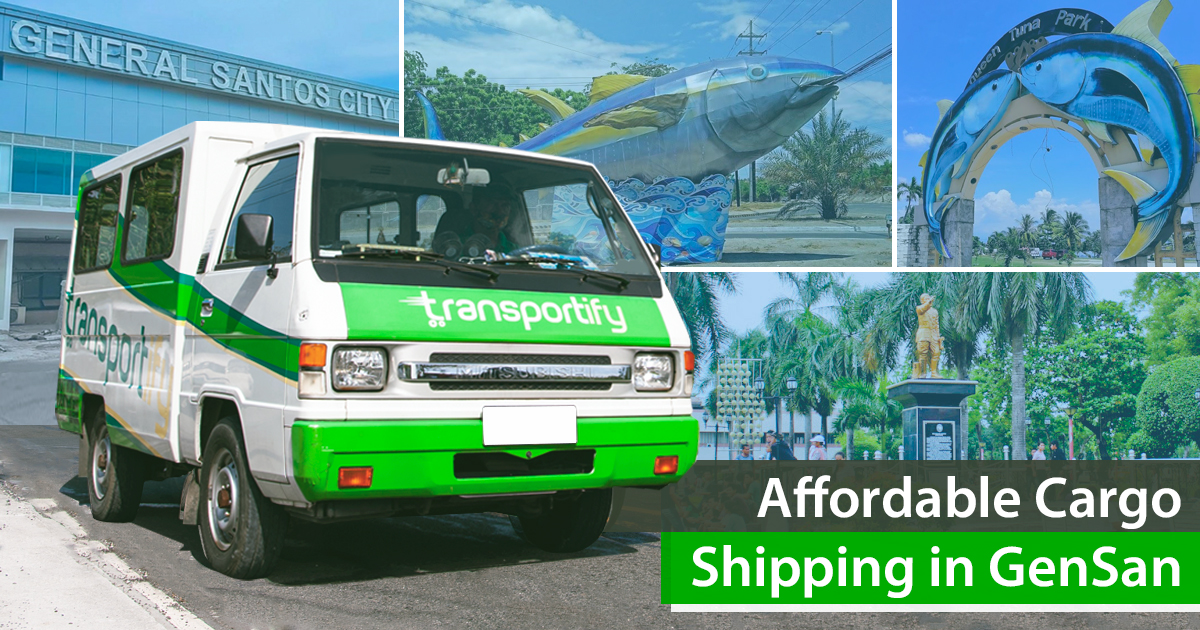 Transaction and deliveries are an integral part of an economically developed city. Today, there are several developed areas in Mindanao, one of which is the city of GenSan. As the economy expands, so is demand. As a result, businesses may struggle to find a logistics provider that fits their budget. Despite the changes, businesses in GenSan must deliver high service levels and provide the most satisfactory customer experience. Transportify's entry into the logistics market of GenSan will allow small and large businesses to expand by offering affordable cargo shipping that is cost-efficient and flexible.
With Transportify's GenSan delivery service, you can send practically anything to any address in the city. You have the choice of receiving your things immediately or arranging them in advance when using our GenSan delivery service. Transportify is one of the Philippines' logistics companies that offer four-wheeled vehicles and trucking services across Luzon, Visayas, and Mindanao.
What is Affordable Cargo Shipping?
With the speed and convenience of online purchasing, few people consider the number of actual shipping touchpoints required for affordable cargo shipping to their homes.
"How much does it cost?" is a frequent question. It is critical to remember that affordable cargo shipping and delivery not only apply to the delivery charges. The cost of the product being shipped must also be considered, and the packaging and shipping insurance. In order to provide an estimate for cargo shipping, it is essential to know what you are shipping, where it is going, and how long it needs to get there.
Transportify's GenSan delivery service provides affordable cargo shipping that is flexible and easy for businesses and individuals. We offer on-demand logistics services for all types of cargo. We have four-wheeled vehicles in GenSan that can transport your products anywhere you want them to go, whether light, bulky, or heavy.
Here are the vehicles and trucks that bookers can book in GenSan through Transportify:
Vehicle Type
Dimension &
Weight Capacity
Base Price


(Visayas/Mindanao)

Wing Van 

32 to 40 x 7.8 x 7.8 ft




12000kg to 15000kg

6500 PHP

6w Fwd Truck

18 x 6 x 7 ft




7000kg

4850 PHP

Closed Van

10 to 14 x 6 x 6 ft




2000kg to 4000kg

1450 PHP

L300/Van

8 x 4.5 x 4.5 ft




1000kg

310 PHP

Small Pickup

5 x 5 ft x open




1000kg

220 PHP

Light Van

5.5 x 3.8 x 3.8 ft




600kg

225 PHP

MPV/SUV

5 x 3.2 x 2.8 ft




200kg

140 PHP

Sedan

3.5 x 2 x 2.5 ft




200kg

120 PHP
Transportify Makes Business Deliveries Easier
Transportify is dedicated to providing affordable cargo shipping and GenSan delivery services without sacrificing service quality. If you're still not convinced, we have our price calculator to acquire an estimate for our services and ensure that we're the most economical delivery service.
1Register with ease
Unlike other delivery apps, there are no membership fees or subscription charges. Instead, you only pay for your trips, making it a more cost-effective option.
2Your convenience is our priority
Another reason why Transportify is a great choice is that it is very convenient. All you need to do is download the app and create an account. Once your account is verified, you can start booking trips immediately. There's no need to go through complicated procedures or wait for lengthy approval. Plus, you get real-time updates on your trip, so you know exactly where your driver is and when they will arrive.
3We have a wide coverage area
Transportify is available in major cities and municipalities all over the Philippines. This means that you can easily find a driver to take you where you need to go, regardless of your location. For our affordable cargo shipping for our GenSan delivery service, we are available in areas of Tambler, Fatima, Calumpang, San Isidro, Lagao, Mabuhay, Malungnon, Malaglag, Columbio, Kiblawan, Padala, and Matanao.
4Safe and reliable drivers
All of our drivers are screened and verified before they are allowed to drive for Transportify. We also provide insurance for each trip, so you can rest assured that you and your belongings are always safe when traveling with us.
What Are the Benefits of Using an Affordable Cargo Shipping Service in GenSan?
We Are Cost-Effective
GenSan delivery Service significantly relies on Transportify's affordable delivery service prices to be able to provide economical products. Because Transposrtify bases their cost solely on your entire route, vehicle hired, and other services, if any, Transportify can provide reasonably affordable cargo shipping GenSan delivery service for big items pricing. We are cost-effective because we allow our customers to customize their service as they see fit. You have complete control over your service.
It's quick and simple to get a quote for our delivery services. The calculator calculates the point-to-point delivery truck price once you enter the vehicle and address. In addition, our long-distance delivery service charges are fixed, and there are no hidden costs. This covers vehicle rental, driver service, fuel, parking, and tolls, with real-time customer service available 24 hours a day.
Efficiency Through Delivery App
Furthermore, our app will always allow you to communicate with customer service staff and booking drivers throughout the shipping process, from placing your order to providing comments after shipment. You always have the option of contacting our exceptional customer service team, who will promptly address all of your shipping concerns.
Transparent and Affordable Rates
As customers, you should value affordable cargo shipping and handling just as much as your consumers do. Affordable cargo shipping and handling significantly impact client acquisition and loyalty to GenSan delivery service due to the costs involved, your reputation and ability to match customer expectations, and keeping up with the competition. Shipping and handling are crucial components of your overall GenSan delivery service and online operation. A lot goes into keeping consumers satisfied and prices low, from giving the correct delivery methods to obtaining affordable cargo shipping rates.
When you're running a company, one of the things you need to focus on is delivery. Customer expectations have evolved, and today's customers expect a rapid, dependable, and economical delivery service. If you want to improve your customer service and grow your business, focusing on the delivery process using Transportify is the way to go.
We Are Here for Every Delivery Needs
Businesses can rely on Transportify to help with their delivery needs. Whether it's sending a package across town or shipping a large shipment, we have the perfect solution for you. And because our service is affordable, businesses can save money while getting the job done right.
Individuals can also take advantage of our services. If you need to send a gift to a friend or family member, Transportify is the perfect option. We offer not just lipat bahay service in Luzon, but also in Cebu, Davao, Cagayan De Oro, and now GenSan. We make it easy and convenient to get your package where it needs to go. Plus, our prices are unbeatable.
Why Choose Transportify?
We offer reliable and affordable cargo shipping that will meet your needs every time. In addition, our drivers are experienced and knowledgeable about the area, so you can have peace of mind knowing your package is handled with care.
| | | |
| --- | --- | --- |
| | or | |
Frequently Asked Questions:
What is the advantage of Transportify's affordable cargo shipping among other companies?
⛟ The Transportify advantage over other air cargo services is that we are technology-focused. We've created an app that is available to all Android and IOS users. The whole booking procedure may take less than 5 minutes, allowing you to enjoy a hassle-free booking. The second benefit is that we are available at any time. We can assist you with any booking issue at any time of day or night.
Should I use a delivery app to hire a GenSan delivery service?
⛟ If you need a safe logistics solution that can deliver your items at any time in GenSan, use a delivery app. Transportify is the ideal delivery service for corporate clients who need to transport large amounts of goods. Individual consumers may use the Transportify app for non-commercial needs such as home equipment delivery, as well as personal requirements like meal preparation.