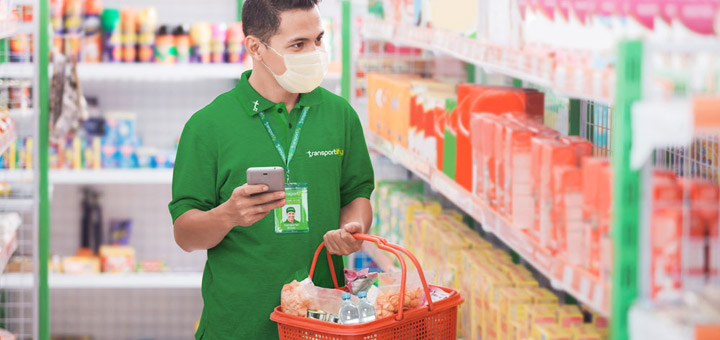 Grocery delivery services are in high-demand right now as our society tries to practice social-distancing. However, sometimes we just want to tell someone what to buy, which is why Transportify is launching Shopping Service, with thousands of trained Shoppers with cars and SUVs operating every day on its platform. They await your shopping bookings.
When availing of this service, please abide by the following guidelines for which the Shoppers have also been trained:
1Your shopping location should be able to accept GCash as a mode of payment
Our Shoppers are powered by Gcash, It is where they hold their shopping funds. Don't worry, most stores accept Gcash. Here are some examples of stores that accept Gcash.
Click HERE for the complete list.

| | |
| --- | --- |
| Major Groceries | SM (Super/Hyper), Puregold, Robinsons, Rustan's, Waltermart, Landmark, All Day, Hi-Top, Savemore, Healthy Options, Ever |
| Major Pharmacies | Mercury Drug, Watsons, SouthStar, Generika, The Generics Pharmacy |
| Convenience Stores | 7/11, Ministop, Lawson, All Day, Alphamart |
2Shopping service is allowed only at stores that are able to provide printed official receipts
We require receipts because they serve as the official document that confirms the price of the items. This is how our app will charge your credit balance and the printed receipt will be the official document to resolve any discrepancies.
3Fund your wallet for payment. Our maximum amount is 10,000PHP
You will be required to topup your Transportify wallet prior to making a shopping booking. Once our app matches your order with a Shopper, the Shopper will commence shopping using the funds available in your wallet. Don't worry, only the amount purchased will be deducted from the wallet.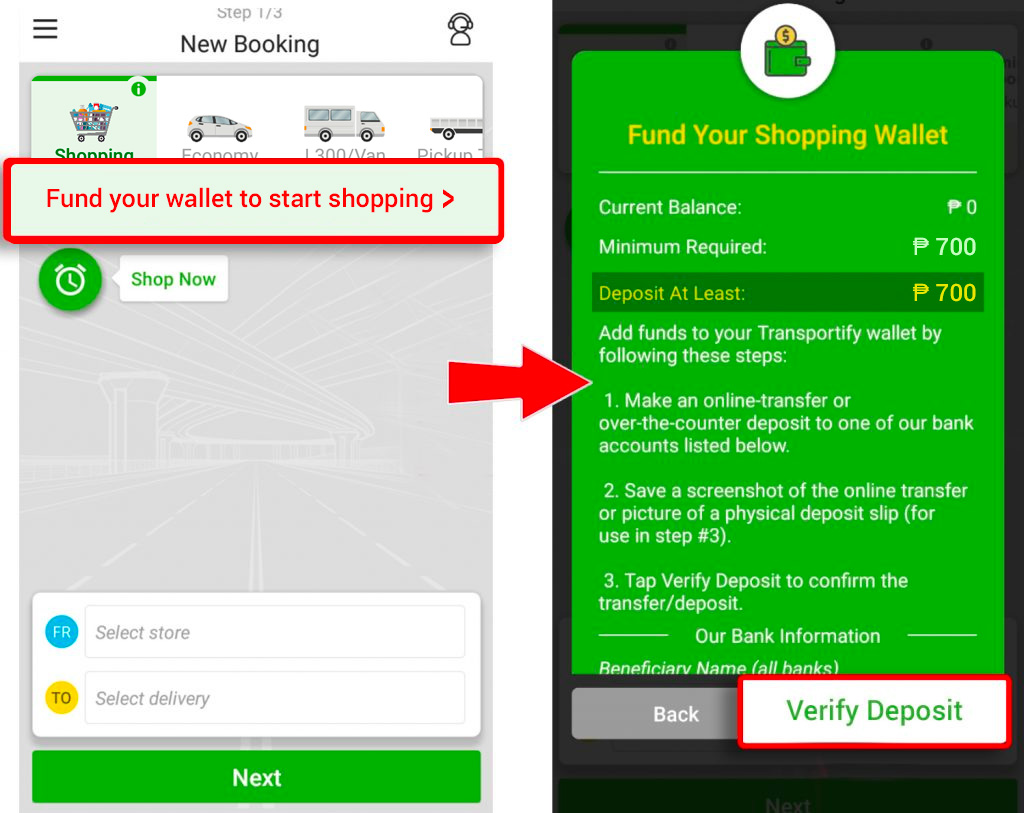 4Use our in-app Shopping List feature for coordination with your Shopper
Create your shopping list in our app! Your shopping list is also visible to your shopper, who will be entering additional information, such as price and availability, to your list during the shopping process. You can easily track these updates made by the Shopper all within your app. 
Did you change your mind? Want to add or change something in your list? Good news, our app allows you to do that and your updates will be seen by your shopper. Just tell your shopper to "unlock" the shopping list so you can edit it.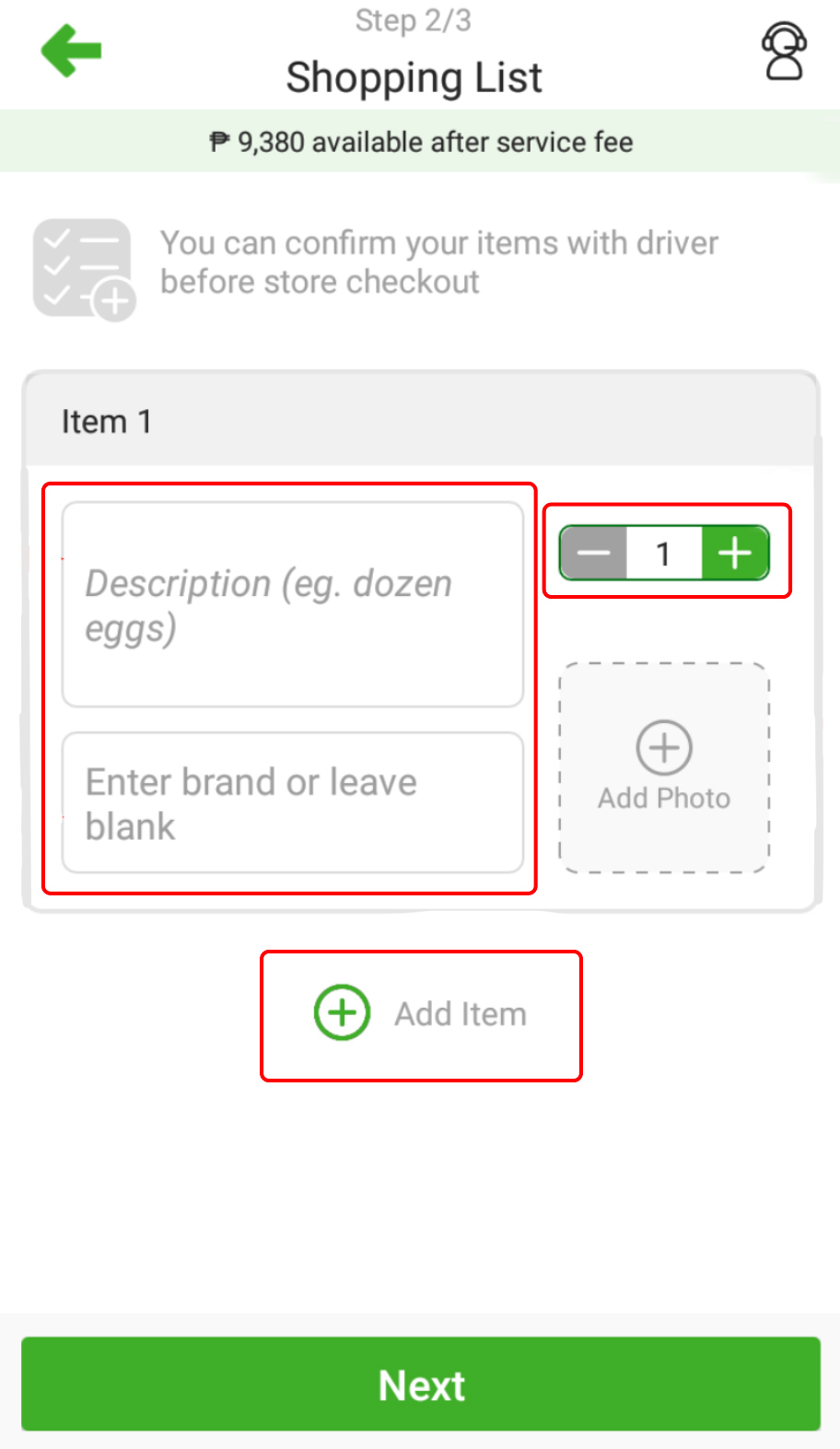 5Use our in-app chat feature to communicate with your Shopper
Our app has an in-app chat feature for you to communicate easily with your Shopper. We encourage you to use this feature whenever you communicate with your Shopper. It's FREE and EASY to use.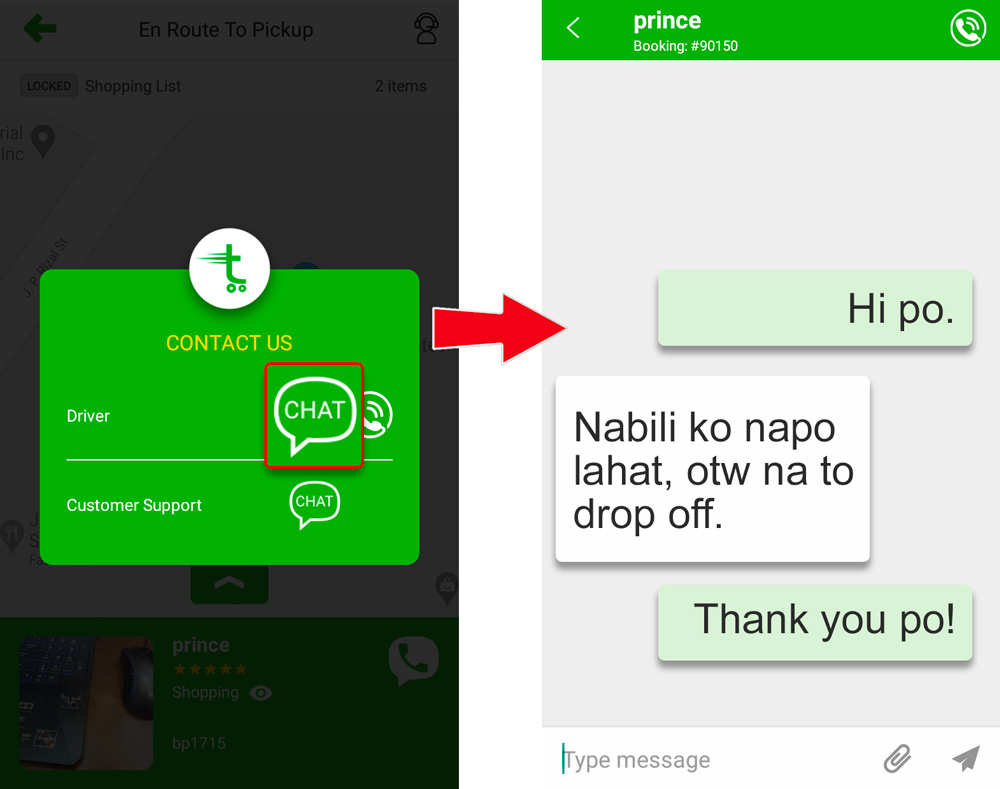 6Cancellations / Refunds for Items Purchased
Once the items are purchased, Transportify does not process refunds except under clear circumstances of misconduct by the Shopper.
Frequently Asked Questions:
What do most people use Transportify's Shopping Service for?
🛒 We recommend using our Shoppers for bulky/heavy grocery items such as water, canned goods, diapers, toilet paper, drinks, snacks. Our Shoppers all use cars, SUVs or vans so weight or size will not be a limitation. Customers can also use our Shoppers to buy medicines from pharmacies.
Can we use this for purchase at restaurants?
🛒 In theory, yes, but we do not encourage it. There are many companies in the Metro Area that are already able to better serve you for this type of shopping.
Do I need to tip my Shopper?
🛒 No. Tips are not required. However, you tip your Shopper at your discretion. Your Shopper is not allowed to ask you for a tip or hint to you that he/she should receive a tip. If this happens, please chat with our customer service via your app to report the incident.
What do I do in case I have a dispute with my Shopper?
🛒 For disputes, please use your app to chat with our customer service which is available 24/7.