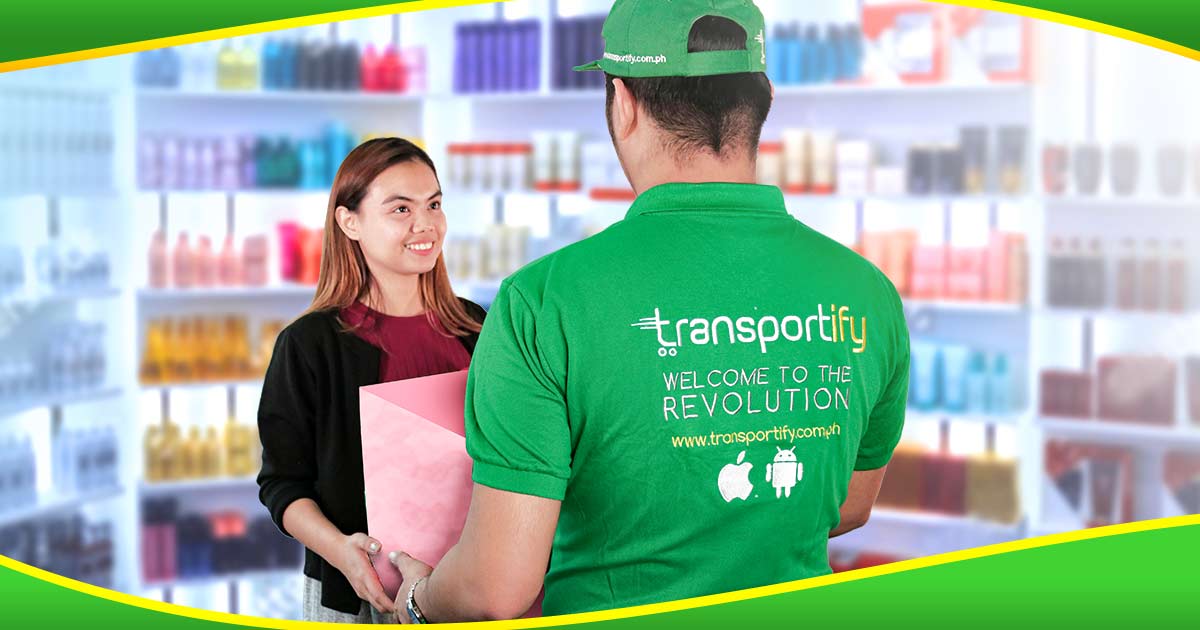 As the #1 local logistics company in the Philippines, Transportify strives to give excellent express shipping services to our clients in the cosmetics industry through effective and safe handling of cosmetics deliveries this 2022. To get started on our logistics services today, download the app now.
Delivery services vehicles
There is a wide range of cosmetic products sold in the Philippines, and most of them come from different countries. From Korean beauty products to acclaimed international makeup brands, shipping could be a headache for business owners due to the varied countries of origin. But those who had a fair share of problems in shipping bulk orders could always count on Transportify, a local logistics company that offers express shipping service for businesses this 2022.
Additionally, beauty events are on the rise, allowing different brands to display their products, stand out from the crowd and be #1 in their industry. Events always come with nitty-gritty planning and last-minute adjustments. Good thing the Transportify delivery app, one of the premier express shipping and logistics company in the Philippines, is always available to lend you a hand for all kinds of logistics operations this 2022.
Transportify's smaller vehicles are suitable for the delivery of small-sized beauty products that will not exceed 200 kilograms. Car models in this option include sedan, hatchback, and MPV/SUV. For larger and heavier packages, online shop owners can opt for the L300 or closed van options, which are perfect for wholesale product deliveries.
Here's a  list of our fleet type and base rates for your cosmetics business deliveries.
Vehicle Type
Dimensions/
Weight Limits
Base Price


(Metro Manila)

Base Price


(Outside Metro Manila)

Base Price


(Visayas/Mindanao)

Wing Van 

32 to 40 x 7.8 x 7.8 ft




12000kg to 28000kg

7500 PHP

6500 PHP

6500 PHP

6w Fwd Truck

18 x 6 x 7 ft




7000kg

4850 PHP

4850 PHP

4850 PHP
Closed Van

10 to 14 x 6 x 6 ft




2000kg to 4000kg

1800 PHP

1450 PHP

1450 PHP

Open Truck

10 to 21 x 6 ft x open




2000kg and 7000kg

2300 PHP

1950 PHP

N/A

Mini Dump Truck

10 x 6 ft x open




2000kg

1500 PHP

1200 PHP

N/A

L300/Van

8 x 4.5 x 4.5 ft




1000kg

430 PHP

330 PHP

310 PHP

Small Pickup

5 x 5 ft x open




1000kg

310 PHP

250 PHP

220 PHP

Light Van

5.5 x 3.8 x 3.8 ft




600kg

250 PHP

192 PHP

225 PHP

MPV/SUV

5 x 3.2 x 2.8 ft




200kg

160 PHP

130 PHP

140 PHP

Sedan

3.5 x 2 x 2.5 ft




200kg

140 PHP

110 PHP

120 PHP
Fast courier
The demand for beauty products is not expected to slow down any time soon, especially this 2022. It will result in increased product orders and more customer delivery jobs. This is where Transportify's express shipping services comes in as we respect our client's time by fulfilling delivery requests on schedule. Moreover, online shop owners who get urgent delivery requests can deliver their products on the same day they were ordered through Transportify's same-day delivery service.
This way, business owners can spend less time worrying about deliveries and more time growing your business this 2022. A local logistics company like Transportify can take care of the nitty-gritty details for you.
Wider reach
Emerging beauty trends have led online beauty shops to surface and get customers not just in the Metro, but also in the provinces. As part of our goal to revolutionize the logistics industry in the country, Transportify continuously works hard to widen our reach. Up to date, our standard pick-up service area extends to any point in mainland Luzon, and the provinces of Visayas and Mindanao. With this expansion, online shop owners who need to make special deliveries to the provinces can use Transportify's affordable provincial express shipping service.
Get in touch with the #1 customer service representatives to know more about our cosmetics express shipping service or browse through our blogs to discover how we ensure quality deliveries.
SEE ALSO:
Hassle-Free Express Shipping For Your Cosmetic Products
For the upcoming holidays, crafting merchandise for gifts and hundreds of cosmetic orders are in full swing this 2022. The holidays are indeed the busiest time for business owners and crafters because beauty products, especially cosmetics, make fantastic gifts. If your customers or recipients live in other cities, your cosmetic products need to be transported.
By this, you will need to find a reliable and trustworthy local logistics company for your items to be transported safely and on time. Though, this part of the shipping process can be a nerve-wracking experience, as some cosmetic products are usually delicate and most of the time, heat sensitive.
Having a little knowledge on how to properly pack your cosmetic products may save them from potential damages during the transport. So, to help you with your packing and shipping process, here are the following tips to secure your products to ensure that they will arrive in good condition.
But before that, you must first understand the basics of preparing. The first step that you may need is to evaluate what kind of product you're going to ship. Though some express shipping services can guarantee the condition of your products, some of them won't.
Ask yourself these questions:
Are your cosmetic products too delicate?
Are your products heat sensitive such as lip balms and lotions?
Or could they be soapy cupcakes?
All of these factors can affect how your items will be packed and shipped. Knowing the details of your cosmetic product can save you from potential damages before it arrives at the recipient.
Once you know the basics, then it is now the right time to try suitable packaging materials for your items and what local logistics company you would like to use. Cosmetic products can be shipped in different kinds of containers. Generally, there are many options to choose from, and the choices are a little bit overwhelming!
First, you need to evaluate your package:
How many products you're going to ship?
How much your products weigh?
What shapes are the products?
For instance, you're shipping a single bar of homemade soap, and then your package method is going to be different compared to candle or bath bomb shipping. You need to evaluate the size and weight of your cosmetic products. That way, you can easily decide on what type of service to use, as many of these local logistics companies offer different options that may vary depending on the product size and the location of the recipient.
Pick the Best Express Shipping Service
Does a perfect local logistics company for express shipping exist? Well, nobody's perfect, but near to perfection does exist! Here in Transportify, there are shipping options that you can choose from, which can ideally benefit you and your recipients.
Options such as the location, package size, and other extras will help determine which services would be the best. Unluckily, it is too impossible for you to find out that the driver has been awarded as the best driver for five years in a row, or if they will throw the package over the recipient's fence. Because in reality, some things will not always go as you planned. That's why it is essential to ship them in advance and pack your cosmetic products securely.
But now in Transportify, you can ensure that all of their employees, especially the drivers, are responsible and accountable for their service. Because for them, customer satisfaction is their number one priority.
When it comes to shipping options for businesses, the number one local logistics company for business owners is Transportify, particularly, in nearby cities around Manila. To help you find the appropriate express delivery service for you check out the below takeaways:
Should have skilled and professional drivers
Should have on-demand delivery application for track and trace of packages
Should have excellent customer service support
Should have flexible fleets and prices
Should have an outstanding reputation when it comes to the shipping process
Should be flexible when it comes to the shipping schedule
Lastly, it should be accessible anytime and anywhere in the Philippines
Pick the Appropriate Package Materials
Choosing a local logistics company and materials should be in a combination, as some express shipping services provide free packaging materials together with their service. But, it is better to go with the most popular options: envelopes and boxes.
Envelopes: It is perfect for small cosmetics and durable packages. Shipping envelopes typically have a small amount of bubble wrap inside to give extra padding but don't have a lot of additional space for supplementary padding materials. It is excellent for tiny, durable products such as lip balm, lipstick, eyeliners, and so on.
Boxes: If your cosmetic products are quite large, like palettes, lotions, bath, and body wash, it is the perfect option compared to envelopes. It is also better for delicate items like bath bombs, eye shadow, glass-bottled foundations and concealers, and compact foundations. Just ensure that you put the appropriate amount of padding materials like packaging peanuts or bubble wrap for extra protection.
Also, additional packing materials like bubble wrap and packaging peanuts avoid your cosmetic products from bouncing inside the box. These materials are often referred to as "loose-fill" as they fill up space inside the box. Just ensure to pack your items appropriately so recipients will be happy with the current condition of the items once they received it.
Start delivering with Transportify by scanning the QR Code or clicking the buttons below to access the application:
| | | |
| --- | --- | --- |
| | or | |
Frequently Asked Questions:
What is the best express shipping service in Manila?
🚚 LBC is considered one of the best express shipping providers with its nationwide coverage but arrives in 5+ working days. Transportify, on the other hand, works best for same-day shipping with its flexibility to deliver even large & bulky items with its comprehensive vehicle options.
How much would express shipping cost?
🚚 Price varies depending on the cargo or package you are sending. Grab Express is the go-to for on-demand motorcycle couriers that deliver your packages on the same day. Their price ranges from P80-130 for each booking. Transportify, on the other hand, is for when you need a local logistics company for larger and multiple cargo. Transportify has a flexible vehicle fleet to cover all sizes of deliveries. Our price range is 40% lower than the market. Our price starts at P140 + 20 per km for Sedan for smaller parcels and packages.