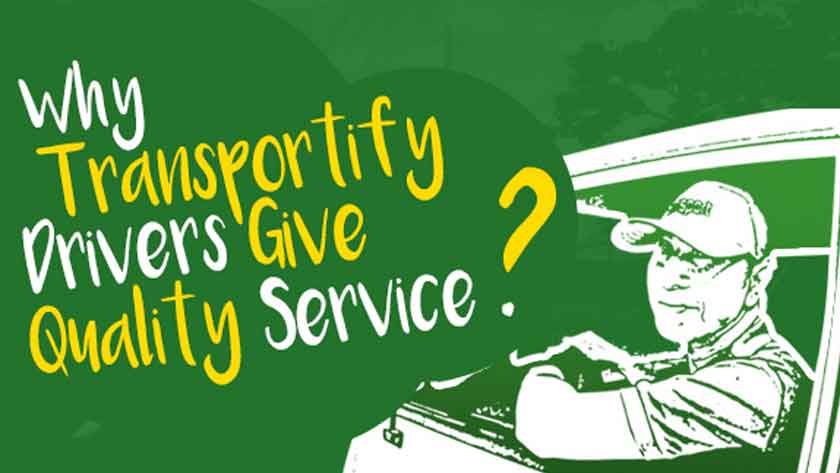 From our service reviews, it is apparent that our delivery driver partners can give quality services that other drivers of logistics service providers do not have. While other courier companies were reported to have impolite and unpunctual drivers, Transportify drivers are known for their pleasing personalities and reliability. Here are the reasons why!
Our drivers are prim and proper
It is very important for Transportify driver partners to dress appropriately. Our drivers interact with several different clients each day so they must be presentable. Each driver partner is required to wear the standard attire which is composed of a Transportify collared shirt or any plain collared shirt, a Transportify cap, the Transportify ID with picture, long pants, and closed shoes. This standard attire can also help clients determine legit Transportify driver partners.
Our drivers can be monitored
Based on customer reviews, it was reported that a driver from one of our on-demand delivery app competitors never reached the booked destination. In Transportify, we can guarantee that clients will never have to worry about such incident. The Transportify app, both web and mobile, has Track and Trace feature which allows you to track packages you sent in real time. You can monitor not only the routes and roads our driver is taking, but also information about your package's estimated time of arrival at the destination. Aside from the notification confirming your package's successful arrival, senders will also receive a digital copy of the recipient's signature, validating that he received the package.
Our drivers are well-trained
In an interview with Bloomberg TV Philippines' show Bright Ideas, Transportify Philippines' Head of Operations Paulo Bengson and Head of Sales and Marketing Noel Abelardo shared how we hire delivery driver partners.
Bengson and Abelardo explained that each driver applicant is required to attend seminars and trainings provided by the company. Afterwards, the applicants will undergo a test that they must pass to qualify as delivery driver partners. If the applicant did not pass the test, he must retake all the seminars and trainings, then take the test again. They cannot qualify as a delivery driver partner until they passed the test. When the company is sure that they can give quality service to clients, only then can they start to drive Transportify vehicles.
Transportify Philippines is not only concerned in providing clients with a fast courier service. We also prioritize our clients' experiences with our delivery driver partners. For this reason, we make sure that our drivers are all very well-trained before we let them drive, make transactions, and interact with our customers.