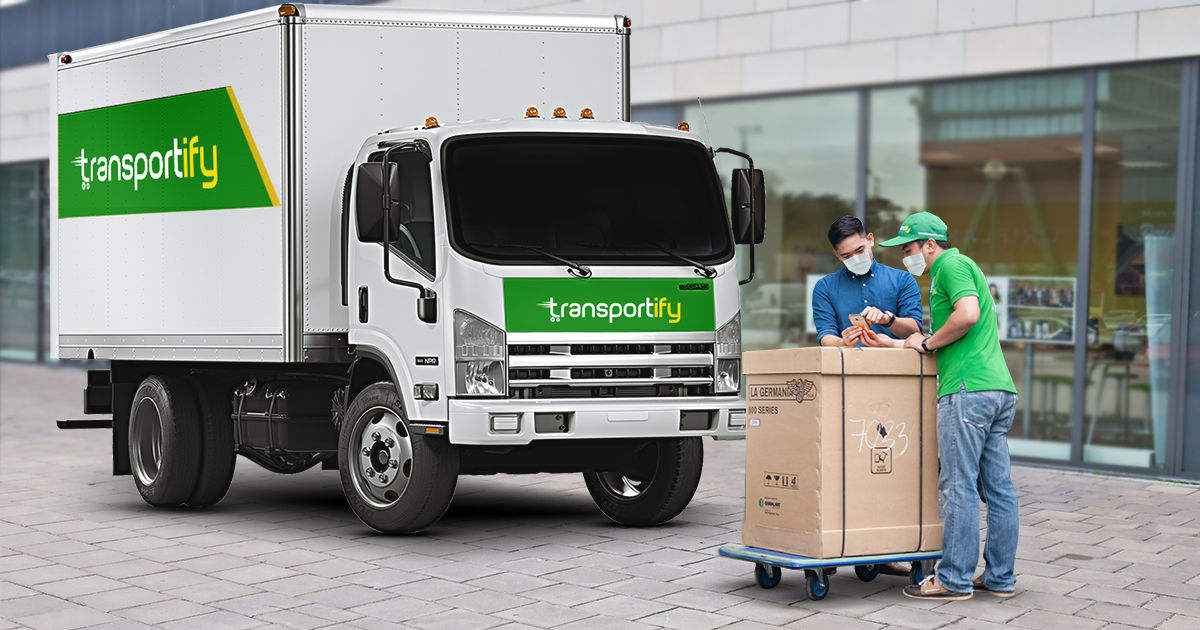 In today's setting, consumer expectations of prompt delivery are present across different industries. Whether your company sells appliances, furniture or merchandise items in bulk , many clients expect their orders to be delivered efficiently and if possible, on the same day. For a business owner, it would be extremely difficult to try and fulfill all of these delivery requirements if the company is not partnered with a rent a delivery truck logistics platform. In this article, we will discuss the benefits of outsourcing your deliveries with a logistics service company like Transportify.
Why Use Rent A Delivery Truck Service?
As we have noted earlier, a shift in consumer behavior is observed in the Philippine commercial landscape. Instead of going to shopping malls and other similar establishments, consumers prefer to stay at home and purchase items using various online shopping platforms available. Even groceries and other essential household goods are being purchased via online shopping websites. But it does not stop there. Larger and bulkier items such as appliances and furniture are being bought online. Thus, there is a great need for trucks that can handle large and bulky deliveries.
The table below shows all the vehicles offered by Transportify. These vehicles can transport all kinds of items from small packages to large and bulky goods.
Vehicle Type
Dimensions/
Weight Limits
Base Price
(Metro Manila)
Base Price
(Outside Metro Manila)
Base Price
(Visayas/Mindanao)
Wing Van 
32 to 40 x 7.8 x 7.8 ft
12000kg to 28000kg
7500 PHP
6500 PHP
6500 PHP
6w Fwd Truck
18 x 6 x 7 ft
7000kg
4850 PHP
4850 PHP
4850 PHP
Closed Van
10 to 14 x 6 x 6 ft
2000kg to 4000kg
1800 PHP
1450 PHP
1450 PHP
Open Truck
10 to 21 x 6 ft x open
2000kg and 7000kg
2300 PHP
1950 PHP
N/A
Mini Dump Truck
10 x 6 ft x open
2000kg
1500 PHP
1200 PHP
N/A
L300/Van
8 x 4.5 x 4.5 ft
1000kg
430 PHP
330 PHP
310 PHP
Small Pickup
5 x 5 ft x open
1000kg
310 PHP
250 PHP
220 PHP
Light Van
5.5 x 3.8 x 3.8 ft
600kg
250 PHP
192 PHP
225 PHP
MPV/SUV
5 x 3.2 x 2.8 ft
200kg
160 PHP
130 PHP
140 PHP
Sedan
3.5 x 2 x 2.5 ft
200kg
140 PHP
110 PHP
120 PHP
The rising trend in online shopping presents a new challenge to business owners especially in the area of logistics. This upward trend in online shopping is largely attributed to the convenience that this new way of shopping offers. For instance, many online retailers offer a customer-friendly refund or replacement option in case items are damaged or lost while in transit. This boosts consumer confidence in using these online selling platforms since they are assured that they will be compensated in case their items are damaged or lost. Furthermore, many online payment channels such as GCash and Alipay are widely used and even offer installment options when paying for items.
In order to face the challenge of fulfilling multiple deliveries, a company can resort to procuring multiple delivery trucks and carrying out its own delivery operations. However, such an endeavor would be costly and time-consuming since the business would have to create and establish various processes and standard operating procedures.
On top of that, if the company chooses to fulfill its own logistics operations, it would be limited to servicing the areas within the reach of its fleet. Thus, it would find it difficult to reach areas up north such as from Manila to Baguio, or down south such as Lucena and Bicol.
Therefore, the solution to all of these concerns would be to outsource the logistics operations to a third-party logistics service company like Transportify. In the section below, we will outline the different advantages on why it is important that a company uses a rent a delivery truck service from a logistics provider like Transportify.
SEE ALSO
Wide range of delivery vehicles
Delivery orders come in various sizes. Some of these orders are small while others require a 6w forward truck to move goods across vast distances. If a retailer chooses to do its delivery requirements on its own, then it would have to identify which vehicles to procure. Because of this challenge, there would be times when a business owner would not have the right vehicle to transport bulky and heavy items such as appliances and furniture. Similarly, it would be difficult to fulfill on-demand last-mile deliveries of smaller items.
However, this predicament would not be encountered when a company chooses the rent a delivery truck option for a logistics service company. A logistics service company like Transportify has a diverse fleet of delivery trucks ready to fulfill logistics requirements at any time and from anywhere in Luzon and Cebu.
With the problem of not having the right vehicle outlined, the solution is very simple. Use a logistics service company like Transportify and get access to multiple vehicle types. Transportify has a wide range of service vehicle options from sedans and L300 for last-mile deliveries up to 10 wheeler wing vans for freight deliveries. It also has vehicles for specialized delivery needs. There is the refrigerated truck for deliveries that require cold storage and the mini dump truck to haul construction aggregates such as sand and gravel.
Flexible Booking Operations
When running a business, there are many occasions wherein situations change unexpectedly. For example, there are cases when demand is very high which means there are plenty of delivery requirements to fulfill. In such cases, a business owner would find it extremely difficult to fulfill all those business delivery requirements.
However, when you partner up with a third-party logistics provider like Transportify, you can make a delivery booking anytime and from anywhere in Luzon and Cebu. In fact, you can even have your goods picked up in Luzon and transported to various locations in the Visayas and Mindanao with the interisland delivery service of Transportify. A logistics service company like Transportify understands the hustle and bustle of running a business which is why it offers delivery services 24/7.
There is no need to plan out routes or schedule deliveries. All you have to do is download the Transportify app, input your pickup and destination address, select the vehicle type and decide if you want the delivery to be done immediately or schedule it for a later date.
Big logistics cost savings
For any business owner, savings in time and money are very important performance indicators. Business owners and managers always want the most economical solution that would yield the best possible result for the business. And when it comes to streamlining operations, logistics is one sector where there can be huge cost savings.
And in order to realize these savings, the best course of action would be to partner up with a third-party logistics company like Transportify. By doing so, a company does not have to procure numerous trucks which would cost a lot of money. It will also avoid problems in the future such as having to deal with vehicle breakdowns and other similar situations.
Managing your own fleet of delivery trucks also entails investing in human resources. It would need a large team of logistics personnel to take care of the various logistics processes such as dispatching vehicles and planning delivery routes.
By using the rent a delivery truck option of a logistics service company like Transportify, all of these processes would be handled by the logistics provider. On top of that, there is no need to worry about monthly fees or other similar charges. With the Transportify app, you can make bookings at any time and just have to pay for each booking that you crated.
| | | |
| --- | --- | --- |
| | or | |
Frequently Asked Questions:
Why is Rent a delivery truck service good for my business?
🚚 The rent a delivery truck service offered by logistics companies like Transportify is one of the best solutions to fulfill all delivery needs. This is good for the business because a company does not have to procure multiple delivery vehicles to fulfill its logistics needs. All it has to do is download the Transportify app and start creating delivery bookings.
What is the role of a logistics service company?
🚚 A logistics service company fulfills the delivery requirements of various businesses across different industries. They can usually do a first mile, a mid-mile, and last-mile delivery service. These logistics service companies play a crucial role in the growth of a business since they enable them to move their goods and products across vast distances.