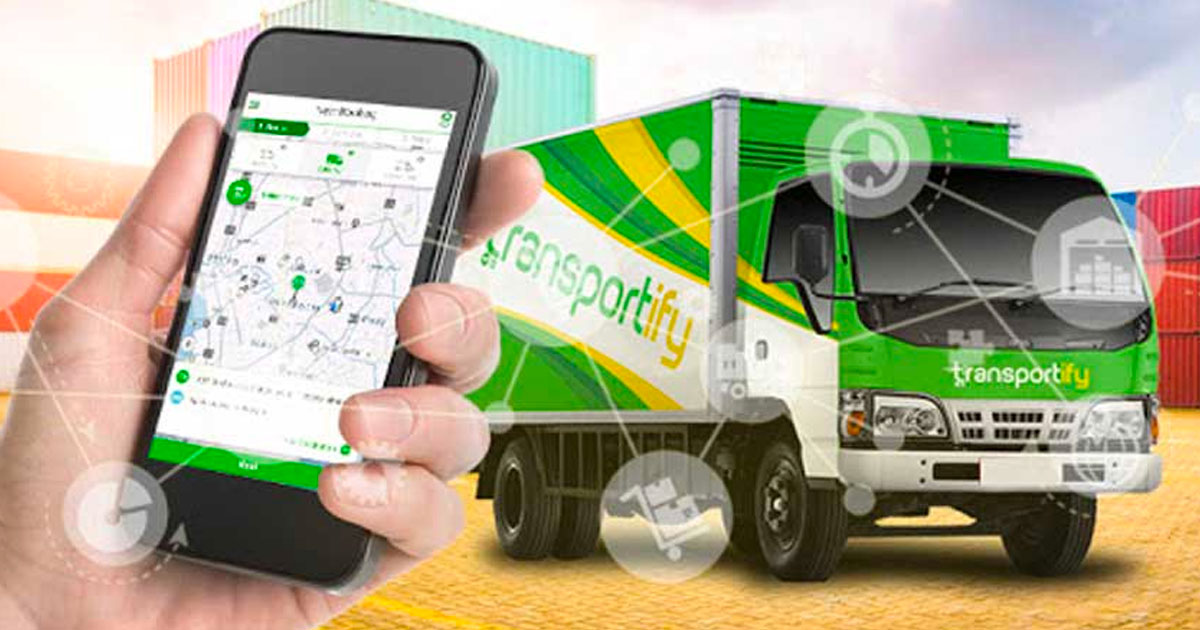 The absolute main objective of supply chain logistics is to make sure that the customer receives the desired product at the right time and place with the right quality and price. This process is also broken up into two branches, which include inbound and outbound logistics, which a usual forwarding company covers. Although most companies cover this, It's essential to still your research on who to should be the third-party partner for your business.
Transportify's System and How It can Help You
Transportify is a tech-driven forwarding company offering supply chain logistics solutions to customers in a personal manner, all at the touch of an app. Easily install the app from the Google Play Store or Apple App Store or go to our website to launch the web app with over 1M clients served.
After choosing a location, a vehicle, and your specific type of service, Transportify's System then matches you with a driver and their personal details along with an ETA to pickup location. Extra delivery services are also available. Immediate delivery services will have an arrival within 60 minutes. Once your packages are loaded, and en route to your destination, they can be tracked conveniently through the app. Tracking pinpoints the driver's whereabouts and ETA. Assistance is also available anytime by calling the Transportify Hotline or using the live chat icon.
Aside from offering a user-friendly yet sophisticated supply chain solutions to your logistics needs, Transportify also provides the Business Program, which provides additional support that benefits all industry's with its flexible services, and the best part is it's free to sign-up. You can check out the benefits below.
Business Program
Services
Program Features
Live Support

Open 24/7

Prepay

Available

Postpay with Monthly Invoicing

Available

Destinations

A total of 16 destinations can be added in every booking

COD/POD
COD + POD
2.50% of invoice
Min of 80 PHP
(Flat Fee/Booking)
POD Only
80 PHP for ≤ 3 destinations
160 PHP for ≤ 10 destinations
200 PHP for ≤ 15 destinations
Insurance and Warranty

Up to 3 million PHP coverage from OONA Insurance

Nationwide Service Area

Available




Interisland and Same Day Trucking in Luzon, Visayas, and Mindanao

Business Web Dashboard

Team Account Management Customized Reports
Transportify is the forwarding company for your efficient and convenient logistics solution to keep your business running powerfully! If you are still unsure, ask the 1M clients we served.
Supply Chain Management And Logistics
Since we're on the subject of supply chain and logistics, we'll be sharing more information about logistics and supply chain management to help clarify each and how they are both integral components to grow your business.
Supply chain management and logistics are sometimes used interchangeably. Some recognize a difference between the two, and others refer to supply chain management as the 'newer' logistics. Supply chain management is the connection that bridges significant business processes to create a higher performance business model that drives competitive advantage. On the other hand, logistics typically refers to the movement, storage, and flow of goods, services, and information inside and outside the organization. Logistics is a term that has been around for quite some time. It emerged from its military roots, while supply chain management is relatively a newer term.
While these two terms may have very similar meanings, they share different concepts with different purposes. Purchasing, materials handling, warehousing, logistics, transportation, inventory control, and supply chain management have continued to evolve. This has caused many of these specific functional areas to intertwine with one another. This intertwining has resulted in a bit of a blur to definitions of key terms like "logistics" and "supply chain management."
Supply Chain Management
In its true essence, supply chain management involves a tight-knit collaboration between firms to connect suppliers, customers, and other third-party partners as a means of boosting efficiency and producing value for the end customer. In other words, various organizational efforts are put forth, in detail, to work together as a supply chain that helps manage the flow of raw materials and ensure that finished goods provide value. The supply chain is the umbrella that managers use to work multiple functions across companies so that the finished product gets to the end consumer while meeting all business requirements.
Logistics
Logistics is just one small part of the more extensive, all-embracing supply chain network. Some professionals in the industry define logistics as part of the supply chain process that plans, implements, and controls the efficient forward and reverse flow and storage of goods, services, and related information between points of origin and the point of consumption to meet customer's requirements. Logistics can also be assumed as several activities, which include transportation, warehousing, and packaging that move and position inventory to synchronize the supply chain.
It should be kept in mind that it is beneficial not to use logistics and supply chain management interchangeably but to recognize that these terms supplement one another.
If you're interested to know more about the supply chain & logistics industry, you can read more on our blog section. You can also head on to our main page to discover all services Transportify forwarding company offers that has served over 1M clients.
What can a Forwarding Company do for your Supply Chain Logistics?
Small-medium enterprises (SMEs) are essential in developing countries' economies. Home-grown businesses, while limited, often embody sustainable practices and are a welcome presence to compete against established brands. The competition is a great way to challenge local citizens to innovate and develop. SMEs have limited resources, and typical avenues for growth and expansion aren't always possible. If you have a start-up or a small family business, supply chain logistics could be the solution you need to overcome resource issues.
Supply chain logistics is about finding partners and handing off tasks until it reaches the consumer. Transportify is a forwarding company that takes care of the delivery of products. We have a business program that offers to transport the items either from one business to another (a way of working down the supply chain), or from one business to the consumer (being the last link of the chain).
Supply chain logistics apply to large corporations. In their case, it isn't about a lack of resources but for the sake of efficiency. Each business specializes in a product or service, and to take on more roles to create one thing means more overhead liabilities. No ordinary delivery company can go in-between; these items need to be secure until it reaches retailers. SMEs can benefit from supply chain logistics with other leading logistics providers. It will be no different from what other companies are doing. Specializing in a service or product means you can make a name for yourself within the industry, minimize cost, and preserve manpower. For SMEs, all those points are desirable outcomes, and to do that, supply chain logistics is necessary.
How can you utilize freight forwarding companies to your full advantage?
To work with other businesses, you will be working on a larger scale. Bulk orders for supplies and bulk sale of products are to be expected when you are working with supply chain logistics. A delivery system needs to be in place to stay on top of this partnership. However, most in-house delivery systems are not sustainable in this set-up. It would be best to get the services of a forwarding company like Transportify, who will transport the goods between the businesses. This forwarding company specializes in business to business transactions. The program gives your SME the power to create their standard operating procedures (SOP), and the forwarding executes the delivery according to the SOP. You effectively have an extension of your company through this third party.
With a growing following of active van operators and an impressive list of local business partners, we have become a service worthy of ensuring quality deliveries. Transportify is the ideal forwarding company partner; you need to expand your business to greater heights!
| | | |
| --- | --- | --- |
| | or | |
Frequently Asked Questions:
What benefits do I get from supply chain logistics?
🚚 Running a business with limited resources can be extremely difficult. Especially if your business depends on a supply chain. Having efficient logistics can relieve you from the hassle. With supply chain logistics, you can focus more on production and strengthen your connection with your customer.
What does a forwarding company do?
🚚 Forwarding company does all the cargo transportation for any business. They specialize in high volume transportation. A forwarding company  serves as the bridge between businesses and customers. Like Transportify, we help small to medium businesses in taking care of their logistics needs. We have different types of vehicle to address different requirements from our customers on their deliveries.