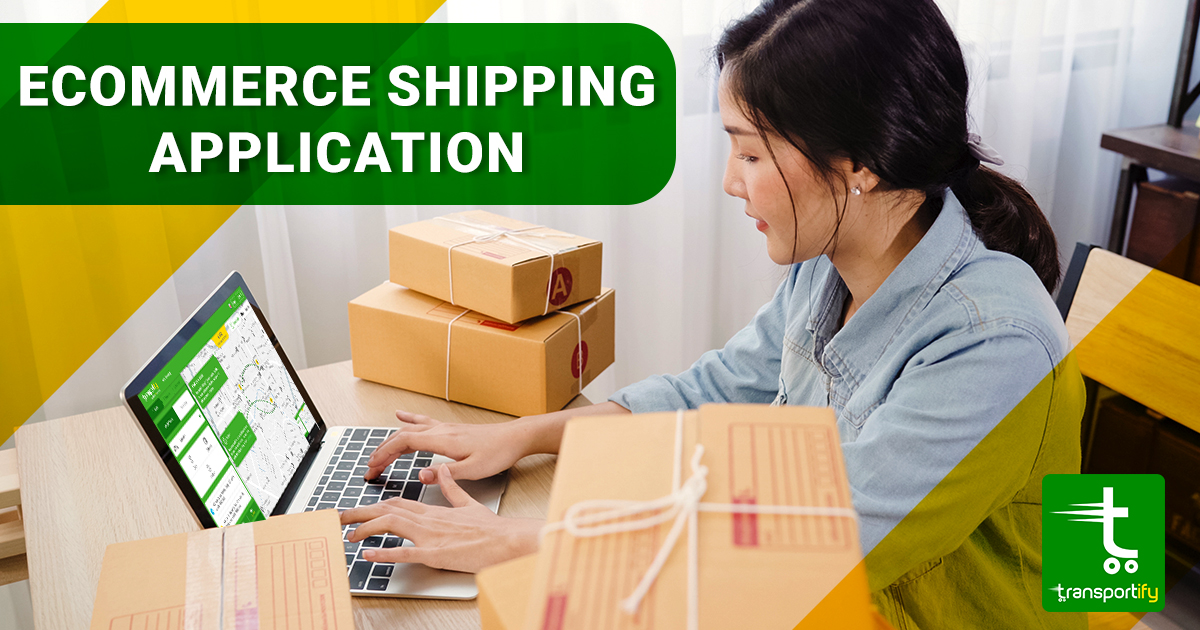 As the e-commerce industry continues its exponential growth, the pressure on online retailers to meet popular demand and customer expectations grow. It is now more important than ever for e-commerce business owners who want to stay relevant and competitive to keep their ears to the ground and embrace each innovation as it is introduced. This is where e-commerce shipping applications work best.
Take e-commerce in general as an example: brick-and-mortar retailers who have refused to embrace e-commerce and provide their customers with the option of purchasing their products online have largely failed and folded. On the other hand, those who embraced the change have managed to remain relevant and meet customer demand. Other retailers, such as Home Depot, went one step further by offering mobile apps in-store to help customers navigate their stores and locate specific products more easily and efficiently.
Why Should E-commerce Businesses Need To Fight To Stay On Top?
Now it's time for e-commerce businesses to embrace similar change. For years the e-commerce industry has been thriving, going from strength to strength (with global e-commerce sales approximating at 4.9-trillion US dollars!), but that doesn't mean that every e-commerce business owner is immune to failure.
Today, it's all about embracing e-commerce shipping applications. But, what's all the fuss about? Is it important to start using e-commerce shipping apps as an online retailer? In this article, we'll tell you everything you need to know.
How Using E-commerce Shipping Applications Can Benefit You
E-commerce shipping apps can yield plenty of benefits for your business and your customers when integrated and utilized properly. First, let's start with you:
1The potential for negotiating discounted rates
Everybody loves saving money, right? And the good news is that one of the best advantages of utilizing e-commerce shipping apps is that carriers will typically offer discounted rates, depending on your shipping volume. Similarly, certain apps may offer similar or better discounts without the need to sign a contract or meet a particular shipping threshold. It's all about finding the right balance of affordability and functionality.
2Order automation
Manually shipping orders can take an awful lot of time and effort. Applying details such as shipping location, ordered items, and shipping service will sap up precious time and resources. However, e-commerce shipping apps allow you to automate these tasks in bulk, freeing you up to focus on other important, revenue-generating tasks.
3Batch shipping benefits
E-commerce shipping apps accommodate batch shipping. It allows you to combine picked orders and print labels. That, combined with the automation advantages, can cut your time spent faffing around with orders.
4Centralize your selling channels
Not only can you save time by not having to manually input data, but you can also centralize your orders across multiple selling channels. For example, if you are selling on Shopify, WooCommerce, Magento, and Wix,  a quality e-commerce shipping application can import all the orders to organize and arrange to ship, again, saving you a truck-load of time and effort.
5Fulfillment services
Any quality e-commerce shipping app should effortlessly integrate with any third-party fulfillment companies. For example, if you have certain items housed in a third-party warehouse, the software can automate this process without your in-house team having to worry about it.
6Smart routing software
At Transportify, we use cutting-edge GPS tracking software that includes smart routing for drivers. In the event of a traffic jam, whether caused by an accident or bad weather, the route will be automatically updated, providing the driver with the quickest route possible and avoiding any potential delays. This saves your fleet time and money and benefits the customer by reducing the number of late deliveries.
Now, it's time to move on and look at how e-commerce shipping apps can benefit your customers—which in turn, helps you greatly.
Here's how the Smart Load Planner of Transportify works: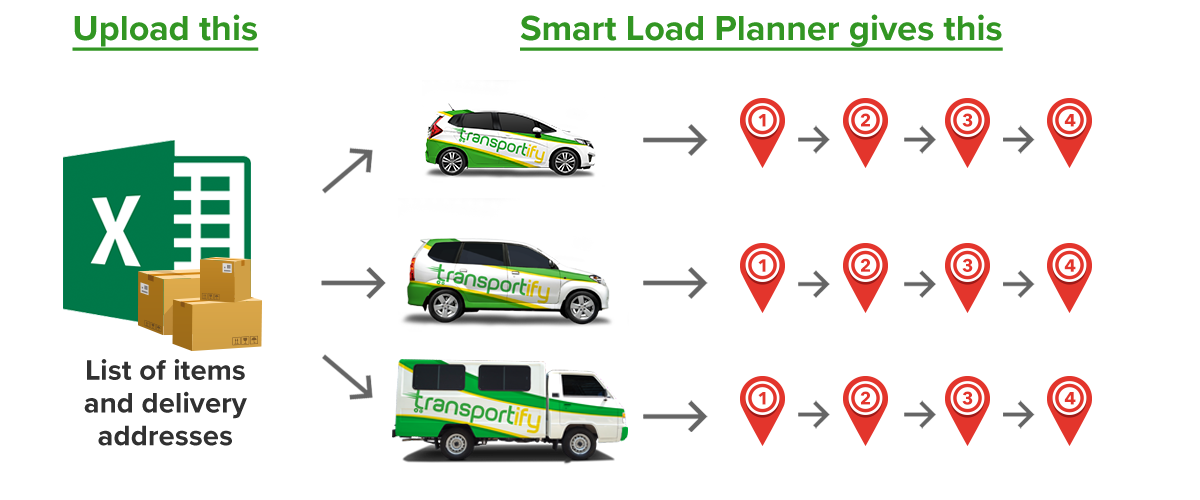 How E-commerce Shipping Applications Can Benefit Your Customers
Again, it's not about empowering your employees and freeing you up with extra time to invest in other areas; your customers gain a lot of advantages from this transition as well, such as:
1Alleviate customer anxiety regarding shipping notifications
Using e-commerce shipping apps, you can notify and update your customers every step of the way. Because many of your customers will have paid for a product in advance, they are bound to be anxious that it will arrive on time and in good condition. You can alleviate much of their anxiety and improve the overall customer experience by providing regular updates, including an automated notification upon arrival.
2Easily manage late shipments
Again, using GPS tracking and routing software, it will be much easier to prevent late delays. When your drivers are automatically updated with faster routes, you can keep your shipping situation under control and running as smoothly as possible at all times.
3Provide more delivery options
Online shoppers expect faster delivery, or at the very least, more delivery options and great flexibility. Fortunately, a quality e-commerce shipping app can offer your customers amazing shipping advantages, including same-day delivery, next-day delivery, workplace deliveries, collection points, and/or lockers.
4Use the very best carriers
Not all carriers and logistics companies are created equal. It's not just about who can make the fastest delivery, but who can represent your brand and business. At Transportify, our delivery drivers undergo a rigorous recruitment process and maintain the highest levels of professionalism and superior customer service.
5Easy customer feedback
Any quality e-commerce shipping app should provide customers with an option to leave instant feedback once their order is complete. These are great for allowing customers to voice their praise and opinions and providing prospective customers insight into how well your service works.
6Easier returns
Online shoppers return 15 to 40% of their purchases. This has been one of the most expensive aspects of supply chain management for many years. This is why you must use whatever tools to make the return logistics as simple, effective, and affordable as possible. Clear instructions and easier returns make happier, more satisfied customers.
7Monitor return stats for a superior experience
Having the ability to monitor your data and statistics, in general, is a huge advantage in the e-commerce game. However, analyzing your returns stats allows you to identify which specific products generate the most returns, thus allowing you to look for ways to alleviate this problem – or perhaps ultimately drop a product altogether.
8Put your customers at the center
When you have so many features that save you time and effort; automation, order consolidation, analytics, etc., you will have more time to dedicate to taking care of your customers. Using an e-commerce shipping app allows you to focus more on enhancing the overall customer journey, thus increasing brand loyalty, customer retention, and repeat purchases.
9Faster shipments
Your customers will appreciate the faster shipment opportunities. When you can provide fast delivery options and maintain them with the utmost efficiency and consistency, you'll create satisfied customers who are forever returning for more.
SEE ALSO
Conclusion
We understand that change is always a little unnerving, particularly in business. However, it is no secret that those who remain stagnant in their processes and refuse to embrace change are slowly falling out of relevance and failing where their competitors are not.
The good news is that making the transition and integrating a quality e-commerce shipping app with your business is much easier. In fact, at Transportify, our team makes it look like child's play!
So, if you are keen on leveraging the above advantages, remaining competitive in an ever-evolving marketplace, and ultimately taking your business to even greater heights, we invite you to contact us today to explore this further. Our friendly team will gladly answer any questions you might have and point you in the right direction.
| | | |
| --- | --- | --- |
| | or | |
Frequently Asked Questions:
What are e-commerce shipping apps?
🚚 E-commerce shipping apps are designed to make shipping orders from online stores easier and more efficient. There are various e-commerce shipping apps available, each with its unique features and benefits. One of the most used e-commerce shipping apps in the Philippines is Transportify. Choosing the right e-commerce shipping app for your business will depend on your specific needs and preferences.
How can e-commerce shipping apps help businesses?
🚚 There is no question that e-commerce shipping apps can help businesses save time and money. These apps provide a one-stop solution for online retailers by consolidating the shopping process and managing inventory. By allowing customers to track their shipments in real-time, they provide valuable feedback that helps businesses improve their operations. Finally, by offering loyalty programs and other incentives, they keep customers coming back for more. In short, e-commerce shipping apps are a must-have for any business that wants to stay competitive in today's market.