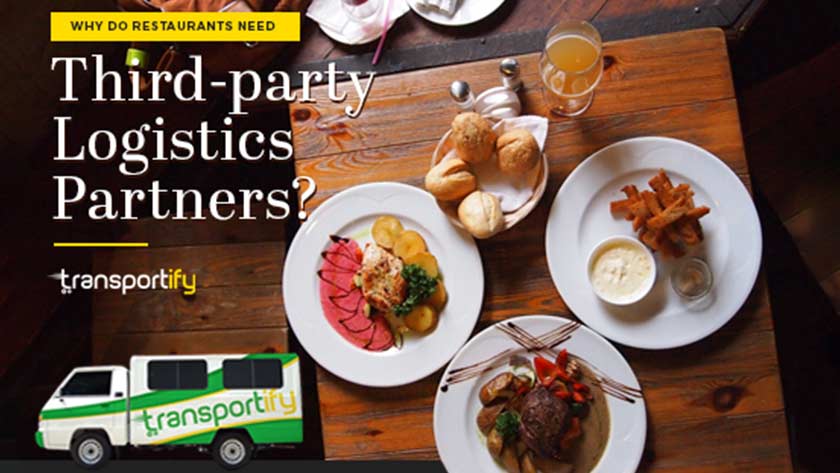 That is a good question. Why do restaurants need third-party logistics partners?
We believe that a reliable logistics partner is a necessity for most businesses, especially for those in the food industry. And not just a logistics partner from whom you can rent delivery vehicles, but a third-party logistics partner like Transportify that also has an on-demand delivery app where a user can make and monitor delivery service transactions.
Here are a few reasons why restaurant businesses need a third-party logistics partner.
Reason #1: Food delivery services are a business advantage
Locally, most restaurants with food delivery services are fast food chains and pizza places. Each restaurant has its own reason why it prefers not to have its food delivered to customers' houses. However, having a food delivery service is a great business advantage. With no food delivery service available, your restaurant business can only cater to those who are willing to travel to your place or branches. But with a third-party logistics partner that has an affordable car or l300 van for delivery to deliver your food masterpieces, your sales will increase as your market will include customers who prefer to stay at home.
Reason #2: You will get inventory help, too!
Having a third-party logistics partner will not only give you a delivery vehicle and a driver partner that goes around delivering food orders. Your business will no longer need to rent delivery trucks for hire every now and then whenever you need to restock your inventory with raw food materials and ingredients. All you need to do is set a regular schedule when you need to refill your inventory and set the pick-up and drop-off locations. And because Transportify is an on-demand delivery app kind of logistics partner, you can manage all your inventory delivery schedules on your phone!
Reason #3: Same-day delivery apps are useful during emergencies
Another advantage of having a logistics partner that comes with a same-day delivery app is its usefulness during emergencies. Sure, maybe your restaurant business already has a group of motorcycle riders as delivery guys, ready to deliver food orders. Or maybe your raw food materials and ingredients supplier already has its own delivery truck that it uses to deliver your supplies. But if there are emergencies—like a shortage of one important ingredient or the restaurant needs someone to run out and buy one specific kitchen tool—can one of your delivery guys abandon his delivery tasks to buy what needs to be bought? If your delivery guy abandon his task, he would be late and it might generate a negative impression for your business.
With a same-day delivery app, you have someone to run to for emergency situations. Additionally, a third-party logistics partner can help make your own fleet of delivery guys' work faster and lighter. You can use your logistics partner's delivery vehicles and driver partners when the delivery load is too much for your own delivery fleet.
Having a third-party logistics partner has a lot more advantages than you know. You can discover those advantages by getting a logistics partner for your restaurant!