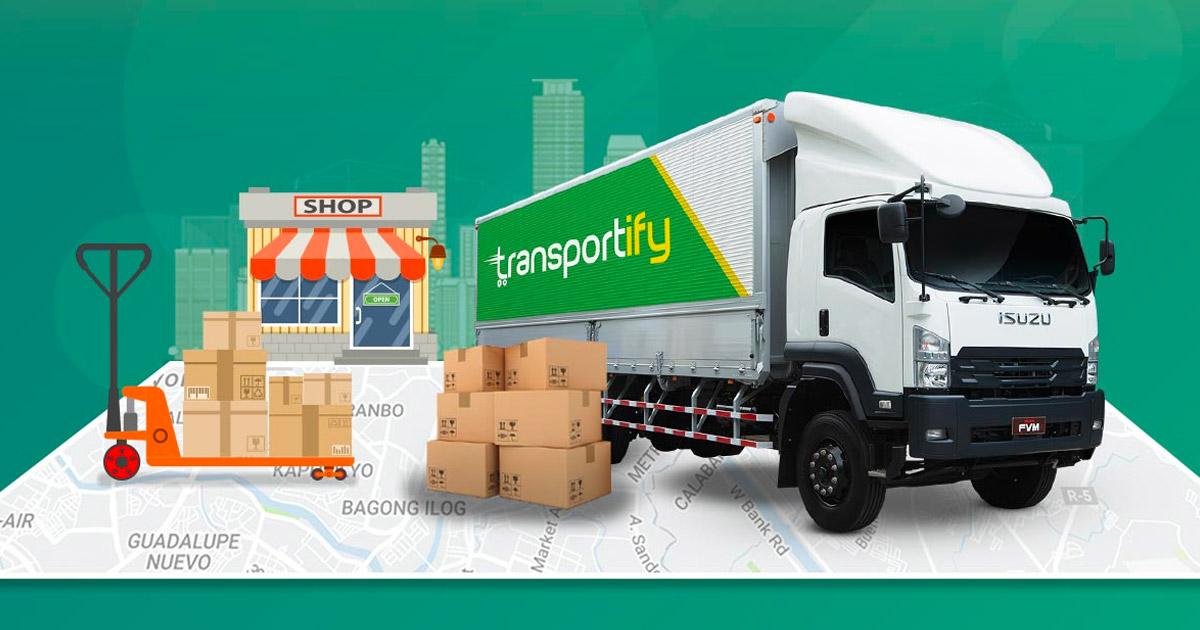 With expanding serviceable areas, Transportify not just increases the number of its customers but also opens great opportunities for aspiring drivers with their own vehicle or fleet operators to join the transport and logistics industry. Transportify, the leading tech logistics provider, offers drivers the chance to deliver packages and earn more daily from its million customers from anywhere in the Philippines.
What's New with Transportify?
Extended Service Areas
Transportify continues extending its transport and logistics services to more cities in Luzon, delivering from city centers of Mega Manila and now reaching outer industrial areas. Getting bigger and farther, Transportify now included Pampanga and Baguio to our service cities aside from fixed price route services in Batangas City, Lipa, Dagupan, Lucena, Subic, Cabanatuan, San Pablo, and Tarlac. We are building a more extensive scope for aspiring drivers to get and deliver packages.
With more cities coming soon, there's no stopping Transportify to deliver packages and provide more boundless opportunities to drivers to join and provide businesses the more convenient access to quality transport and logistics service.
Growing Number of Customers
Different businesses in the Philippines emerge rapidly from time to time. Such companies require competent and trustworthy transport and logistics companies that can manage their supplies deliveries to their customers.
Transportify caters to different customers needs. From simple delivery needs from individuals up to business clients that require more managed transport and logistics systems to deliver packages effectively and efficiently.
Here are the two types of customers that Transportify services:
1. Individual Customers
Transportify ensures to provide the most reliable service to deliver packages when it comes to first-time users or for one time deliveries. These customers usually use Transportify for same-day deliveries when buying furniture, appliances, and other household items. Others mostly use Transportify to ensure a smoother house moving service for their Lipat-Bahay needs. Individual customers pay in cash right after the delivery, which is easy money for drivers.
2. Business Customers
For retailers, start-ups and big companies looking for the best transport and logistics partner to deliver packages, Transportify's Business Program was developed especially for them. This program has different service features that are designed to suit the diverse requirements of each industry's needs. Payment for booking under Business customers accumulates on the driver's eWallet, scheduled to be released every week. This weekly payout assures the drivers secured weekly income.
Industries That Benefit Most From Transport and Logistics
Nowadays, most businesses look for better and managed transport and logistics services. Different types of businesses— small, medium, and large enterprises varying from the food business, furniture, fast-moving consumer goods, other top industries, and also individuals when it comes to their delivery needs now use the most reliable transport and logistics services of Transportify.
Food Industry
The food industry is a complex group of diverse businesses that supplies most of the food we consume. It comprises a network of activities of supply, consumption, and catering of food products and services.
In recent years, the rapid modernization and expansion of food businesses in the Philippines have led to an increase in the distribution system and the needs of transport and logistics. The ever-changing and growing demand of customers should be met. These businesses mostly consist of fast-food chains, food kiosks, cafes, bars, and full-service restaurants.
Furniture Business
Businesses that cater to furniture require a more flexible and customizable delivery requirement. These products come in several forms and dimensions, that's why having a wide range of vehicles that can perform the service is very important. Yet looking for this kind of transport and logistics partner is quite tricky, since most of today's trucking companies do not offer flexibility and variety.
Unlike Transportify, we accept a variety of vehicles for the customers to choose from. Aspiring drivers with smaller vehicles like SUV/ MPV up to owners or fleet operators of larger trucks like closed vans, pick up trucks, and 10W wing vans can deliver packages for Transportify.
Fast-moving Consumer Goods
Industries that houses the most recognizable everyday products have to deal with their fast-paced manufacturing operations and vast distribution network. Fast-moving consumer goods are typically low-value products with a regular high consumer demand. Also known as consumer packaged goods, these are usually the items used daily, such as food, beverages, clothes, hygiene products, and other household products.
These companies need to hold on consistent trucking needs to provide fast and reliable delivery of their supplies to progress from their competitors. Smaller enterprises that don't have their in-house trucking transportation sustain their delivery needs by looking for a competent and trustworthy logistics company to manage deliveries for them.
From these quick-expanding developing industries, Transportify goes further to provide the fit vehicle each industry needs by offering a variety of vehicle classes. You can choose from our fleet of sedans, MPV/SUVs, L300s, closed vans or wing van trucks, and now even open trucks! At the same time, this also opens a broad possibility for drivers to apply their kind of vehicle with these wide ranges of accepted vehicles.
Items that Transportify Delivers
No matter how big or small your business, Transportify can handle and deliver packages with a variety of vehicle classes. Each class provides certain items that meet the size and volume you need.
Smaller items or goods are generally delivered through sedans, hatchbacks, and MPVs/SUVs. These vehicles are the best fit for flower deliveries, cake deliveries, small parcels, and few personal deliveries.
L300/Vans (namely Mitsubishi, Hyundai H100, Hiace, Urvan, and the likes) mostly caters batch orders of boxes, hardware supplies, food supplies, and other fast-moving consumer goods (FMCGs).
For bigger deliveries that need vast spaces, Closed Vans (Elf or Canter) and Open trucks are highly recommended. These vehicles are mostly used by Individual customers for Lipat-Bahay services or moving big and bulky appliances or furniture like two-door refrigerators and other huge household items. Closed vans can also carry as many as 31 XL balikbayan boxes and withstand a maximum weight of 1900kg, perfect for Business customers working with batches of large items.
Transportify's flexible service can also accommodate your large quantity deliveries in one go! With the use of 10-W Wing Van, you can deliver packages more cost-effectively. Book one trip to deliver more massive amounts of cargo than having several private cars that carry smaller loads.
Check out the rates and dimensions of Transportify's accepted vehicles.
Vehicle Type
Dimensions/
Weight Limits
Base Price


(Metro Manila)

Base Price


(Outside Metro Manila)

Base Price


(Visayas/Mindanao)

Wing Van 

32 to 40 x 7.8 x 7.8 ft




12000kg to 28000kg

7500 PHP

6500 PHP

6500 PHP

6w Fwd Truck

18 x 6 x 7 ft




7000kg

4850 PHP

4850 PHP

4850 PHP
Closed Van

10 to 14 x 6 x 6 ft




2000kg to 4000kg

1800 PHP

1450 PHP

1450 PHP

Open Truck

10 to 21 x 6 ft x open




2000kg and 7000kg

2300 PHP

1950 PHP

N/A

Mini Dump Truck

10 x 6 ft x open




2000kg

1500 PHP

1200 PHP

N/A

L300/Van

8 x 4.5 x 4.5 ft




1000kg

430 PHP

330 PHP

310 PHP

Small Pickup

5 x 5 ft x open




1000kg

310 PHP

250 PHP

220 PHP

Light Van

5.5 x 3.8 x 3.8 ft




600kg

250 PHP

192 PHP

225 PHP

MPV/SUV

5 x 3.2 x 2.8 ft




200kg

160 PHP

130 PHP

140 PHP

Sedan

3.5 x 2 x 2.5 ft




200kg

140 PHP

110 PHP

120 PHP
For more accurate estimations, you can also calculate your driver earnings income with Transportify's earning estimator.
Frequently Asked Questions:
What industry mostly needs transport and logistics?
✅ Any successful business will acknowledge the importance of an effective transport and logistics partner. Most companies, large and small, now require these services to grow and expand. Industries related to fast-moving consumer goods or FMCGs, hardly depend on organized transport to maintain the quality of their supplies. An organized system in logistics is crucial for these kinds of industries to keep pace with their customer's always-changing demands and outperform competitors. Expedited logistics like Transportify will continue their operation profitable by preventing downtime, unnecessary costs, and missed delivery deadlines.
What are the correct ways to deliver packages?
✅ Learning the proper handling and packaging is vital to prevent damaged deliveries. As packages come in various forms, it also requires different ways to be delivered. Here are some essential guidelines to help your packages remain safe during deliveries.
Choose the right packaging box – opt for extra thick, double-walled boxes that are made explicitly for packing use.
Place the items in the right position – some things need to be placed upright like appliances and furniture, while others need to be laid down.
Wrap it with cushioning materials – add an extra layer of protection to your packages by using bubble wraps, styrofoam pellets, and foam packing peanuts.
Seal it properly – use thick and wide packaging tapes to ensure that the items are tightly wrapped and secured.
Label your packages – have a note or label how to handle your item best. Marking your box with 'fragile' will inform them that they're handling easily breakable items, thus minimizing the risk of damage.
At Transportify, our drivers are exceptionally well-trained to handle every delivery with the utmost care and consideration. We also offer customized delivery service to make sure that your packages are secured and handled the way it should be.