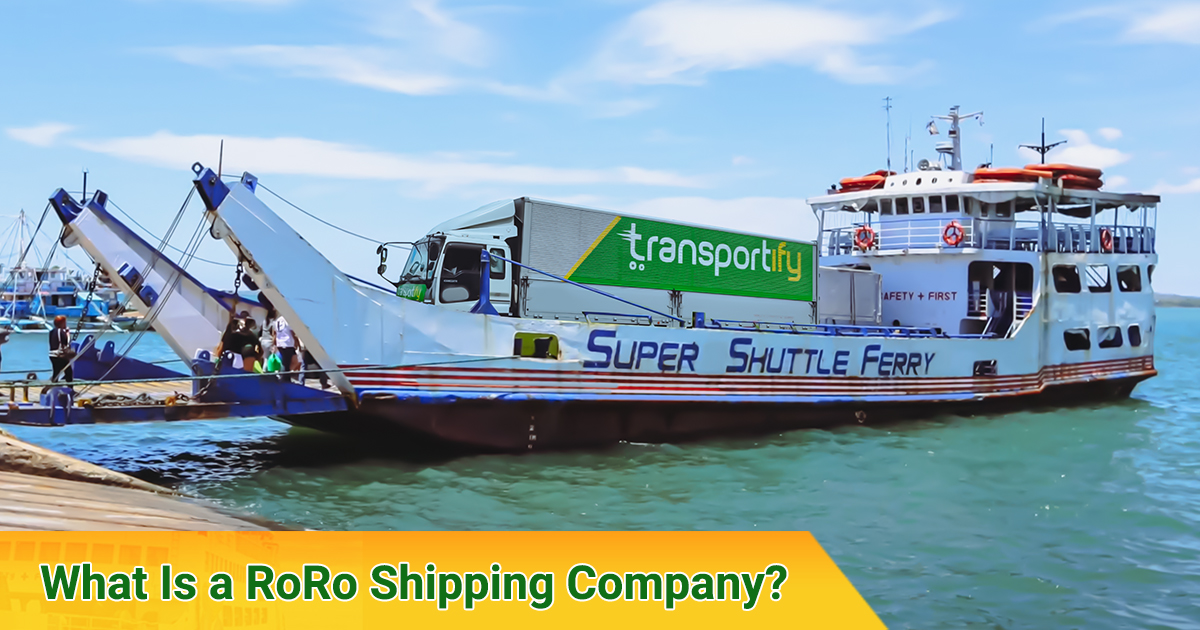 If you're looking for a roro shipping company and aren't sure what to look out for, this guide is perfect for you. We will be walking through the features of roro shipping carriers and explaining how they work. This way, you'll know which roro shipper is best suited to your needs. Transporting your goods is an essential step in making sure that you can sell them. You want to find a roro shipping company that will allow you the peace of mind that comes with knowing your products are being handled responsibly.
A roro shipping company is different from other companies because it specializes in transporting containers or vehicles that carry cargo via roro ships. These roro shipping companies offer door-to-door delivery. They pick up the freight at its origin and deliver it directly to the destination country's port before loading it onto a ship for international transport.
What is Roro Shipping?
Roro shipping is a term used to refer to the transportation of cargo by "roll-on/roll-off" (RORO) vessels.
There are two standard roro shipping setups:
cargo is only hauled on and off the ship at the port;
cargo is carried from one port to another.
The roro shipping industry was developed to respond to the demand for faster transport of goods generated during World War II.
The roro shipping industry offers significant price advantages for shippers who need to transport their goods quickly. However, roro ships are only economical if they carry enough passengers or cargo to remain fully occupied for the entire voyage. This has led to more roro vessels being built in recent years to sustain the demand of transporting a large volume of cargo.
How Does Roro Shipping Works?
A roro shipment is a type of maritime shipping where the cargo is loaded onto the vessel using a crane or front loader. This is done by driving up to the loading dock outside the vessel and driving on the ramp upwards to the deck. The driver then uses a hydraulic lift to set the cargo on its wheels. Once this process has been completed, it pulls off the roro ramp and proceeds to drive off.
The cargo that roro shipments can hold includes containers, small trucks, or even cars. The roro shipping company will deliver the goods to the roro terminal, where they will be loaded onto roro container ships and then finally delivered to their destination port.
In Transportify, we offer light delivery vehicles and trucks for roro shipping services from Luzon or Cebu to the islands of Visayas and Mindanao. Check the tables below for our popular routes:
Advantages of Using Roro Shipping
Compared to other forms of transport, roro shipping is one of the most efficient ways to move goods over long distances. The roro cargo vessel can transport thousands of tons at a time, making it much more economical than air or truck freight.
Here are the following advantages of using roro shipping for transporting goods:
Roro shipping can be a cost-effective mode of transportation as it does not take up an entire truck or trailer, whereas other methods do;
It may also have a quicker turnaround time than using other modes of transportation, resulting in increased productivity and profits for both the shipper and receiver;
It is one of the most efficient ways to move goods over long distances;
Roro cargo vessels transport thousands of tons making roro shipping more economical than air or truck freight.
A roro shipping company must be carefully selected to ensure that roro shipments arrive at their destination on time and damage-free.
SEE ALSO:
Things You Need To Know Before Choosing a Roro Shipping Company
First, it is essential to know the different types of roro shipping companies. There are roro shipping providers and roro shipping contractors. A roro shipping provider will transport a roro container from a port of origin to a port of destination, then provide roro container delivery inland or at a designated warehouse location that the customer has indicated.
A roro shipping contractor will transport a roro container from a port of origin to a designated roro terminal. At that point, the contents of the roro container either become the property of the roro terminal company or are transferred to an inland distribution company for eventual delivery or distribution.
If you're looking for roro shipping companies for your business, here are some factors to consider:
Make sure that the roro shipping compa

ny is licensed and reliable.
Check if the roro shipping company can provide roro services with a specified timeline to meet your needs.
Know if the roro shipping company can ensure that your goods arrive safely and on time through their roro services.
Take note of their contacts before selecting a roro shipping company as your choice to transport goods for your business.
What Does a Roro Shipping Company Do?
A roro shipping company specializes in providing freight transportation of oversized and heavy items. They use roro ships, which are specially designed vessels to transport such items. The roro ships are equipped with ramps that allow them to load and offload cargo containers. They can transport containerized goods within a vessel, which is preferable for heavy or oversized items because of their weight.
Who Uses Cargo Vessels?
Cargo vessels are used by all kinds of businesses, including:
Retailers who rely heavily on roro shipping for transporting goods from suppliers to their stores.
Big manufacturers use roros to ship finished products like televisions or food directly to customers.
 Governments use roro shipping companies to transport military equipment, crops, and other goods. Nonprofits rely on roros for international relief efforts following natural disasters like earthquakes or tsunamis.
Many individuals buy roros as a form of investment – they sometimes sit empty for months. Usually, they generate income through leases with roro shipping companies when not being used by the owner themselves.
When you start looking into which roro shipping company is right for your business, make sure you investigate all options carefully because there can be significant differences in price based on speed and service level agreements, among other things! Plus, it's always good to know what makes one roro shipping company more reputable than another.
How Can Transportify Help
The Philippine archipelago poses a great challenge to businesses and logistics providers to deliver goods between bodies for water. However, due to recent advancements and innovations, Transportify has come up with the interisland trucking service that picks up everywhere in Luzon and Cebu and delivers to areas of Luzon, Visayas, and Mindanao. Transportify has partnered with well-known roro shipping companies in the Philippines to deliver cargo between islands. These companies are Archipelago FastCat and Starlite. Together, we ensure that every cargo is safely delivered from point to point.
Its primary aim is to support businesses in the distribution of their goods may it be inland or interisland. As one of the most innovative logistics companies in the Philippines, Transportify remains more affordable compared to others that offer the same service.
| | | |
| --- | --- | --- |
| | or | |
Is roro shipping safe?
🚢 It's safe as long as you ship with a reliable carrier vetted for this transportation method. Transportify offers roro service for businesses as well as individuals. This is an affordable and convenient way to ship stuff around the country. Roro shipping is the best way to ship freight because it provides convenience – minimal handling of your packages during transport, no need to drive to the logistics companies' warehouse to pick up or drop off your freight. For smaller items, roro shipments are faster and cheaper than standard ground freight because carriers often use specialized boxes built for other dimensions that they can stack on top of one another.
How much does roro shipping cost?
🚢 The cost of shipping a roro container varies from company to company, depending on the rate they offer and how much cargo will be put into the container. Fortunately, Transportify is an excellent option for affordable rates and services. Roro service has been around for quite some time now and is becoming more popular with businesses and even people who need to move their homes across town. When you need your things delivered on time but don't want to incur costly long-distance delivery expenses, roro just might be your best choice. At Transportify, we pride ourselves on providing top-quality customer service paired with great prices for our customers' transportation needs. Allowing our customers to be happier than ever before.