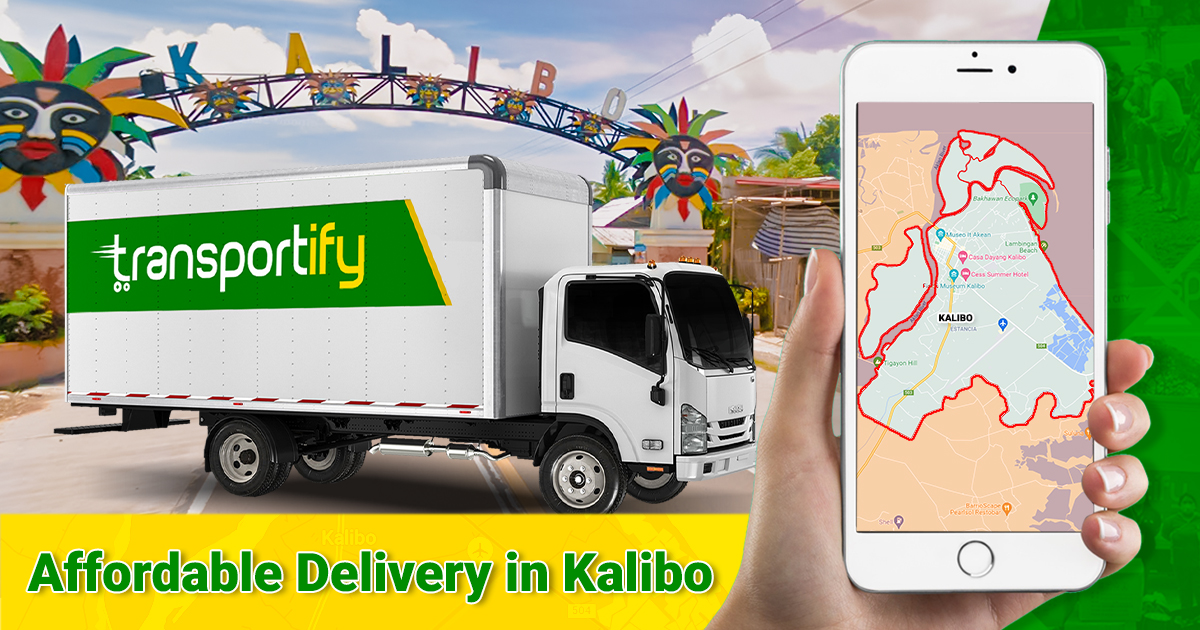 Kalibo is an important transportation hub in the Philippines, particularly in the Panay islands. If you need to send or receive something and don't want to spend a lot of money, Transportify can help. We are an affordable delivery service in Kalibo that operates even in the surrounding areas. Our trucking company Aklan can get your package where it needs to go quickly and efficiently. Read on to learn how you can utilize Transportify's services.
How Can Transportify Provide Delivery Services in Kalibo?
Transportify is now operating in the most important areas in Luzon, Visayas, and Mindanao. Since Transportify has operations based in Kalibo, Aklan, it can offer affordable delivery rates to businesses and residents in the province. Whether you need to send a package or have something delivered to your home, Transportify can help make it happen without breaking the bank. With our fast and reliable service, you can be sure that your delivery will arrive on time and without any hassles.
Kalibo is known as the gateway to Boracay Island, but it's also an important commercial center in its own right. Located in the province of Aklan, Kalibo is home to a number of industries and businesses that rely on timely and affordable delivery for success.
The main industries that are present in Kalibo are agriculture, particularly rice and coconuts. Kalibo is also known for manufacturing handbags and barongs using its local materials like Pina and Abaca. With such a bustling city expanding its exports and presence in the local market, it is undeniable that transport of products is a vital role for Kalibo's businesses.
How Can Transportify Make Delivery Affordable And Easier?
A technology-driven logistics provider like Transportify anchors its services with innovation. Our top priority is to provide accessible and convenient trucking services to businesses and individuals nationwide. Here's how we are able to do that:
1We are app-based
Transportify is one of the first in the Philippines to offer trucking services via on-demand logistics apps. Its app-based nature is what makes it more accessible to customers wherever they are, and anytime they need a service. Aside from our app, our on-demand delivery model allows businesses to adapt quickly to logistical adjustments even when last minute. This is possible because we accept drivers from many areas in the Philippines. Hence, services can be quickly available anywhere in your area.
2We can be flexible according to your budget
Transportify takes on the modular approach with our affordable delivery in Kalibo. We are affordable because we are customizable. You have the liberty to pick service types according to your budget. We are transparent with pricing and guarantee no hidden fees. What you see in the quotation, will be the only due, except if you decide to add extra service during delivery. If you are interested to get a quote, you can get one here.
3We have a wide selection of fleet fit for business deliveries
Our wide selection of fleet from MPVs to trucks gives businesses certain advantages that can help them save cost and time. Businesses can save costs because they don't have to invest in wing vans or light delivery vehicles, especially if they will use them only occasionally. The best solution for this is just to utilize a third-party logistics provider that can give the needed vehicles in such a short window of time, thus saving time also.
Wide Fleet Selection of Transportify:
Vehicle Type
Dimension &
Weight Capacity
Base Price


(Visayas/Mindanao)

Wing Van 

32 to 40 x 7.8 x 7.8 ft




12000kg to 15000kg

6500 PHP

6w Fwd Truck

18 x 6 x 7 ft




7000kg

4850 PHP

Closed Van

10 to 14 x 6 x 6 ft




2000kg to 4000kg

1450 PHP

L300/Van

8 x 4.5 x 4.5 ft




1000kg

310 PHP

Small Pickup

5 x 5 ft x open




1000kg

220 PHP

Light Van

5.5 x 3.8 x 3.8 ft




600kg

225 PHP

MPV/SUV

5 x 3.2 x 2.8 ft




200kg

140 PHP

Sedan

3.5 x 2 x 2.5 ft




200kg

120 PHP
4We are available nationwide
In the Panay islands, Transportify can also serve in areas of Ilo-ilo. Aside from that, we have our presence in Cebu and Negros for the Visayas; Davao, Cagayan De Oro, and GenSan for Mindanao; and the whole of mainland Luzon. So if you are a business operating in these areas and planning to expand in Panay, trucking company Aklan like Transportify can support your growing business. We have Send Load (LTL) service, interisland trucking, bulky delivery service, and same-day affordable delivery in Kalibo.
5We can relieve you from the stress of managing logistics
Our app is more than a platform that allows you to create bookings easily and remotely. It is a tool that can relieve you from the stress of managing logistics. Our app has multiple time types that you can choose from depending on the urgency of your delivery in Kalibo. Moreover, you don't have to worry about storing delivery data because every booking you will create, cancel and complete through the app will be recorded automatically. Thus, giving you easy access whenever there's a need to verify.
Transportify aims to add value to the supply chain of businesses. Our end-to-end logistics service can be helpful to your operations if you need to build your own logistics process and requirements. If you are interested to know more about our business focused services, you can send an email to business@transportify.com.ph.
SEE ALSO
Why Choose Transportify for Delivery in Kalibo?
When it comes to affordable delivery in Kalibo, Transportify is a clear choice. Not only do we offer competitive rates, but our service is also reliable and efficient. We understand that when it comes to business, time is money, and we work hard to ensure that your deliveries are made as quickly and smoothly as possible.
In addition to our affordable rates, Transportify also offers a variety of delivery options to choose from. Whether you need something delivered urgently or you want to take your time with it, we have a delivery solution that will fit your budget and needs.
We are a trucking company Aklan that businesses and individuals can rely on whatever type of transport services. We can do relocation services, supplies distribution, bulky delivery services, and even multi-stop deliveries for local SMEs like bakeshops and food businesses. You can choose us because of our reliability and affordability.
Add More Value To Your Supply Chain
In 2023, businesses should be more focused on seeing possibilities in their current supply chain. If hiring a third-party trucking company Aklan can help you make processes faster and more cost-effective, then this is an opportunity you wouldn't want to miss, right?
When it comes to affordable delivery in Kalibo, a trucking company like Transportify can help businesses cut costs while ensuring that their products or materials are delivered on time and intact. By using a local trucking company, businesses can add value to their supply chain while also supporting the local economy. With Transportify, you can get affordable rates for deliveries anywhere in the province of Aklan. Contact us today to learn more about our services.
| | | |
| --- | --- | --- |
| | or | |
Frequently Asked Questions:
In what areas can Transportify deliver in Kalibo?
🚚 Transportify is a trucking company in Aklan that has coverage to the whole island. Some of these areas are: Malay, Libertad, Nabas, Tobias Fornier, Pandan, Culasi, Anini-y, Laua-an, Belison, Banga, Hamtic, Leon, San Remigio, Tapaz, San Gregorio, Bugasong, San Jose, Tibiao, and more. To have the full list of our service area in Panay, you can always chat with our Customer Service.
What is the advantage of using Transportify for affordable delivery in Kalibo?
🚚 Transportify offers an innovative delivery service through our on-demand logistics app. Through technology, our booking process is shorter compared to that of traditional's. Other than that, the shorter process cut necessary costs that is beneficial for your business in the long run. Aside from that, our services are fully customizable. You can freely choose the value-added services, thus, allowing you to tailor-fit services based on your budget.