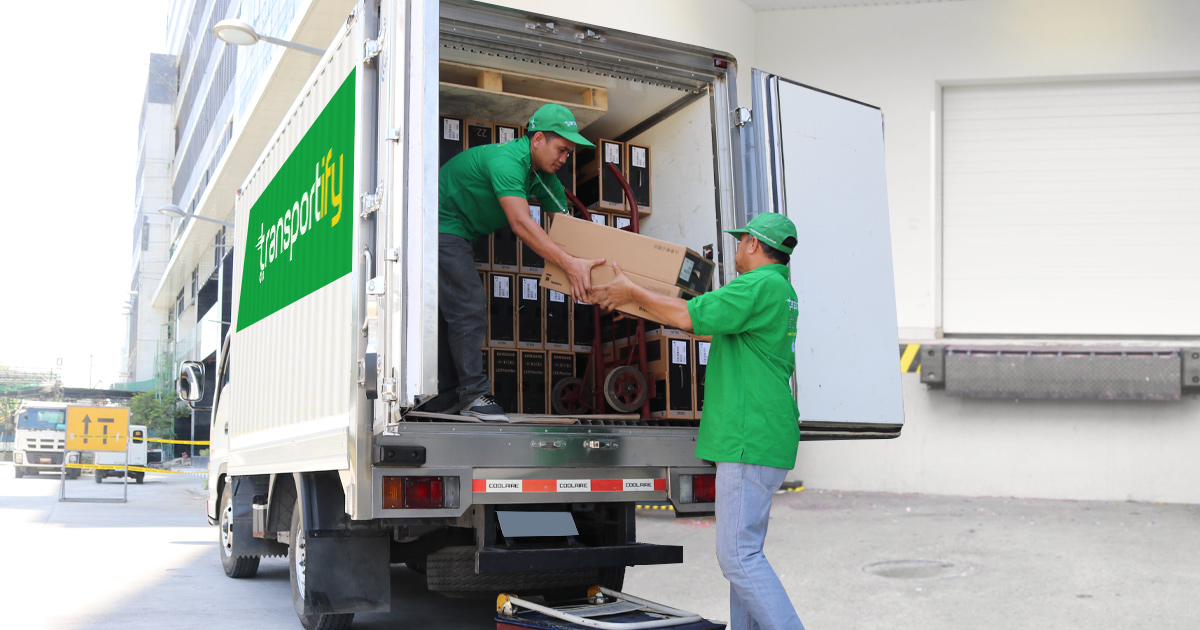 Transportify has long been innovating within the logistics industry in an attempt to raise the playing field and improve the overall functionality and flow of the industry's operations in the Philippines. The first step was to create an app that was easy to use and accessible to everyone. Thus, anyone can take advantage of Transportify's logistics technology for trucking operations. In this article, we will focus on our use of logistics technology in order to empower backload trucking operations.
Utilizing technology has always been a strategy used by many industries in order to innovate products and improve services. For example, the advances in medical sciences can be attributed largely to improvements in medical technology. The same case is found in the area of logistics. Many trucking companies have harnessed the power of logistics technology to improve efficiency when it comes to providing delivery service to clients. One such area where it is used extensively is in backload trucking operations.
What is Backload Trucking?
Backload trucking is simply the delivery of goods on the return journey of initial delivery. In other words, a Transportify truck will go out on delivery and drop off goods at the end destination. However, they will need to return back home. In order to make the most of the vehicle space and overall fuel consumption in the return journey, we have been adopting the "backload trucking" approach in order to maximize logistics savings.
The table below shows all the vehicle types of Transportify which can do backload trucking.
Vehicle Type
Dimensions/
Weight Limits
Base Price
(Metro Manila)
Base Price
(Outside Metro Manila)
Base Price
(Visayas/Mindanao)
Wing Van 
32 to 40 x 7.8 x 7.8 ft
12000kg to 28000kg
7500 PHP
6500 PHP
6500 PHP
6w Fwd Truck
18 x 6 x 7 ft
7000kg
4850 PHP
4850 PHP
4850 PHP
Closed Van
10 to 14 x 6 x 6 ft
2000kg to 4000kg
1800 PHP
1450 PHP
1450 PHP
Open Truck
10 to 21 x 6 ft x open
2000kg and 7000kg
2300 PHP
1950 PHP
N/A
Mini Dump Truck
10 x 6 ft x open
2000kg
1500 PHP
1200 PHP
N/A
L300/Van
8 x 4.5 x 4.5 ft
1000kg
430 PHP
330 PHP
310 PHP
Small Pickup
5 x 5 ft x open
1000kg
310 PHP
250 PHP
220 PHP
Light Van
5.5 x 3.8 x 3.8 ft
600kg
250 PHP
192 PHP
225 PHP
MPV/SUV
5 x 3.2 x 2.8 ft
200kg
160 PHP
130 PHP
140 PHP
Sedan
3.5 x 2 x 2.5 ft
200kg
140 PHP
110 PHP
120 PHP
The key logistics technology that we have relied upon to empower backload delivery is our state of the art GPS tracking software and application. This has significantly helped us to facilitate the automation of our logistics services, easily identifying which vehicles are heading where, how much space they have, how close they will be in relation to any requested pickups, and which routes we can use to ensure that the return journey is as fast as possible. It has also helped us to improve on the last mile distribution of our deliveries as well.
Smart routing GPS has enabled our operators to update drivers in real-time with any traffic reports or weather events that might otherwise slow the driver down. They get a notification on their app which indicates a new route has been calculated, thus saving the driver time, and reducing the overall fuel consumption. This alone has allowed us to make considerable savings in our overall logistics spend and has been a major contributing factor to our backload trucking operations.
Another way that logistics technology has helped reduce the overall expenditure is the clever allocation of deliveries based on the geographical location of each driver at the time that the order was received. In other words, when an order for delivery is placed, the nearest available driver is pinged, so that they can collect the goods immediately. Following that, the smart routing mentioned above will ensure that the driver can get from A to B with little disruption along the way.
How Does Technology Affect Logistics Operations?
Technology has a huge effect on logistics and the overall supply chain. As mentioned above it is used to intelligently assign drivers to booking requests by analyzing the proximity of drivers from each booking. By doing so, it reduces the travel time and effort that a driver must expend to get to the pickup point.
1. Backload Trucking Operations
Backload trucking operations are also greatly helped by logistics technology. Oftentimes, the delivery truck is empty when returning home after the drop-off location. This is quite inefficient because the space inside the truck is not utilized. In order to solve this problem, logistics technology assigns the driver on his return journey to a booking whose drop-off point is in the area of the driver's destination. In doing so, the driver can earn extra income from the booking and the space inside the truck will be utilized efficiently.
2. Better Communication
Communication is key in any logistics operation. Without communication, drivers, operators, and customers are blind to the progress of the delivery. As such, logistics technology has contributed greatly to improving communication in the field of logistics. For example, the Transportify app has a feature that enables customers to chat with the drivers directly. This enables faster and better communication.
3. Using Big Data
Currently, we are in an era where data is essential in making business decisions. Without data, it is very hard for a business owner to know the best course of action to take. For example, an owner of a manufacturing company will not be able to know if it is worth it to purchase additional equipment if he does not have data on the output levels of his current equipment. The same case can be applied to logistics managers. It will be difficult to plan logistics operations without historical data on demand volume and similar metrics. However, Transportify offers a solution to businesses that find it difficult to meet delivery requirements on high-volume seasons. By being an on-demand trucking company, Transportify can augment your current fleet of delivery trucks anytime.
How can I benefit from technology in logistics?
If you are reading this and you currently handle your own logistics, then you might be feeling a little overwhelmed without access to logistics technology and operations like backload trucking. Thus, one route forward would be to find a third-party logistics partner to outsource your logistics requirements altogether. That way, you won't need to worry about the great expense that comes with implementing such logistics technology into your business. Instead, you can simply tap into an established infrastructure and benefit directly instead of from operations like backload trucking.
Transportify for example has a large fleet of drivers, a wide range of different sized vehicles such as a closed van delivery vehicle or an L300 van, and state-of-the-art technology to support it. This gives you access to deliver nationwide, without having to worry about any of the technicalities. You get the full convenience of an on-demand trucking company which means you can book at any time of the day.
Conclusion
Technology certainly has its drawbacks, however, in logistics, it has been a huge help. It continues to improve an ever-demanding industry, reducing costs, and bolstering the overall speed and quality at which the industry operates.
Would you like to take advantage of Transportify and our access to state of the art technology within our supply chain? Would you like to eliminate the need for you to build a logistics team of your own and simply outsource the requirements to an established third-party partner?
With Transportify, you can take your products anywhere nationwide without having to do the heavy lifting. You make your products and focus on building relationships with your growing audience, while we handle the rest of the logistics operations.
If you'd like to find out more about how Transportify can benefit your business, please do not hesitate to contact us today. Our friendly team of advisors is always happy to help. Click here to learn about our services for business clients.
Frequently Asked Questions:
What is Backload trucking?
💡 Backload trucking refers to the practice of ensuring that a delivery vehicle carries load in the return journey. This makes the return journey a more productive one compared to just having an empty truck. Companies that practice backload trucking make it a point that a vehicle is always filled with cargo that it can drop off to an area along its return trip.
How can my business benefit from logistics technology?
💡 Benefits from delivery technology depends on the type of business you are in. However, as a general rule, a business can benefit from logistics technology by having access to delivery vehicles at any time of the day. Because technology often translates to having an app that serves as the platform for making bookings, you have the convenience of ordering trucks anytime and from anywhere.