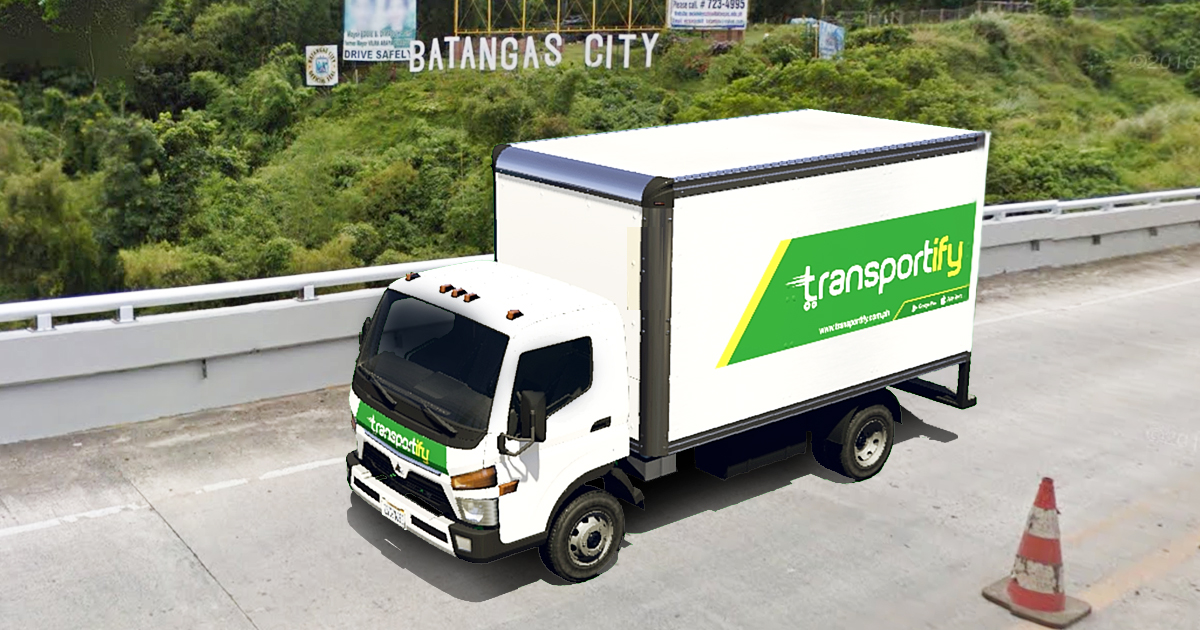 We provide a intracity delivery service from Manila to Batangas and fixed price route trips using interisland trucking service to other major cities in Visayas and Mindanao. Book now and get affordable delivery service from Manila to anywhere in Batangas City. Get started today by contacting us at the button below.
If you are looking for Manila to Batangas fixed price route delivery service with high quality but cheap truck rental prices, Transportify is the right choice for you. We have been providing an affordable delivery service for hundreds of fast-moving consumer goods companies who need help with the transportation of their goods. At Transportify, we are committed to providing you affordable delivery service from Manila to Batangas and different provinces in Luzon, Visayas and Mindanao every time.
Prices are inclusive of everything with no hidden fees. Your truck, driver, tolls, parking are all included. Transportify is also the proud provider of the best customer service support in Manila, which is open every day around the clock. Check the standard pricing below:
Vehicle Type
Dimensions/
Weight Limits
Base Price


(Metro Manila)

Base Price


(Outside Metro Manila)

Base Price


(Visayas/Mindanao)

Wing Van 

32 to 40 x 7.8 x 7.8 ft




12000kg to 28000kg

7500 PHP

6500 PHP

6500 PHP

6w Fwd Truck

18 x 6 x 7 ft




7000kg

4850 PHP

4850 PHP

4850 PHP
Closed Van

10 to 14 x 6 x 6 ft




2000kg to 4000kg

1800 PHP

1450 PHP

1450 PHP

Open Truck

10 to 21 x 6 ft x open




2000kg and 7000kg

2300 PHP

1950 PHP

N/A

Mini Dump Truck

10 x 6 ft x open




2000kg

1500 PHP

1200 PHP

N/A

L300/Van

8 x 4.5 x 4.5 ft




1000kg

430 PHP

330 PHP

310 PHP

Small Pickup

5 x 5 ft x open




1000kg

310 PHP

250 PHP

220 PHP

Light Van

5.5 x 3.8 x 3.8 ft




600kg

250 PHP

192 PHP

225 PHP

MPV/SUV

5 x 3.2 x 2.8 ft




200kg

160 PHP

130 PHP

140 PHP

Sedan

3.5 x 2 x 2.5 ft




200kg

140 PHP

110 PHP

120 PHP
A lot of companies are in Manila to Batangas – from small businesses to giant corporations, are continually searching for a reliable fixed price route delivery service that can keep up with the company's growth.
However, some problems need to be solved.
The supply chain logistics is an overwhelming process for every business owner, and what you are not familiar with can cost you. So, to help you make the best possible decisions about cargo van rental for extended haul delivery services, you must be aware of the basics of cargo service and freight transportation.
The Basic of Cargo Transportation and Logistics
Domestic and local shipping deliveries can be a tough task, even for some well-experienced business owners. There are hundreds of factors that need to be considered – that means, choosing the appropriate cargo transportation service is a must. You need to choose a cargo van rental company which can handle the following:
Logistics
Distribution and warehousing
Trucking and transportation
Minimizing freight damages
Let's go down on each responsibility.
1Logistics
3PL, or known as third-party logistics companies, is designed to handle all the business's fulfillment services and distribution. These companies enable businesses to focus more on the essential business processes such as growth, marketing development, customer service, rather than fulfilling delivery orders, which usually takes more in-depth and costly resources if in-house.
The basic is: If you're going to deliver dozens of orders daily, and you don't have any spaces to store your product inventory, you may need to work with a reliable 3PL like Transportify.
Here in Transportify, not only you will get a cargo van rental services for your fulfillment orders, but it can also be delivered from all over the Philippines. Be it, from Manila to Batangas, or Pampanga to Batangas, and we got it all for you!
2Distribution and Warehousing
As your company continues to grow, you will most likely need to have a reliable 3PL partner. Transportify, as your logistic partner, will handle your company's warehousing and distribution.
This kind of 3PL will handle your product storage, shipping, and returns. The 3PL you select will give an end-to-end tracking that will display all of your product information during the transport — even tracking the different units of measures if your company requires you to do so.
Moreover, it should also give customers with real-time and accurate data according to its recorded information in a reliable warehouse management system.
Here are the following typical standards in distribution and warehousing:
Online inventory and order visibility
Order sequencing
Compliance labeling and reporting
Order fulfillment
Pick and pack services
Order serial number tracking
Light subassembly
Again, not all 3PL companies offer the above services to their customers. Some of them may provide at least two to three services, and others may offer all of them. The services will always vary depending on the customer's requirements and needs. So you have to be wary, especially if you need to depend on assistance from Manila to Batangas.
3Trucking and Transportation
A good cargo van rental company can handle different inventory shipments between your warehouse and factory (if any) or from the warehouse down to your buyers – or both.
Pricing for these kinds of services may vary depending on:
Origin Location
Recipient's location
Shipping method required
Shipping speed required
4Minimizing Freight Damages
Retailers, suppliers, and other shippers spend a lot on cargo damage if the route is from Manila to Batangas and Pampanga to Batangas. This is due to the unstable road and potential mishaps along the way. Because of these, many of them decided to work with a 3PL company like Transportify that bears a solid reputation when it comes to excellence in cargo van rental services.
Damaged packages and cargos cost more than just money, though – it can also affect the relationship with your customers. While these scenarios may not be preventable, there are some valuable things that a good cargo van rental companies can help to minimize the freight damages, such as:
High-Quality Packaging: packaging is essential for every product that needs to be delivered. It is also an area where you will get what you intended to pay for – spending the appropriate amount on protecting your order can avoid more significant loss and expenses in the future.
Appropriate Palleting: Pallets need to have a good structurally sound, and the weight should be distributed equally on each pallet. Then, everything needs to be secured appropriately.
Correct Labeling: Labels should be simple and clear, informative, visible, and each shipment should have complete labeling instructions such as "non-stackable."
SEE ALSO
What Are the Questions To Ask to Your Cargo Van Rental Manila to Batangas Company?
To help you have a successful and smooth transaction with your chosen cargo van rental company, here are the following quick questions to ask:
1How extensive is your company's network?
This question is crucial to ask because your cargo van rental provider is only as right as its company's network. Having a concrete and stable, established system is vital because this indicates how well is the shipper or forwarder can meet its customer's requirements and demands. Aside from that, a vast network means more choices to choose from, locations, methods, vehicles, and a reliable end-to-end method that can surely lessen any shipper's hassles. The location from Manila to Batangas is ideal as it passes through several places where businesses are booming.
2What's included in the shipping cost, and is it subject to additional expenses?
Cargo forwarders and shipping companies use quotes to assist their clients in understanding the value of their services. The only issue with the system is that many companies are not transparent enough to provide accurate details. Here in Transportify, you can be sure that we have a fixed base rate, and other fleets have a fixed cost per km, you may refer from the table listed above for the example prices.
That way, you don't need to worry about the rate if you are going to transport your products from Manila to Batangas, Pampanga to Batangas, or both. While other company's quotes are only valid for 30 days, and sometimes your exact shipping date might change the line than that. Often, additional services such as customized and specialized storage can add to the expense and value of the overall shipping process.
3How can I track my deliveries?
Tracking is an essential and most valuable feature to have for most of the logistics companies here in the Philippines. With Transportify's on-demand delivery, you will only get what you deserve as our client. From our new update and high-technology mobile application, you can book anytime anywhere, and you can easily track all of your packages with an accurate and real-time status.
Delays, the exact location of your cargo, and other valuable information being sent to you will not only give you peace of mind. But it will also show that you have made the right decision to choose Transportify as your Manila to Batangas cargo van rental provider.
Download the Transportify app by scanning the QR code or clicking the buttons below:
| | | |
| --- | --- | --- |
| | or | |
Frequently Asked Questions:
What are the available cargo van rental from Manila to Batangas?
?Getting a cargo van rental from Manila to Batangas is now more accessible than before. There are lots of choices and vehicles to choose from. Over thousands of deliveries are done to Batangas and vice versa daily. However, among all these delivery services, only a few are considered as trusted. A reputable company with reliable customer service is usually the first thing customers think. This sense of accountability gives the feeling of security to customers. Cargo van rentals that are supported by a 24/7 customer service and dramatically values the customers is one of the reasons why Transportify is trusted.
Where can I hire services for cargo van rental?
?There are a lot of ways to be connected with cargo van rentals. One of the traditional methods is by looking for job posts in newspapers or owners of vans. Other popular sources are from online marketplaces like OLX. Facebook has even become a marketplace for both customers and business owners. Social media has played a big part in the booming of home businesses. The development of mobile apps has now made trucking services easy. Getting a truck to help you move big items has never been made easy. You can explore Transportify app to transport big and bulky items for your business. In a few clicks, your preferred vehicle can safely deliver your goods to any point in our service area.