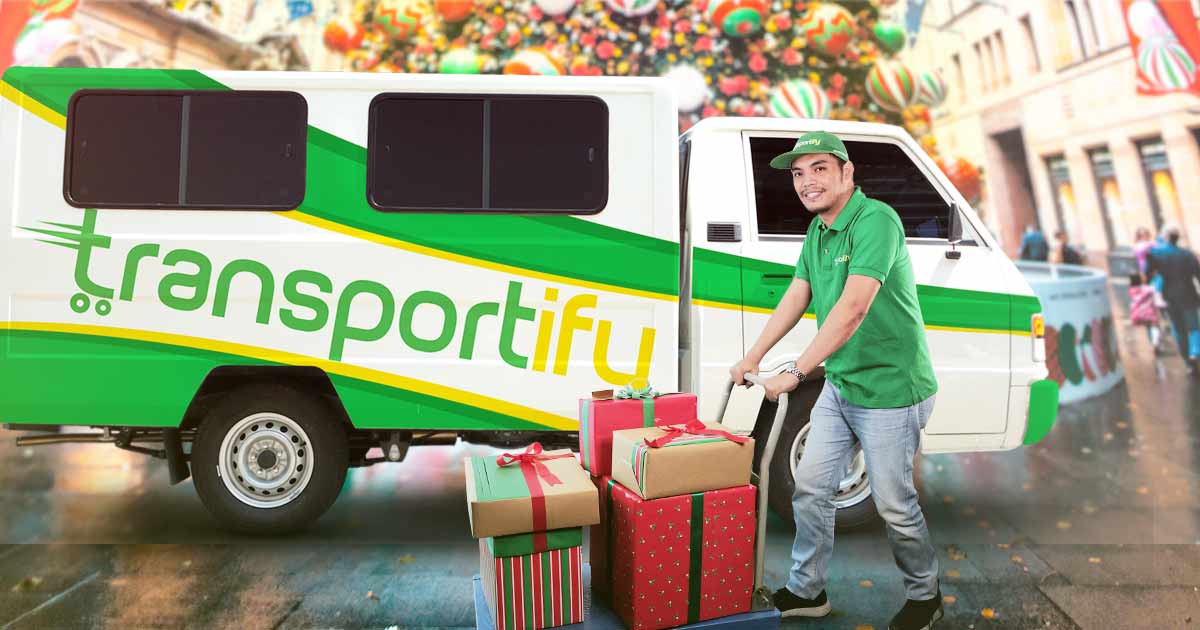 The gift-giving season for 2023 is here, and no one can stop the Christmas rush. However, you can still avoid it. Despite all the heavy road traffic, crowded malls, and holiday delivery delays, there are still ways to get your supplies distributed, and gifts packed before Christmas day. All you need is a very organized time management and Transportify, the best courier company in Metro Manila.
With a wide vehicle selection, whatever your product is will surely be delivered on time when you book Transportify as your third-party courier company. You can check out below the available vehicles Transportify offers:
Vehicle Type
Base Price
(Metro Manila)
Base Price
(Everywhere Else in Luzon)
Base Price
(Visayas/Mindanao)
L300/Van
7 x 7 x 4 ft
1000kg
430 PHP
330 PHP
310 PHP
Small Pickup
5 x 5 ft x open
1000kg
310 PHP
250 PHP
220 PHP
Light Van
5.5 x 3.8 x 3.8 ft
600kg
250 PHP
192 PHP
225 PHP
MPV/SUV
5 x 3.2 x 2.8 ft
300kg
160 PHP
130 PHP
140 PHP
Sedan
3.5 x 2 x 2.5 ft
200kg
140 PHP
90 PHP
100 PHP
To be 200% sure that there will be no delay and complications, here are some tips when preparing for the Holiday.
Tips on Preparing for the Christmas Rush
1. Plan everything
Before you go rushing into malls for gift shopping, it is better first to make a list of the items you want to buy as gifts. Plan what gifts you intend to purchase and the possible stores where you might find them. This is helpful as the list will save time during shopping. With a list, you do not have to waste time trying to remember what items to buy or in finding the store where they could be purchased. If the items are available in different stores, you might want to consider planning your route, like deciding the order of malls or stores to visit so you can buy all you need in one day.
2. Do not wait for the Christmas Shopping Fever
You have to admit, there is one mistake Filipinos love repeating, and 2019 is no different: shopping during a shopping fever. This does not only happen during the Christmas season but during the back-to-school season as well. Parents and guardians would flock to the malls to buy school supplies only when almost everybody else is buying supplies at the last minute, and before you know it, buyers are fighting over an item. Avoiding the Hunger Games version of Christmas shopping is easy—do not wait for the Christmas shopping fever. Sure, the Christmas sale is quite tempting, but it is more convenient to shop in an uncrowded mall without too many competitors.
3. Send packages ahead
Always keep in mind that malls are not the only ones affected by the Holiday—roads are more congested as more families are leaving for their holiday vacation, and courier and express delivery service providers are loaded with more tasks than usual. It is advisable to send your packages ahead of time to avoid expected transportation delays caused by the holidays. But if you have no time to send your gifts early, you can always use Transportify's same-day courier delivery feature to transport your packages and cargo to its destination before Christmas Day.
4. Use Transportify App
Speaking of on-demand delivery apps, Transportify is a affordable courier delivery company that utilizes technology to provide advanced and better services with its web & mobile app. Our fast delivery will guarantee that your packages will arrive at their destinations on time. The Transportify app also offers sedan options for delivery, so your gift wrappings will not be damaged during transportation. Our app is easy to use, and our services are very affordable, with no hidden charges.
Aside from all the advantages of using the Transportify app to avoid the Christmas rush, we can also assure you that taking care of your packages is our top priority as it is our mission and vision to improve the logistics system in the Philippines not only during the holiday season but throughout the year.
Benefits of a courier company that's Christmas Rush Ready
In the Philippines, the 'ber' months signal the beginning of the Christmas season. The country is even deemed to have the most extended Christmas celebration around the world, beginning from the first of September and extending up to the sixth of January, which celebrates the Feast of Three Kings.
While everybody thinks that holidays are a season to be jolly, it is one of the most stressful and busiest times of the year, especially for retailers. Malls are packed, traffic is congested, and everyone is off to buy their last-minute holiday preparation ranging from food to gifts.
The holiday season, especially during the Christmas rush, makes it difficult for sellers and buyers to transport and receive their products. For this reason, one of the most convenient solutions is through the use of a courier and logistics company.
42% of holiday shoppers, especially on the week before Christmas, will most likely purchase gifts online and pay extra to have them delivered right at their doorstep. That is why it is essential to know how you can benefit from using the services of the best local courier company.
Giving your gifts on time
Keeping track of all the gifts you have to send out can be overwhelming, and there are times where you will forget sending out one gift. If you do not have the time to drive over this person's house, then the best option that you have is using the services of a courier company such as Transportify.
Rest assured, no matter how big or small the gift is, Transportify can deliver it right to the receiver's house because it has a wide selection of vehicles that can accommodate packages of all sizes.
Last-minute shopping
If you are an online retailer, the Christmas season is undoubtedly a time for sales to skyrocket, and orders start to pile up. As such, there may be an overwhelming number of items to be delivered, which can be challenging for you to keep track.
So, to beat the Christmas rush, make sure that you already have a courier that is ready to send out these deliveries on time. Also, the cheap courier service provider would have a convenient medium to avail of their services, such as a mobile application.
Sending out fragile items
One of the products that increase in sales during the Christmas rush is tableware. Because these are very delicate gifts, it is essential then that your delivery method is careful in handling these products. As such, a professional courier is equipped with the right training in making sure that these items are delivered in good hands.
As a result, customers will trust your products and buy more often from your store.
For these reasons, a courier company is essentially one of the best methods to beat the Christmas rush. You would not need to do all the hassle of sending out gifts and deliveries. By using a trusted delivery service, you can take the time to spend the holiday season with the family.
Transportify is the Best Courier Company for the Christmas Rush
In the Philippines, traffic becomes worse during the holiday season. Because of this, Filipinos resort to a delivery service provider such as Transportify as your best option. Transportify has a mobile application, which makes it very convenient to use its services right in the comfort of your own home.
Also, Transportify's drivers are professionally trained to handle packages with the utmost care making sure that your customers and friends are 100% satisfied when they receive their product. Beating the traffic and making it on time, Transportify's services are easily one of the best courier companies in the Philippines.
So, what are you waiting for? Download the app now, and your holiday season will surely be stress-free.
| | | |
| --- | --- | --- |
| | or | |
Frequently Asked Questions:
Which courier company offers rush deliveries?
🎅Here are the companies you can look at: If you need to deliver parcels and packages on the same day you can try out Grab Express and their motorcycles will pick up and deliver your items within Metro Manila. If you need to deliver bulk and larger items like furniture or boxes of supplies you can book Transportify instead which is also a delivery app but offers larger vehicles including vans and 6 wheeler trucks to deliver your items nationwide.
What are the benefits of having a courier company during Christmas rush? 
🎅Malls and other establishments are being clogged with shoppers last minute before holidays. It is best to have a courier to handle the hassle of Christmas rush. Some benefits of it include on-time delivery of gifts, convenient shopping even at the last minute and extra care handling of packages. If you need a partner courier to handle these things, you may book with Transportify. We offer a wide variety of vehicles to address your needs this Christmas rush.