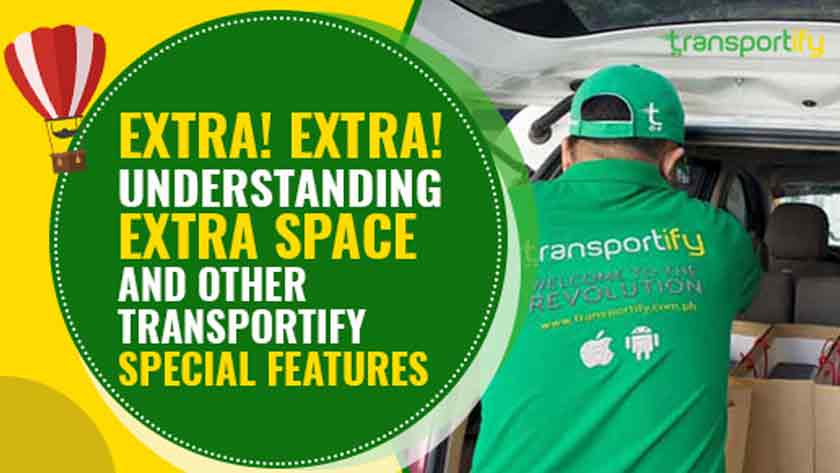 As Manila's smartest logistics provider, Transportify gives its valued customers the liberty to decide what specific services they want to include and pay for. Through the Transportify app's customization feature, users can monitor and manage their logistics expenses. To further understand the special service features we offer, here is a guide to help you.
Extra Services for Economy Class
Economy Class is comprised of sedan and MPV/SUV cars. As they are not the biggest of the Transportify fleet, Economy Class is often used for smaller and more delicate packages like multi-tiered cakes, flower bouquets, and huge stuffed toys. Sometimes, Transportify clients would like to avail additional services depending on the delivery situation.
Add Destination
Clients may add up to 10 drop-off destinations in one transaction in case he needs to deliver more than one package at the same day. Each additional drop-off destination after the first one is subjected to an additional charge of P30.
Extra Space
Economy Class and Closed Van are the only fleet types that offer an Extra Space feature. This is for situations when the package/s need a bit more space than what the Transportify sedan for delivery service can accommodate, and MPV/SUVs need to be used to transport the packages. If your packages are more than 120cm x 65cm x 80cm in size and 200kg in weight, you can select the Extra Space service and our app will immediately match you with an MPV/SUV that can accommodate up to 175cm x 100cm x 85cm in size and 300kg in weight. The Extra Space service costs a P100 flat fee.
Special Help by Driver
If you would rather not lift the package yourself, or would not like your recipients to be bothered with lifting the packages, our trusted Transportify delivery driver partners are at your service. By selecting the Special Help by Driver extra service, our driver partner will help out in carrying the package in and out of the vehicle. Special Help by Driver extra service costs an additional charge of P60 per destination for the first and second destination, and a charge of P30 per destination for the third up to the tenth destination.
Extra Helper
Extra Helper service is recommended for delivery requests involving delicate packages like cakes, where the delivery driver would need an extra helping hand to avoid damaging the package. Extra Helper service costs P200 inclusive of two destinations and an additional of P50 per added destination.
Extra Services for L300
Transportify's L300 van for delivery also offers extra services. Our L300 van fleet includes vans other L300. We also offer delivery vans such as H100, HiAce, and Urvan. Much bigger than the economy class vehicles, these vans can accommodate packages with a maximum of 210cm x 125cm x 125cm in size and 1000kg in weight.
Add Destination
For additional destination for L300 deliveries, the standard fare is P30 per destination, which will be applied after the first destination. Clients may add a maximum of 10 destinations per booking.
Special Help by Driver
Need help in lifting and carrying the packages? Our Transportify delivery driver partner can help you! Just choose the Special Help by Driver when making the transaction on your web or mobile app so our driver will be informed about your preference. The Special Help by Driver extra service will cost an additional P60 per destination for the first two drop-offs, and only P30 for the succeeding additional destinations.
Extra Helper
If you think your packages would require two pairs of hands when being carried into and out of the delivery van, you can always go for the Extra Helper option. This extra service feature costs P200 inclusive of two destinations and an additional P50 for every succeeding drop-off points.
Extra Services for Closed Van
Closed van trucks are the biggest among the Transportify fleet. Transportify closed vans for delivery have two types of models: Elf truck and Canter truck. Because closed van trucks can accommodate a maximum of 31 extra-large balikbayan boxes, they are often used for house-moving and product deliveries.
Add Destination
For closed van trucks, the standard fare for Add Destination feature costs P100 for every succeeding drop-off points after the first one. Like Economy Class and L300, additional destinations have a 10 drop-off limit.
Extra Space
If you chose to go for an Extra Space feature for the Closed Van fleet, Transportify will match you with a larger truck. From a 4-wheeler truck, the client will be matched with a 6-wheeler truck that has a maximum weight capacity of 1,900kg and can accommodate roughly 62 extra-large balikbayan boxes. Extra Space feature costs a P400 flat fee.
Extra Helper
Because an Extra Helper to assist the driver is already included for Closed Van truck transactions, this Extra Helper feature refers to the second Extra Helper that the client might wish to add, so that the Transportify delivery driver partner may have two Extra Helpers to assist him in carrying the large and heavy packages.
For more information about the special services offered by Transportify Philippines, feel free to inquire with our customer service representative.