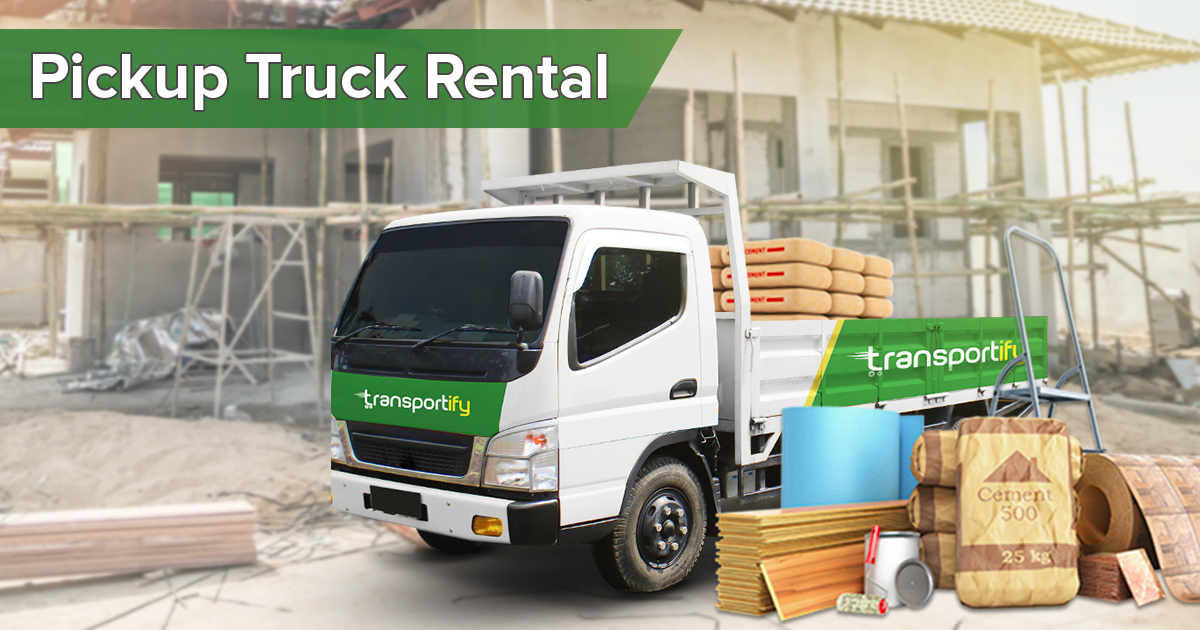 Construction materials deliveries are a common occurrence in many different industries. Homeowners, contractors, and even interior designers often need a pickup truck rental for their construction projects. However, pickup truck rental is not just reserved for people who work in the construction industry– it can be an excellent solution for anyone with pickup needs anywhere in Luzon.
The most important thing to keep in mind when renting a pickup truck is the pickup date. Be sure to give yourself enough time to find one that meets your needs before you need it on the day of your delivery. Pickup truck rentals are a quick and affordable solution for getting the job done. Whether you are a contractor or a homeowner, pickup truck rental is an excellent solution for delivering construction materials. Pickup truck rentals can be rented for short periods and are perfect for picking up supplies from warehouses and construction sites, transporting building materials from your local supplier, or picking up items from your local secondhand furniture store. You'll find pickup truck rental to be an excellent way to get the job done quickly and affordably.
What is the Demand for Construction Materials this 3rd quarter of 2023?
The construction industry is facing an improvement due to the increase in construction materials demand. Construction materials like reinforcing and structural steel, galvanized iron sheets, plywood, PVC pipes, concrete products like cement, and hollow blocks increase their demand at the start of the year.
Demand for construction materials is expected to continue growing as economic recovery in Luzon and Metro Manila with the easing of lockdown. This has been positively affecting construction growth from current construction projects that have been a positive impact on pickup truck rental service providers.
SEE ALSO:
Pickup Truck Rentals: Capacity, Rates, Inclusions, and Other Extra Services
In construction, construction materials are essential. They're also heavy – and hard to move around without the right vehicle to do it. That's why Transporitfy has been making construction deliveries in Luzon for the past few years. Transportify has a fleet of trucks that can take on any load you need to deliver: construction supplies, furniture, appliances, whatever your needs may be. Whether it's a short-term or long-term rental, Transportify can ensure you get what you need ASAP and at an affordable price.
Rates
For pickup truck rental service in Luzon, there is a range of pickup trucks available. You can refer to the table below for different variants of pickup truck along with other trucks for construction that Transportify offers:

Vehicle Type
Dimensions/
Weight Limits
Base Price


(Metro Manila)

Base Price


(Outside Metro Manila)

Base Price


(Visayas/Mindanao)

Wing Van 

32 to 40 x 7.8 x 7.8 ft




12000kg to 28000kg

7500 PHP

6500 PHP

6500 PHP

6w Fwd Truck

18 x 6 x 7 ft




7000kg

4850 PHP

4850 PHP

4850 PHP

Closed Van

10 to 14 x 6 x 6 ft




2000kg to 4000kg

1800 PHP

1450 PHP

1450 PHP

Open Truck

10 to 21 x 6 ft x open




2000kg and 7000kg

2300 PHP

1950 PHP

N/A

L300/Van

8 x 4.5 x 4.5 ft




1000kg

430 PHP

330 PHP

310 PHP

Small Pickup

5 x 5 ft x open




1000kg

310 PHP

250 PHP

220 PHP

Light Van

5.5 x 3.8 x 3.8 ft




600kg

250 PHP

192 PHP

225 PHP

MPV/SUV

5 x 3.2 x 2.8 ft




200kg

160 PHP

130 PHP

140 PHP

Sedan

3.5 x 2 x 2.5 ft




200kg

140 PHP

110 PHP

120 PHP
Transportify's pickup truck for construction materials can be rented on an hourly basis. It can also be rented by the day (or week) for use at any location. Thus, giving you the freedom to choose the date and time for your construction deliveries. Most truck rental companies like Transportify will also offer different options for insurance coverage.
Capacity
Pickup trucks come in many different capacities. The construction materials that you need to transport will determine the capacity of the truck that you need. For construction materials, you will need a truck that is mostly open to carry the odd-sized construction materials.
These types of trucks are ideal for carrying concrete, brick, sand, gravel, and masonry blocks. You can also use construction pickup trucks to transport building supplies like roofing shingles or carpet rolls. Transportify, on the other hand, can offer pickup, long, and dump trucks for your construction materials delivery needs.
Inclusions and Other Services
Booking your construction materials delivery with Transportify's pickup rental service, the driver will drive to your first destination (usually the pickup location) and throughout the route indicated in your booking. If you require a second extra helper, just request this through Transportify App.
Aside from the extra helper, Transportify's pickup truck rental service provides tarpaulin cover, fuel, ropes, and loading/unloading of the construction materials.
Renting A Pickup Truck For Construction Materials Delivery
The pickup truck is used for transporting goods and construction materials. This pickup truck rental service is perfect for contractors, homeowners, and business owners.
If you live in Manila and would like to rent a pickup truck for construction materials delivery, you will find that pickup trucks are readily available from local rental companies in Luzon like Transportify. If you want to install a green roof or resurface your driveway, pickup truck rental is the best solution for construction materials delivery. You will love having pickup trucks available in Luzon because they are perfect for moving materials around town.
It doesn't matter if you live in Makati, Quezon City, or other parts of Luzon because pickup trucks are available anywhere. For pickup trucks in mainland Luzon, Transportify is the best rental service company to partner with.
Useful Tips For a Hassle-Free Construction Materials Delivery
Choosing the right construction materials delivery truck has never been easier. Whether you need to transport construction materials from a supplier or whether you're picking up construction materials from a secondhand store, construction pickup trucks can help you save time and money.
Here are some helpful tips you should know before booking a pickup rental truck for your construction materials delivery:
Tip #1: Plan your construction materials delivery route
If you're renting construction materials delivery trucks to pick up construction supplies or construction materials from a secondhand store, it's best to plan your route ahead of time. The pickup truck driver will drive to where construction materials are at, which will save you time and allow you to get the most out of the rental truck you choose.
Tip #2: Know your construction materials delivery distance
Customers must know how far their construction materials delivery is before booking for a construction pickup truck. Moreover, construction pickup trucks have a specific number of construction materials they can hold before they're full, so it's crucial not to overload construction rental trucks.
Tip #3: Keep in mind the size of the construction material
Construction materials can be heavy, so it's essential to consider their size before choosing a construction pickup truck. The construction pickup truck capacity must have enough space for construction material weight, or else it will not be able to transport construction materials from the supplier.
Using the Transportify app to book a pickup truck rental can be done right at your fingertips. You can use the app anywhere and anytime you want. By following these five valuable tips, you'll have an easy construction materials delivery experience. It's easy to book construction pickup trucks now, so what are you waiting for? Transportify is the simplest way to book construction rental trucks today.
Using Pickup Trucks for Construction Materials Delivery
The task of finding a truck can be challenging to some. However, with the innovative presence of mobile and web delivery applications, trucking and deliveries are made a lot easier. Because of their flexible measurements owing to their open height, pickup trucks have been a preferred choice for construction managers whilst delivering materials. Construction supplies vary in weight and size, and most of them are big and heavy, making them difficult to transport. Transportify app is always available to accept your pickup truck bookings anywhere in mainland Luzon. From up north to down south of Luzon, Transportify can deliver constructions materials to your doorstep or construction site.
| | | |
| --- | --- | --- |
| | or | |
Frequently Asked Questions:
How much does a pickup truck rental cost in mainland Luzon?
🚚 Transportify's pickup truck rental starts at 1,800 PHP for Metro Manila and 1,450 PHP anywhere else, with an additional fee of 50 PHP per kilometer covered. This price includes the standard service as well as driver fees. You won't have any trouble loading or unloading because Transportify provides one extra helper to help out if needed.
Which car rental companies in Manila rent pickup trucks?
🚚 Transportify offers a pickup truck rental service that will have you ready to go in no time. With their app available anywhere in mainland Luzon, it's incredibly easy. You can download the app via Google Playstore and App Store.