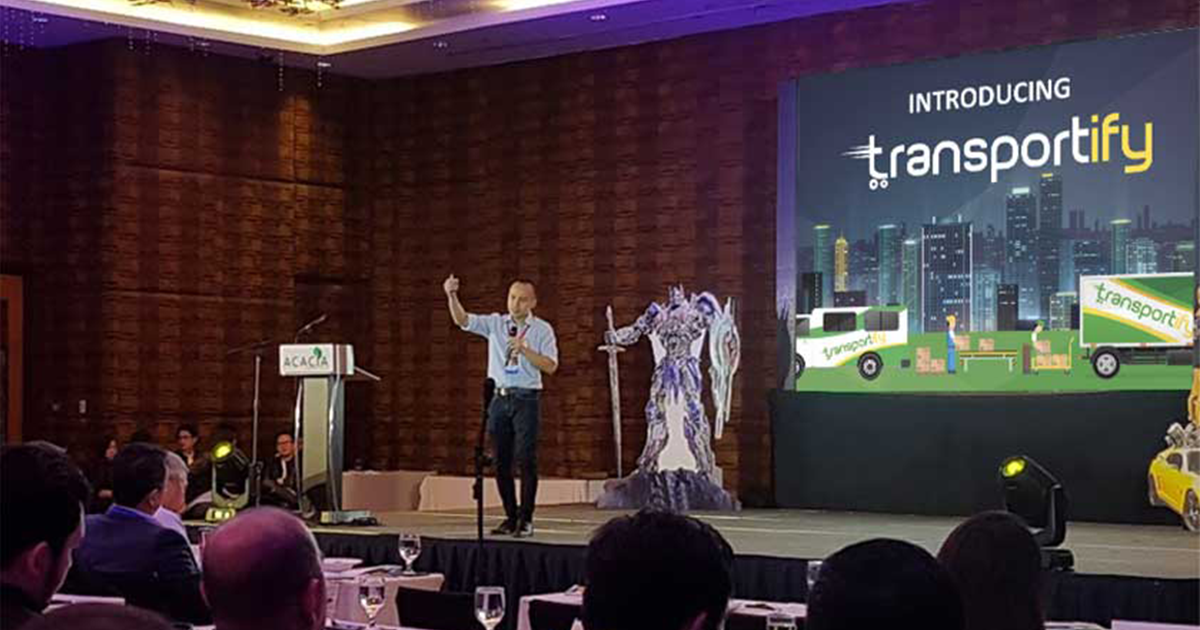 Transportify Philippines' Country Director Paulo Bengson was one of the speakers for the 2017 Innovations Day of San Miguel Yamamura Packaging Corporation (SMYPC), held last November 17 at the Acacia Hotel in Alabang, Muntinlupa, Metro Manila. This year's Innovations Day of SMYPC had a theme titled TRANSFORMERS: Driving Change, Transforming Lives.
Bengson's talk was titled Innovating to Survive: Sharing economy technology finding its place in logistics. The topic focused on effective strategies in operating businesses. The seminar started with an introduction about Transportify and the on-demand delivery app's history, mission and vision, and essential features before discussing how Transportify as an integrated logistics company strategically overcomes the challenges it usually faces, inspiring the audiences.
SMYPC introduced Transportify Philippines as a 3PL logistics company service provider. SMYPC quotes Transportify as "is already making waves for taking the first step in reinventing delivery in the country and a blessing to our MSMEs […] We believe that [Transportify] can help us nurture a culture of innovation in the [SMYPC] company."
It is such an honor for a big corporation like San Miguel Yamamura Packaging Corporation to recognize Transportify's efforts to revolutionize the country's logistics industry through effective local same-day delivery, track package features, and a reliable logistics company 3PL partner to entrepreneurs.
Here's a table to give you a quick summary of our rates and pricing as a competitive and reliable logistics company:
Vehicle Type
Dimensions/
Weight Limits
Base Price


(Metro Manila)

Base Price


(Outside Metro Manila)

Base Price


(Visayas/Mindanao)

Wing Van 

32 to 40 x 7.8 x 7.8 ft




12000kg to 28000kg

7500 PHP

6500 PHP

6500 PHP

6w Fwd Truck

18 x 6 x 7 ft




7000kg

4850 PHP

4850 PHP

4850 PHP

Closed Van

10 to 14 x 6 x 6 ft




2000kg to 4000kg

1800 PHP

1450 PHP

1450 PHP

Open Truck

10 to 21 x 6 ft x open




2000kg and 7000kg

2300 PHP

1950 PHP

N/A

L300/Van

8 x 4.5 x 4.5 ft




1000kg

430 PHP

330 PHP

310 PHP

Small Pickup

5 x 5 ft x open




1000kg

310 PHP

250 PHP

220 PHP

Light Van

5.5 x 3.8 x 3.8 ft




600kg

250 PHP

192 PHP

225 PHP

MPV/SUV

5 x 3.2 x 2.8 ft




200kg

160 PHP

130 PHP

140 PHP

Sedan

3.5 x 2 x 2.5 ft




200kg

140 PHP

110 PHP

120 PHP
Aside from Bengson, the 2017 Innovations Day of San Miguel Yamamura Packaging Corporation also featured seminars and speeches conducted by other young, inspiring individuals from different fields. They were able to create products, inventions, and innovative works worthy of recognition, even if they are not related to the packaging industry.
Innovations Day of SMYPC is an annual one-day company event now in its fourth year. The event usually gathers speakers who can discuss innovations in packaging technology and people who made breakthroughs in other industries. This year's event was attended by the crucial SMYPC personnel, the Company President, Business Managers, Plant Managers, Technical Staff, Finance, Procurement, and Sales and Marketing Group, along with an estimated total of 200 audiences.
SMYPC is an international packaging solutions provider based in the Philippines that provides a wide range of quality products from glass, plastics, metal, and more across the globe. SMYPC is a joint venture of San Miguel Corporation and Nihon Yamamura Glass Co., Ltd.
Logistics Company Services as 3PL for SMYPC
The 3PL or third-party logistics company is a supply chain with a versatile work process that serves as a middle person between the buyer and the seller. Whenever you purchase a particular business online, these 3PL or third-party logistics companies are the ones who will deliver the products right at the front of your door.
Different eCommerce businesses, warehousing companies, suppliers, and corporations like SMYPC hire a logistics company to maintain and expand their inventory and grow their market areas. Most logistics companies consist of administrative departments and warehouses, which will handle your stocks and supplies; others will deliver your products to your customers right at the front of their doors.
This 3PL or third-party logistics company is catering to several businesses and industries; today, they are becoming more irresistible to the eCommerce and last mile business. Logistics companies can ship your goods and products to any part of the Philippines.
They are more than just a warehouse; logistics companies have a lot of useful functions too. Let's check some of the services offered by a third-party logistics company.
1
Transportation
One of the significant logistics services offered by a 3PL is transportation. By utilizing different kinds of trucks and other vehicles, a third party logistics company uses its fleet to transport your goods to your customer's house. Also, there's an optimized route that they used for transportation. Having that said, it helps in minimizing the confusion among drivers. Moreover, this process, called an optimized route, ensures faster and hassle-free delivery.
2
Freight Forwarding
Sometimes third party logistics companies don't have an asset of their own. What they do is connect with other logistics service providers to transport a specific product for their customers. They will act as a middle man or medium of connection for the shipment of various merchandise on behalf of the third party shipping company or 3PL shippers.
There's a continuous change in demand for this kind of shipping method. Often, it becomes more difficult for an eCommerce business to handle the entire freight shipping by themselves. Freight forwarding companies today use modern technology to give convenience and savings to their partner businesses.
Transportify is an excellent example of a modern freight forwarder that applies technology to logistics by introducing a new way of handling deliveries. This logistics company can handle everything promptly. Also, they make sure that the products will arrive safely through efficient freight shipping strategies.
3
Warehousing
Some 3PL companies own their warehouses, while others are focused on the innovation of shipment deliveries. There are several distribution points for these logistics warehouses, as per the location area. These warehouses act as a storehouse for different kinds of goods. The deliveries from the warehouse take place after the order placement.
Some of these 3PL logistics also offer different equipment types, such as cranes and lifts, to provide flexible product movement. Moreover, these kinds of services are provided by many eCommerce companies. Besides, a specific business or industry can take up logistics services.
There are several eCommerce giants, corporations like San Miguel Yamamura Packaging Corporation often take up dedicated warehouses, but mostly, these logistics companies are available for all types of warehousing services.
4
Reverse Logistics Services
In this logistics sector, confusions and errors are widespread. With several products that travel miles and kilometers away, reaching the customer's destination might often lead to damage and break. In this scenario, apart from the refund that most 3PL companies offered, another thing needs to be completed.
It is called reverse logistics. A 3PL handles all the disposal cleaning of inventory to ensure that no unwanted goods or items are present in the warehouse. For bulk reverse logistics services, you may book with an on-demand partner like Transportify to retrieve goods from your customers instantly.
5
Bulk Courier Shipping Services
A bulk courier shipping service is a good alternative for freight shipping. Given that freight shipments take a lot of time in delivery, bulk courier shipping is perfect for same-day bulk item delivery to your customer's doorstep. However, it requires an excellent level of management. A simple error and mistake in delivery details can lead to misrouting and can result in a massive loss for both the customer and the seller.
Other logistics companies also offer quality bulk courier service and transport your products on time. Most eCommerce platforms and companies consider couriers their last option since it is quite expensive compared to freight shipping. A reliable delivery partner for this type of service is Transportify. They are known for immediate delivery options to different destinations in Luzon, Visayas and Mindanao. Unlike other traditional courier services, a bulk courier shipping provider ensures that your package can easily reach different addresses without spending more money on delivery costs.
6
Postponement Packaging
Other third party logistics companies provide drop shipping services for their customers to deliver a high volume of their products at the lowest price. This kind of process is useful for bulk shipping because it saves labor and additional shipment cost.
The process is based on the operation size. Also, it is beneficial when it comes to the environment and marketing management. When it comes to cargo delivery and shipping, all of these businesses and industries are nothing without logistics. These logistics companies are complying with the nation's standard trade guidelines.
7
Giving Best Offers
To keep customers from using the services, most 3PL companies provide many tempting and attractive offers to their clients. With that having said, it enhances the operational efficiency of the industry. Also, it helps to maintain an excellent customer-seller relationship, which can, later on, build trust and an excellent reputation for the business.
They offer valuable benefits to everyone who chooses to be partnered with them to ensure that it is ultimately beneficial for the customers, suppliers, retailers, and them. These offers will help them increase their overall sales and add value to every service they provide to their customers.
Frequently Asked Questions:
How does a 3PL (third party logistics) company provide aid in businesses in the Philippines?
✅ Managing the supply chain requires lots of detailed work and requires thorough monitoring of the processes and systems. SMEs will have a difficult time managing this as it keeps up in the fast-paced economy of the Philippines. SMEs who desire to keep up with the competition can hire third-party logistics companies to help them with their logistics needs. 3PL, like Transportify, offers a Business Program that is dedicated to aiding businesses in handling their deliveries. This eases the workload of SMEs so that they can cut costs and gives them extra time to focus on their production.
What are the best logistics company providers to partner with for big businesses like SMYPC?
✅ There are several logistics companies tailored to different kinds of businesses. Maersk is an example of a world-known logistics company that transports huge equipment types to other countries using large cargo ships as their mode of transportation. On the other hand, DHL, LBS, UPS, and JRS express are more commonly used for parcel deliveries. Lalamove and Transportify are the leading players in the logistics industry that offer easy logistics solutions using a mobile app. They also offer a business program that is fit for any business type as an alternative to having their delivery fleet. Big businesses like SMYPC may also avail themselves of the system integration to schedule their deliveries easily.