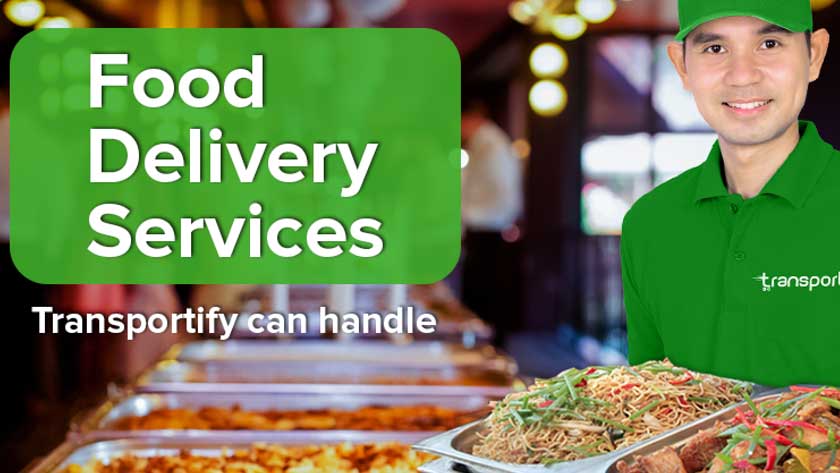 The food business industry in the Philippines is staying strong as ever, as Filipinos are known to love both cooking and eating food. But how about the condition of food logistics in the country? Heavy road traffic and other factors may affect the performance of food-related businesses. Good thing Transportify is capable of handling different food delivery needs for different food businesses like the ones below!
1.    Catering Services
Filipinos love festivities and celebrations, like baptisms, birthdays, debuts, weddings, anniversaries, and more. That is why running a food catering business in the Philippines is never easy—catering orders for events may come one right after another. So as an owner of a catering business, you must choose a third-party logistics partner that is known for its expertise in food delivery services like Transportify.
2.    Restaurants
Transportify's food delivery capabilities extend beyond delivering cooked food. Small to medium-scale restaurants can hire Transportify delivery vehicles for inventory delivery of raw food ingredients during unexpected inventory emergencies.
3.    Fast Food Chains
It is given that fast food chains have their own fleets of motorcycle riders that deliver food ordered through online and phone. But for cases of shortage in riders due to sudden unfathomable demand of orders, fast food chains can resort to Transportify's same-day food delivery services. Not only will hiring Transportify vehicles take a load off the fast food chain's delivery riders, but it will also help in finishing the delivery tasks faster.
4.    Bakeshops
Baked goods like decorated cupcakes and customized multi-tiered cakes are some of Transportify delivery specialties. For one, we use economy cars instead of motorcycles when delivering baked goods to ensure that their structure and decoration will not be damaged by road bumps and jolts. The cars also provide protection from outside heat, keeping the baked goods as fresh as possible. Additionally, our drivers are trained to handle specialty cakes with care.
5.    Food Packaging Corporations
Food packaging corporations have their own delivery trucks to deliver their finished products to their clients. Their fleets are also often big to accommodate a large number of orders. But even logistic fleets as big as theirs need to outsource food delivery services during instances like truck bans and plate number coding that need to be overcome to meet the delivery deadlines.
Bonus: Personal Food Delivery Requests
Transportify's food delivery services are not just available for business owners. People who would like to send cooked or baked meals to their loved ones can book a scheduled or same-day delivery with us using our Transportify app.
Being able to boost local food businesses is part of Transportify's goals in improving the logistics industry and traffic system in the country. Hopefully, our delivery company will be able to help lot more businesses in the future.